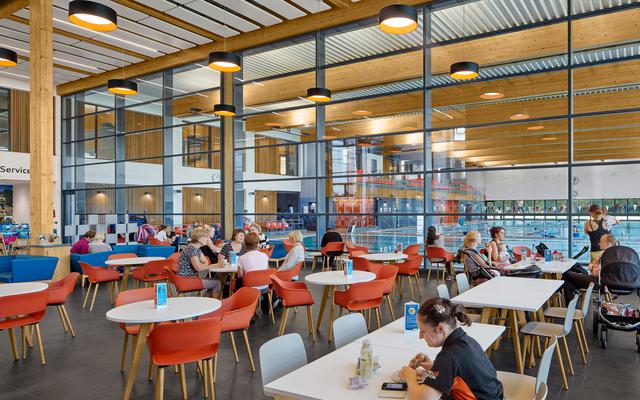 Sports, Leisure and Hospitality
Our sports, leisure and hospitality spaces encourage people to enjoy new experiences, explore healthier lifestyles, and connect with one another
We have delivered a wonderfully diverse range of projects, from leisure and fitness centres, to cinemas, hotels and high-performance sport facilities. By providing communities with spaces to enjoy time together, we are encouraging them to create memorable, rewarding experiences, prioritise their health and wellbeing and explore new environments.
From the refurbishment and repurposing of facilities to large-scale new developments, we use our multi-sector experience to shape mixed use developments fusing sport, leisure, entertainment, and hospitality into centralised, accessible locations. As well as incorporating other lifestyle and business-focused amenities that appeal to a wide variety of different people.
These dynamic, thriving environments, maximise the potential of a place and support long-term sustainability by bringing new life to the local community and economy. While successfully raising the value of our client's assets and delivering a return on their investment.
sports, leisure and hospitality
Sport and Leisure
Sport has an incredible power to unite people from all walks of life, and we aim to capture this through our work in the sector – delivering places that bring people together and encourage participation at all levels.
From new large-scale facilities to the refurbishment of existing sites, we aim to promote healthier lifestyles by engaging with communities and breaking down the barriers to getting active. By fusing sports with entertainment in mixed use developments we consider the relationship between these places and the wider local infrastructure. This enables us to shape accessible, welcoming environments that invite people to try new things, while inspiring future generations of athletes at grassroots level.
As well as more community-focused schemes, we work with sporting bodies, such as Sport England, specialists, and professional teams to deliver clinics and research facilities dedicated to promoting sporting excellence.

Hotels
We have delivered hospitality environments of all types and scale. From new builds to total refurbishments and interior fit-outs, for large chain operators and one-of-a-kind boutique hotels.
In a sector that is constantly evolving, we focus on delivering solutions that meet the changing needs of guests. Sustainability has become a standard requirement of ever more environmentally conscious travellers, and we work with our clients to deliver on these expectations. Along with a focus on providing enhanced health and wellbeing experiences.
Through smart renovations, we transform traditional uses of space to provide a more multi-functional offer incorporating business and lifestyle facilities – such as meeting rooms, fitness centres, and wellness suites. Along with enhancing external surroundings, which extend an invitation beyond hotel guests to the wider public – delivering added value and profitability.

Links
Explore all our Services and Sectors
Team
Key Sports, Leisure and Hospitality Contacts
Contact
Interested in
learning more?
Learn more about 'Sports, Leisure and Hospitality' and other sectors by reaching out to one of our team
Get in touch