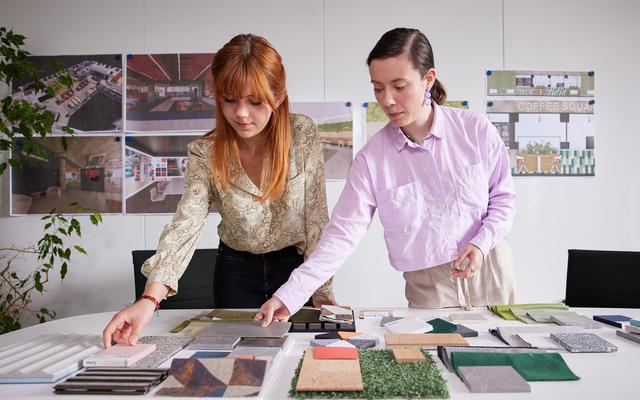 Interior Design
Imaginative, exceptional interiors that transform the life of a place
Our interior designers create beautifully imagined spaces, designed with people at the forefront to enhance their experience of a place. By providing inspiring, motivating and supportive environments, we consider everyone's health and wellbeing at every turn. Our fully integrated approach to interior design includes fit-out, refurbishment, space analysis and planning, workplace strategies, wayfinding, FF&E (Furniture, Fixtures and Equipment) and bespoke furniture design.
We focus on creating flexible spaces, that can adapt and respond to our ever-changing world, lifestyles, and habits – supporting the long-term sustainability of a place and ensuring it is fit for the future. Wherever possible, we prioritise the use of light, air and natural or recycled materials, to produce sustainable environments that will attract and nurture the people who use them.
The key expertise we offer to our clients
Space analysis

At the start of any project, our interior designers work with our clients to ascertain the purpose of every space, their functional requirements and any layout requirements they may have. Using this information, we then analyse options available, to create engaging, cohesive environments.
Fit-out

Our interior design transforms the way people use spaces. We work with our clients to ensure that the fit-out we design is consistent with their aspirations and surpasses their expectations. Navigating site constraints seamlessly, we ensure our projects deliver upon a clear vision. In response to these changing working patterns – and informed by behavioural research – we work to create the optimum working environments which inspire greater efficiency, productivity, and wellbeing.

Furniture, Fixtures and Equipment

We design beautifully crafted, bespoke FF&E, which always deliver on functionality, whilst reflecting the personality and character of a space. We also pull together Loose FF&E packages, utilising BIM, and work in collaboration with our clients and with FF&E suppliers through workshops, to ensure that we create the best solution.
WELL Building Standard

The WELL Building Standard is a performance-based system for measuring, certifying and monitoring the built environment, incorporating biophilic principles and their connection to people's wellbeing. The standard consists of 10 concepts which have a direct interrelationship with our body systems, combining to improve physical and mental health. We have an in-house WELL accredited professional, whose expertise feeds into the technical design of all our projects – regardless of aspirations for formal accreditation.
Links
Explore all our Services and Sectors
Team
Key Interior Design Contacts
Contact
Interested in
learning more?
Learn more about 'Interior Design' and other services by reaching out to one of our team
Get in touch