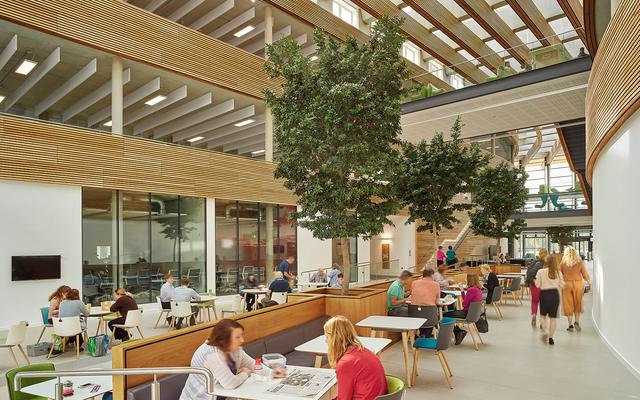 Office and Workplace
Healthy, efficient, sustainable workplaces to inspire productivity, attract talent, and improve business performance
The world of work has transformed in recent years. With the rise of hybrid practices, virtually connected teams, co-working, and a spotlight on both physical and mental wellbeing – our workplaces must work harder to attract and retain the best people. Our architecture, building consultancy and interior design teams treat every project as unique and work collaboratively with developers, investors, and occupiers, to understand the specific needs of all involved.
Through a legacy of Grade A office design, and refurbishing existing workplaces to meet modern-day demands, we deliver high-performing solutions responsive to ever-changing working patterns, trends, and technologies. From flexible co-working spaces to high-profile headquarters and innovation centres. We pride ourselves on having won the British Council for Office's (BCO) Best of the Best award twice for Keynsham Civic Centre & One Stop Shop and the UK Hydrographic Office.
With increasing pressure for workplaces to meet ambitious environmental credentials, we place sustainability at the heart of our approach. Our Zero Carbon Today methodology provides practical steps to achieving net-zero for both new build and refurbished offices, while our expertise in Passivhaus, BREEAM, WELL, and Nabers performance standards informs low energy, sustainable design solutions.

Refurbished workplaces
We reuse, reshape, and remodel existing office buildings to maximise their potential – extending their life, making them fit for modern-day working patterns, and improving sustainability credentials. Our retrofit offices sensitively integrate with the fabric of the area, whilst improving the existing fabric of a building, reasserting their place in their local context. We sympathetically preserve the space's heritage and retain the building's original character, whilst meeting the demands of a modern workplace.
We begin by identifying key features and opportunities, such as unseen views or underutilised spaces, before finding solutions to bring these to life. As well as maximising the net floor area – by the creation of new features such as additional levels or projecting bays, and by rationalising the layout to allow for greater flexibility.
We ensure that client investment is directed in the most effective way. With a focus on front-of-house spaces and incorporating additional facilities such as cafes, meeting areas, and touchdown points that provide added value.
Sustainability is at the heart of our practice ethos, and we fully support the delivery of net-zero and low energy schemes. Energy use can be minimised by upgrading the thermal envelope and glazing, along with a move away from fossil fuels. Where client budgets don't allow for a net-zero solution from day one, we work with them to shape a pathway to Net Carbon Zero.
Corporate workplaces
We have delivered a wide variety of modern, efficient, and beautifully designed new build corporate workspaces. Working directly with owner-occupiers, as well as with joint-ventures between occupiers and developers.
Our solutions focus on creating appealing spaces through providing enhanced amenities, such as gyms, parking facilities and outdoor space, while maximising the lettable floorspace.
Commercial workplaces
By imaginatively applying evidence-based design principles and innovative technology, we deliver high-quality and commercially successful workspaces for multiple tenants that function flawlessly. An approach which is proven to enhance market appeal and mitigate commercial risk for our clients.
Initiated on a speculative basis for commercial letting, these include offices which are substantially pre-let or sold on to an occupier.
Workplace fit-out
People now work from a variety of places and spaces, both in and outside of the office. In response to these changing working patterns – and informed by behavioural research – our architecture, building consultancy and interior design teams work together to create the optimum working environments. We believe a focus on flexible workspaces inspires greater efficiency, productivity, and wellbeing.
As people prioritise their health and wellbeing, workplaces now need to work to create inspiring environments and attract the best talent. By expertly applying biophilic design principles within the workplace, we can measurably improve working environments.
Links
Explore all our Services and Sectors
Team
Key Office and Workplace Contacts
Contact
Interested in
learning more?
Learn more about 'Office and Workplace' and other sectors by reaching out to one of our team
Get in touch