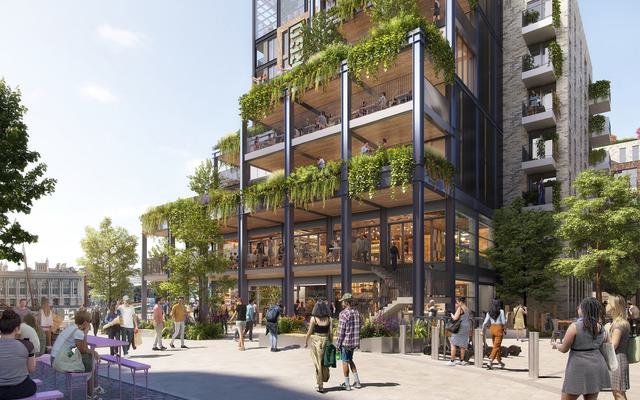 Mixed Use
Experiential developments, reinventing spaces, regenerating communities, and reviving town centres
We believe a mixed use approach is fundamental to creating a strong sense of place and achieving long-term sustainability through social and economic growth. Working across urban environments, garden cities, green belt schemes and residential-led developments, we use our specialist masterplanning skills to combine retail, leisure, health, education, commercial, workplace, and residential facilities in one easily accessible, central destination. As traditional living, working and travelling models evolve, we embrace the idea of 15-minute neighbourhoods, to create resilient spaces, which truly serve their communities.
People are at the heart of our approach. Sharing the same facilities and including spaces such as communal gardens, community centres, and recreation areas encourage positive social interaction – providing many long-term benefits. Improved civic pride, morale, and neighbourly behaviour have a positive impact on the safety and security of a place. While reduced isolation enhances the health and wellbeing of everyone.
We look to re-use and repurpose existing sites and buildings – which also helps to preserve local history and the character of a place. As well as providing opportunities for greener travel, by improving connectivity and access to public transport, alongside cycle and pedestrian routes.
Due to the incredible rise of online shopping, high street vacancies are ever-increasing. Mixed use schemes are vital in transforming these struggling spaces into vibrant, dynamic, hubs of activity – with increased footfall and dwell time that brings new life to the area and boosts local businesses.
We have extensive experience working with local authorities, supporting them to access the resources they need to plan and action these changes. With the aid of several initiatives including, The Future High Streets Fund, the Community Ownership Fund, the Towns Fund, and the Levelling Up Fund.
Understanding the unique contextual surroundings of every site is key to delivering successful mixed use schemes. Through planning and engagement, we address their specific challenges. We design solutions that enhance the public realm, while integrating and enriching the existing urban and natural environment.

Managing engagement with a variety of stakeholders is also crucial. We conduct thorough stakeholder engagement and work collaboratively to understand the needs of diverse local communities, as well as the requirements of local authorities, housing associations, health trusts, and private developers.
We also understand the sensitivities of working in live environments, with the delivery of these schemes often involving the redevelopment of constrained sites, with significant, existing features. We replace outdated, unsafe buildings with fit-for-purpose, revenue-generating facilities and community-focused spaces, while always ensuring minimal disruption to residents and businesses.
Links
Explore all our Services and Sectors
Team
Key Mixed Use Contacts
Contact
Interested in
learning more?
Learn more about 'Mixed Use' and other sectors by reaching out to one of our team
Get in touch