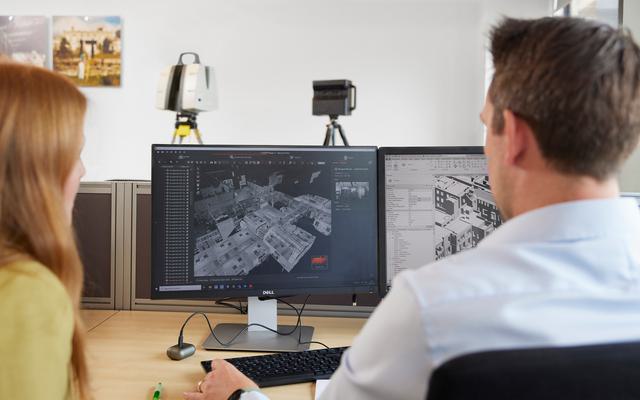 Geomatic Consultancy
Harnessing the power of technology to transform the way spaces are brought to life
With pinpoint accuracy and meticulous attention to detail, our geomatic consultancy team embrace the latest technology in the field of geomatics and reality capture, providing digital environments and immersive experiences to our clients. As well as using geomatics to visualise their solutions, with these models and data, our clients can gain a deeper awareness of their buildings and wider surroundings. This data enables the people we work with to provide intelligent, cost-effective facilities management and inform maintenance strategies. Where historic constructional data is unavailable, this information gives an insight to a building's past and current state.
Through working closely with our clients and the collection of dependable spatial and geographical information, we gain invaluable insight into what they are looking to achieve, helping us to inform the most appropriate solutions bespoke to their project. Being able to quickly visualise and interrogate the environment, we push the boundaries of design and creativity – and test and share ideas with contractors, wider design teams, and key stakeholders.
The key expertise we offer to our clients
Scan to BIM and Digital Twins
For the development of existing buildings, we use laser scanners to accurately and quickly capture data to create a 3D point cloud model. A point cloud is a set of millions of spatially correct data points, representing the project geometry. This information forms the dimensional basis for a BIM (Building Information Modelling) model. Although the design industry standard is Revit, 3D models are available in a number of differing formats.
The next evolution of the BIM survey model is the digital twin, a living digital representation of a real-world asset. While scan to BIM gives us the base structural geometry, the digital twin contains the elements any building requires to operational. These include electrical systems, fire systems, heating systems and all the other operational elements the client requires. Through smart building links, it becomes possible to extract live operational data from the building and lever all the benefits that it brings.
Reality Capture
With Reality Capture, we collect accurate, high-quality information of the existing environment. This includes complex geometry, imagery, and building data, or any combination of these. We have both the experience and technological tools to excel at this and can deliver this data in a variety of formats, whether it is geometry captured through the use of mobile laser scanners, terrain models from a drone or the creation of a photographic virtual tour using a 3D camera.
Measured Building Surveys
Measured Building Surveys are an essential tool in the refurbishment, alteration or redevelopment of any property. Should the building be of any historic interest then a quality survey will act as a record to preserve the building for future generations. With survey data collected, it is possible to create an accurate 2D drawing or 3D model of the existing spatial and constructional arrangements. These details may also include sections and elevation information, together with dimensional analysis of fixtures, fittings, services and plant etc.
Topographical Surveys

Before embarking on any construction project, it is essential to have a complete picture of your surroundings – to know quite literally the lay of the land. We offer topographical surveys incorporating all relevant survey details applicable to your project, such as the position of services, building orientations, boundaries, major roads and ecological systems. We can produce a range of deliverables, from a simple 2D drawing to a 3D digital terrain model with the corresponding topographical detail.
Utility Mapping and CCTV Surveys
What lies beneath the surface can have as big an impact on the project as what sits on the surface. Our investment in the latest Ground Penetrating Radar (GPR) and CCTV technology, alongside the highest levels of training, ensures that the best possible results are achieved. Unseen risks can be greatly reduced when combined with our topographical services to create a fully comprehensive picture.
Drone Surveys
Unmanned Aerial Vehicles (UAVs) bring a unique and indispensable perspective to any project, offering access to dangerous or inaccessible areas. With advancing technology enabling the incorporation of more complex sensors, the data captured is increasingly varied and sophisticated. As well as imagery, drone survey technology can produce point clouds, intricate meshes and 3D models of buildings and the surrounding environment.
Thermal Imaging

As part of our continued focus on sustainability, we are able to provide sophisticated thermal imaging technology to review the energy efficiency of your building stock. This tool enables us to clearly identify any areas of heat loss within your estate and support you in designing practical solutions to improve the efficiency and sustainability of your buildings. As this service is provided using our cutting-edge drone technology, high-rise and hard to reach buildings can also be easily reviewed without risk.
Links
Explore all our Services and Sectors
Team
Key Geomatic Consultancy Contacts
Contact
Interested in
learning more?
Learn more about 'Geomatic Consultancy' and other services by reaching out to one of our team
Get in touch