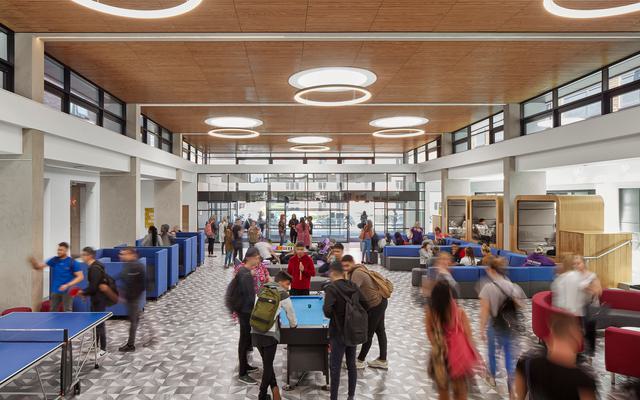 Universities
For more than 20 years, we have worked with universities to deliver future-focused and sustainable environments that prioritise student health and wellbeing
We pride ourselves on developing long-standing working relationships with universities across the UK. We deliver a broad spectrum of university projects, including large campus-wide masterplans, modern purpose-built facilities, refurbish and repurpose outdated spaces, and produce smaller scale improvements.
Collaboration is key to our approach. We have gleaned broad knowledge, successes and insights from our multi-sector experience in Office and Workplace and Healthcare, as well as from decades of delivering excellence across our higher education portfolio. This knowledge combines experience across new builds, masterplanning, refurbishment, extensions, block replacements, repairs and maintenance, estate strategies, and decarbonisation plans.
We shape dynamic campuses with a community feel and fitting facilities for the modern student to thrive. We realise the importance of social interaction to enhance the holistic student experience. All of these play an important role in helping secure long-term success in an increasingly competitive landscape.
Through close client relationships we support universities by managing their estates and deliver environments which add real value to the student experience
View all University projects
University education has undergone a significant evolution since we first began working in the sector. Our path to success in this ever-evolving sector has proved to be our adaptability.
We are progressive and proactive in how we go about addressing any challenges universities might face. In response to changes in teaching and accessing higher education, we adapt our approach and employ innovative features that cleverly incorporate the use of technology and virtual learning, alongside more traditional formats. We create flexible and adaptable spaces that can easily be transformed and adapted to meet the evolving curriculum and extend their life.
The introduction of tuition fees has seen the market become ever more competitive, with the need to offer students world-class facilities alongside academic excellence.

Developments in financial structure have placed greater demands upon estate departments to be more creative in managing the estate and seeking alternative funding has become a key component in delivering large capital programmes across an estate. We engage with universities to find effective solutions sympathetic to being more commercially aware.

Sustainability is central to our work in education. We support university estate teams to make further sustainability gains and provide practical help and advice towards achieving a Net Zero Carbon future. As well as undertaking site enhancements which improve sustainability credentials in the present, we help university estates with long-term decarbonisation strategies.
By undertaking site condition surveys, we can see which buildings can be repurposed and/or reused to meet higher education needs – not only in the immediate but in years to come too. Thereby we create environmentally sustainable, as well as socially sustainable spaces that support student welfare and educational needs.
Links
Explore all our Services and Sectors
Team
Key Universities Contacts
Contact
Interested in
learning more?
Learn more about 'Universities' and other sectors by reaching out to one of our team
Get in touch