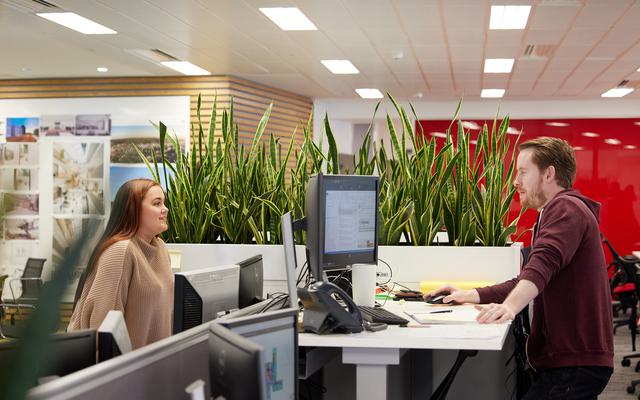 Landscape Design
Beautiful spaces that enrich lives, enhance places and protect our planet
We believe outdoor spaces as an essential part of meaningful placemaking. Our landscape architects deliver solutions that help to define the character of a space and beautifully integrate with the surrounding architecture. By fostering greater connections between people and nature, we prioritise people's health and wellbeing and enhance day-to-day life. We have transformed all sizes and types of places, guiding projects seamlessly from strategy to completion.
We promote the wider benefits of promoting environmental sustainability and create biodiverse environments, which address broader sustainability challenges. Together with our masterplanning team, we create beautiful, elegant shared landscapes, in which communities can flourish.

The key expertise we offer to our clients
Outdoor learning environments
In education spaces, the benefits of providing access to exemplar outdoor learning spaces are proven, from increasing concentration and productivity, to boosting health and wellbeing. The spaces we provide in schools and colleges responds to the existing topography of each site and maximises the areas available for outdoor learning, sports provision and socialising, as well as necessary operational spaces such as parking and arrival zones.
Residential outdoor space
Our landscape design within residential schemes retains and enhances the unique character of each setting. By delivering a variety of spaces including private gardens, communal zones, amenity and circulation areas, with high-quality hard and soft landscaping, we create spaces for individuals and communities to thrive.
Enhanced public realm
Together with our masterplanning team, we bring people together through shared landscapes and drive the regeneration of towns and cities. Our public spaces reflect and enhance the local distinctiveness of an area, for all to enjoy. We provide accessible linkages, connecting urban spaces and creating journeys through the outdoors to promote and enhance green infrastructure.

Sustainable landscapes
Sustainability is at the heart of all we do, and our focus is always on making a positive impact on the future. Through consulting with planners, tree officers and ecologists, our approach is always to develop with biodiversity net gain in mind, using landscape mitigation plans where necessary, and to promote and enhance green infrastructure. We make connections to wildlife corridors and provide SUDs (Sustainable Urban Drainage systems) to control the flow of surface water where appropriate, underpinning and promoting the healthy benefits of green infrastructure in communities.
Links
Explore all our Services and Sectors
Team
Key Landscape Design Contacts
Contact
Interested in
learning more?
Learn more about 'Landscape Design' and other services by reaching out to one of our team
Get in touch