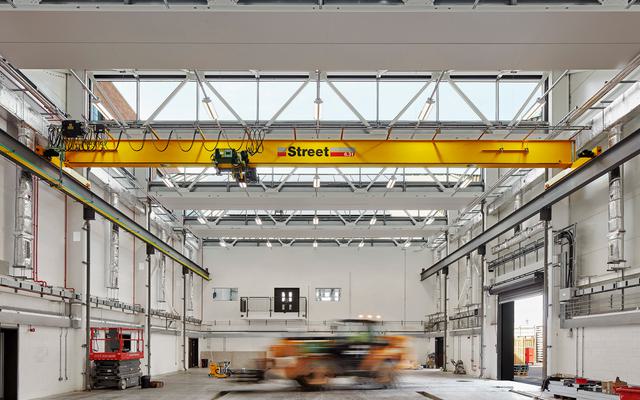 Technology and Industrial
We deliver ambitious advanced research, manufacturing, and innovation facilities, providing a platform for excellence in science and industry
Innovation is accelerating, and the pace of technology development faster than ever. This is a great catalyst for growth. Big investment continues to be made in science and technology, with freeports and enterprise zones driving trade, economic development, and social progress across the UK.
Embracing these exciting, ever-evolving developments, our expert team have worked on some of the most technically demanding projects. From manufacturing plants to innovation centres and research labs, as well as masterplanning for wider industrial and enterprise parks, along with mixed-use developments, be it new build or reuse of an existing space. Creating high-performance spaces dedicated to developing, testing, and applying new ideas that often require highly controlled and secure environments.
We create places with people front of mind, engaging with scientists, academics, engineers, and entrepreneurs to understand their functional requirements. Our socially sustainable sites balance efficiency and productivity with employee health and wellbeing.
Technology and Industrial
Across all our projects we make engaging in open conversations with clients, key stakeholders, and people who use the spaces, a priority from the very outset. The resultant relationships are mutually rewarding and help us deliver excellence and generate positive change.
Our building consultancy expertise comes to the fore in innovations for planning and working within existing spaces. Our geomatics team can also create 2D and 3D models of existing buildings via laser scanning and Rapid Capture, for repurposing plans. Virtual reality lets us show our clients how a project will really look, thus ensuring stakeholder engagement.

In a sector that traditionally has a heavy environmental footprint, we pursue the goal of a Net Zero future. We prioritise the reduction of carbon output and consumption – both in site delivery and operation – and utilise local supply chains where possible. In new builds we incorporate energy-efficient technologies and designs. In existing buildings, we identify ways of reducing energy consumption. Through such innovation we identify opportunities to reduce waste and ensure the long-term viability of any facility.
We use Modern Methods of Construction (MMC) to create technically accurate, higher-quality buildings – delivered efficiently. Our leadership in this field also allows us to enhance decision-making and streamline all processes. This increases speed, and efficiency, giving us and the client more control over product quality.
Links
Explore all our Services and Sectors
Team
Key Technology and Industrial Contacts
Contact
Interested in
learning more?
Learn more about 'Technology and Industrial' and other sectors by reaching out to one of our team
Get in touch