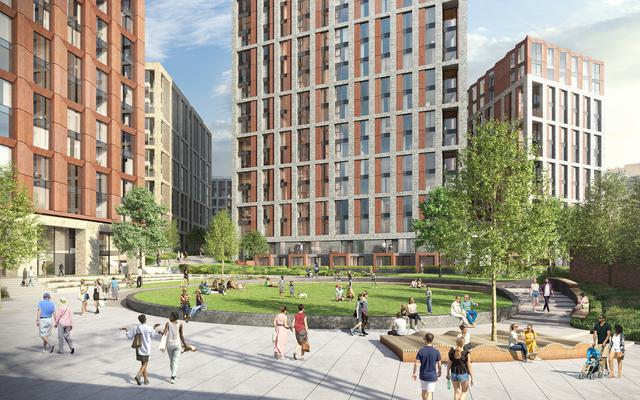 Residential
We believe in comfortable homes for all and we shape places with people at the heart, where individuals and communities can thrive
We deliver imaginative solutions that result in exceptional living spaces. Our work spans the full spectrum of size and scale within the residential sector: masterplanning residential-led developments, private and affordable housing, retirement, care and later living as well as student accommodation.
We shape bespoke responses, grounded in community engagement and longstanding relationships with local authorities, housing associations, and developers. Such a locally-led approach can deliver long-term success for any environment.
Through close client liaison, we strive to provide comfortable, self-sufficient, safe and sustainable homes that meet ambitious government targets now and into the future. This could be via new build zero carbon homes with minimal energy consumption or by retrofitting existing housing to improve energy efficiency. Our experience of the Passivhaus standard enables us to create net-zero-ready new or existing homes, regardless of their aspirations for accreditation.
We are leaders in using Modern Methods of Construction (MMC) in the residential sector, which means we can unlock greater environmental, economic, and quality benefits for clients, as well as faster delivery.
Masterplanning
Our team focuses on the connection between people, places, and the environment, to create places for people. From strategic to regeneration masterplans, for residential and mixed-use developments across urban, brownfield, and greenfield rural sites, we want to create spaces in which communities can thrive.
As the way we live, work, socialise and travel moves and shifts, urban masterplanning for residential, retail, leisure and commercial spaces comes to the fore. Using our multi-service and multi-sector knowledge, we transform residential sites to regenerate communities, boost local economies, and improve the overall health and wellbeing of a place.
Private and affordable housing
Working closely with local authorities, housing associations, developers, and local people, our goal is to provide everyone with the opportunity to live in a home they are proud of, within a strong and safe community environment. This can be through our building consultancy services in the refurbishment and maintenance of existing estates or the design of new homes.
Across the Private Rented Sector (PRS), Build to Rent (BTR), Private for Sale (PFS), and social housing, we address the needs of multiple stakeholders. This maximises the potential of an area, as well as commercial return for developers. Our solutions adhere to rigorous climate commitments set by the government and are informed by our leading expertise in the Building Safety Act.

Retirement, care and later living
An ageing population, housing shortages, changing lifestyles, and a greater focus on health and wellbeing have created an urgent demand for more sustainable later living solutions.
We have experience providing desirable, sustainable later-life alternatives, based on the 10 HAPPI principles, and through an imaginative and evidence-based approach, we are redefining housing for last-time buyers. Focusing on integrating these residents into vibrant, active, sociable communities, alongside care and support facilities where needed.
Student Accommodation
We have decades of experience in delivering high-quality student residences, and a deep understanding of the transformation this market has undergone. This sees our team working with universities and Private Student Accommodation (PSA) developers to support student welfare.
Health and wellbeing was key pre-pandemic and is once again front of mind for many higher education providers and developers. After all, investment in world-class campuses is a key factor in attracting new students and building revenue. We embrace these principles in our solutions, using innovative design methods to create homely and safe places for students to call their own. Our spaces offer a sense of community and provide technical facilities that meet the needs of the modern student.

Links
Explore all our Services and Sectors
Team
Key Residential Contacts
Contact
Interested in
learning more?
Learn more about 'Residential' and other sectors by reaching out to one of our team
Get in touch