Barbara Hepworth Building
Huddersfield, UK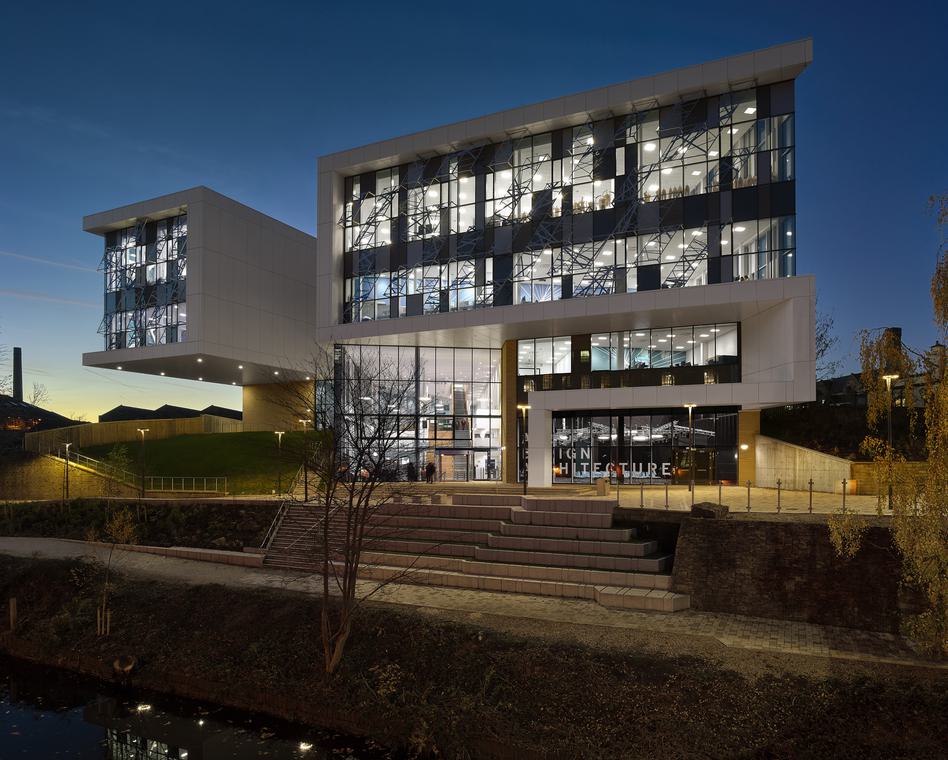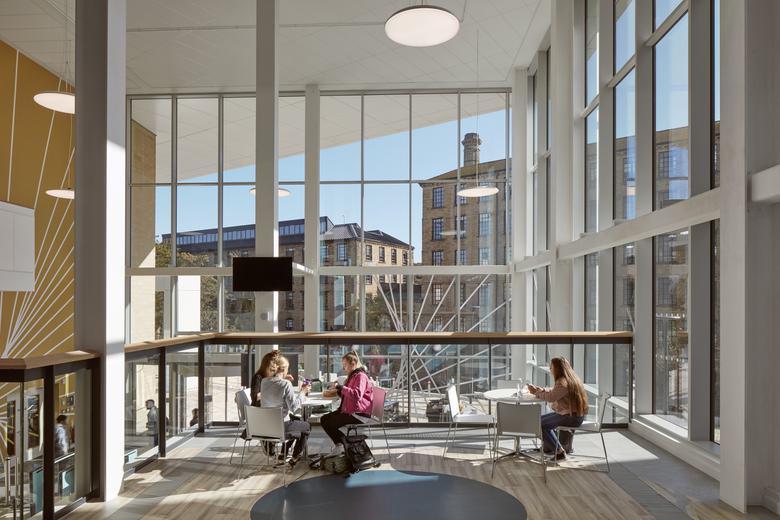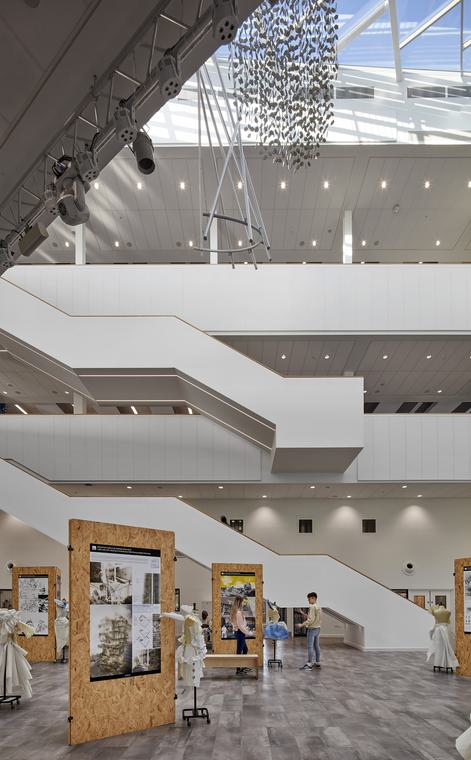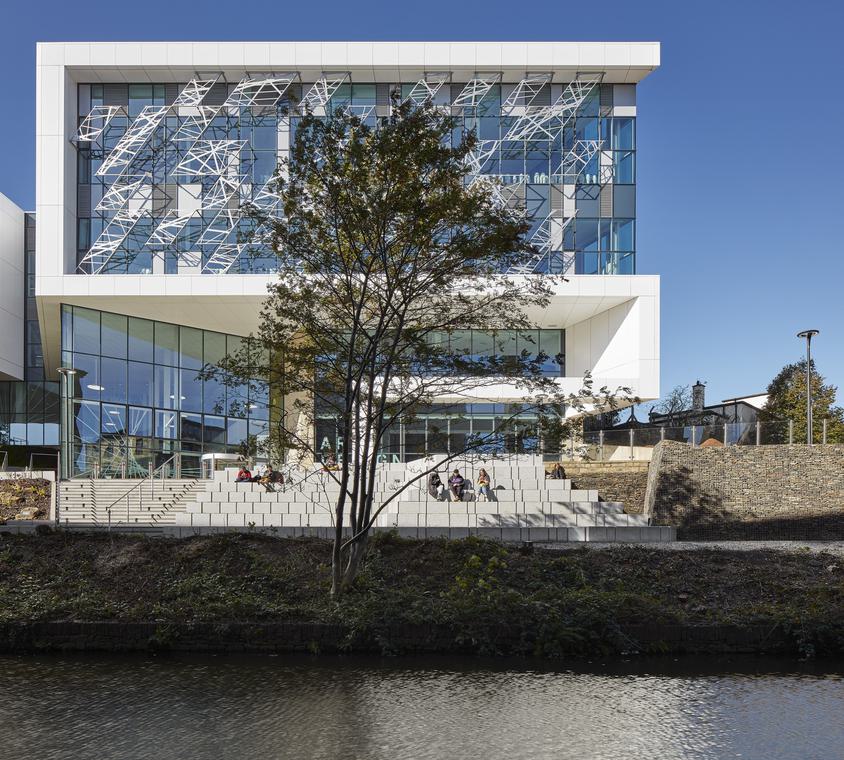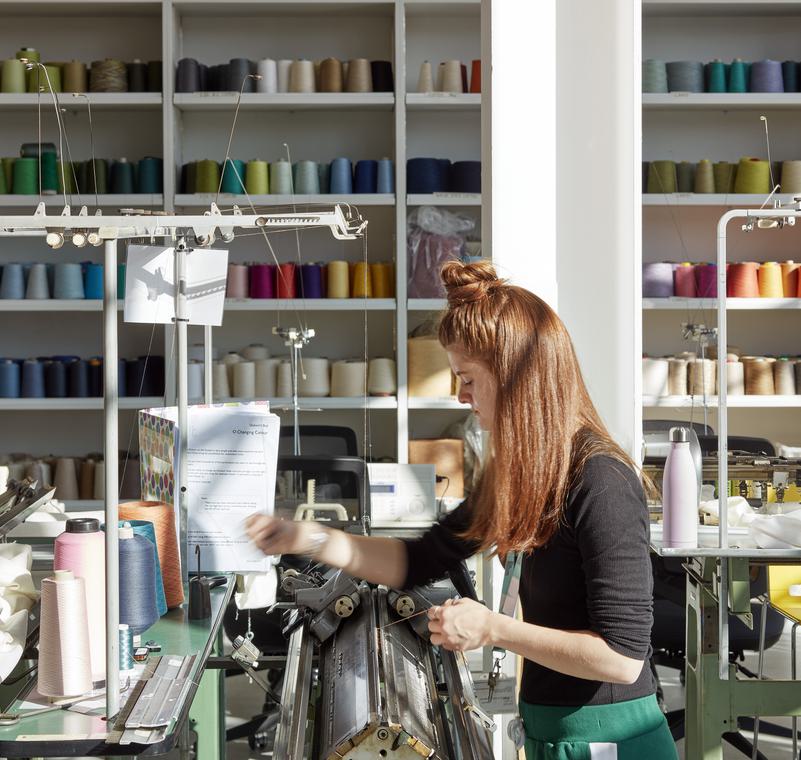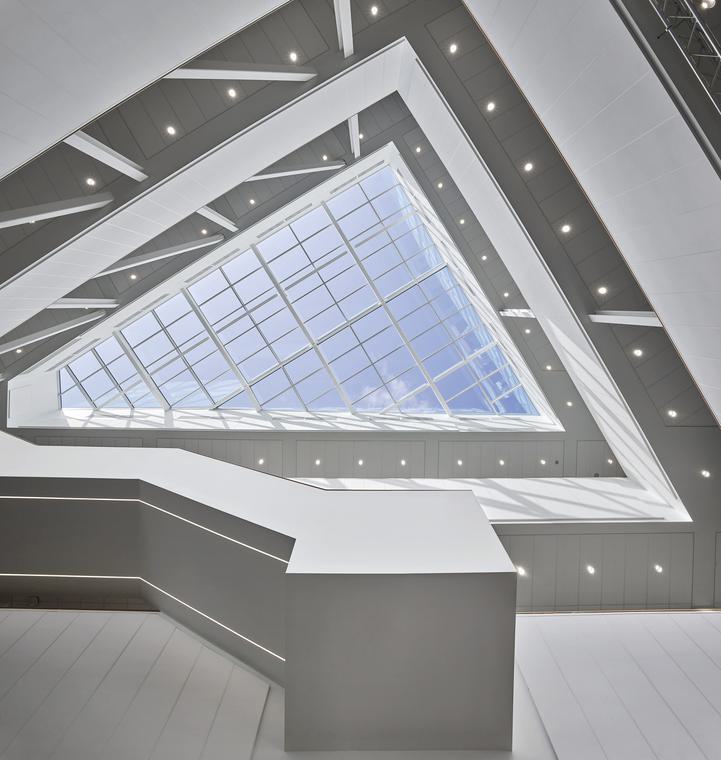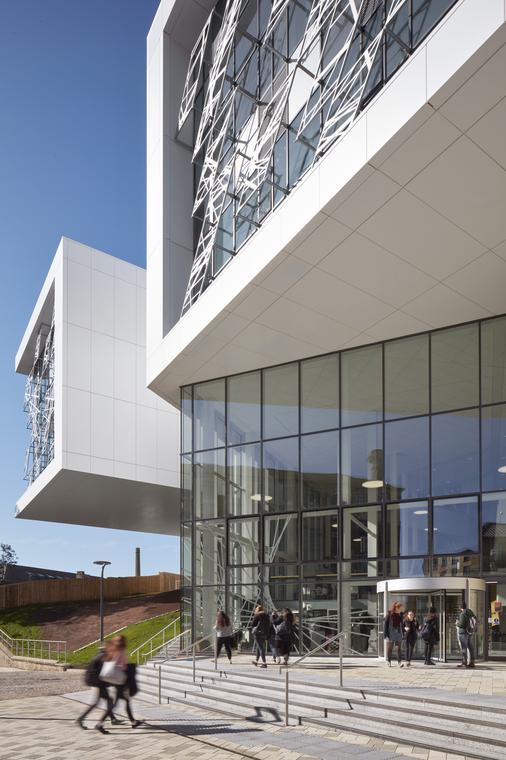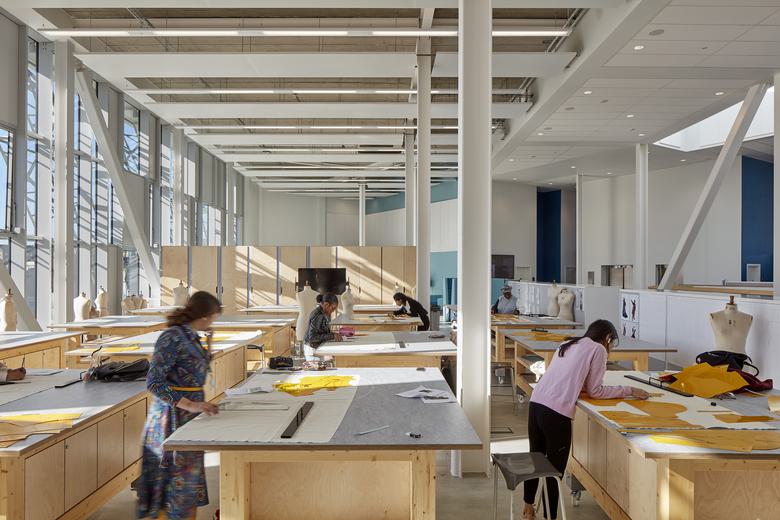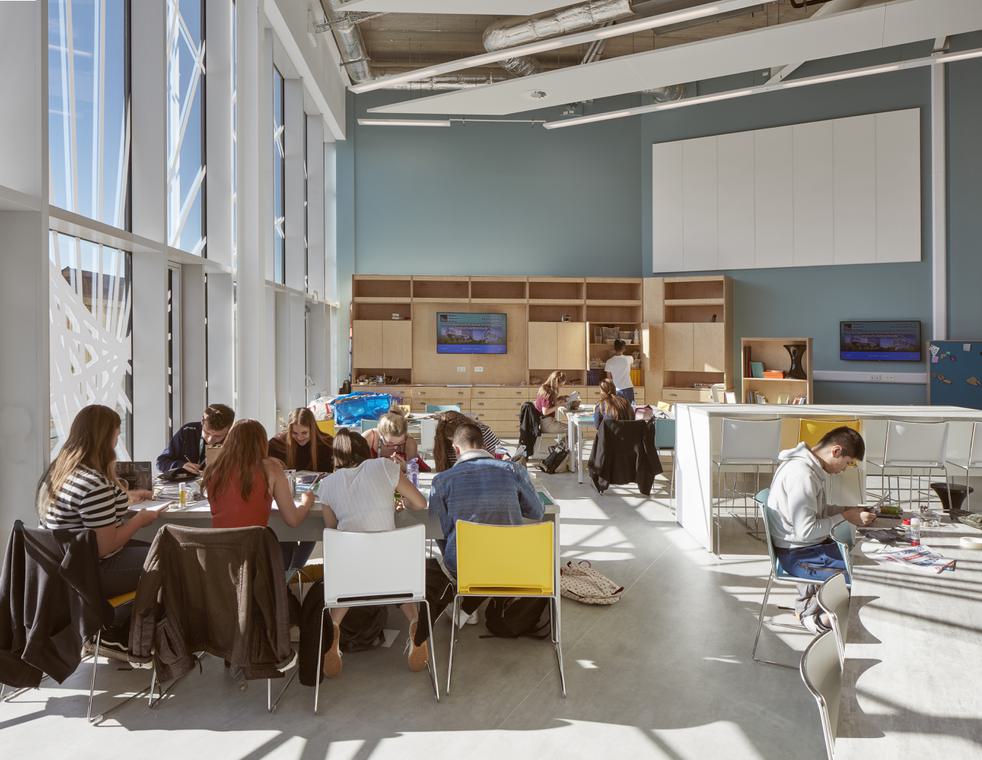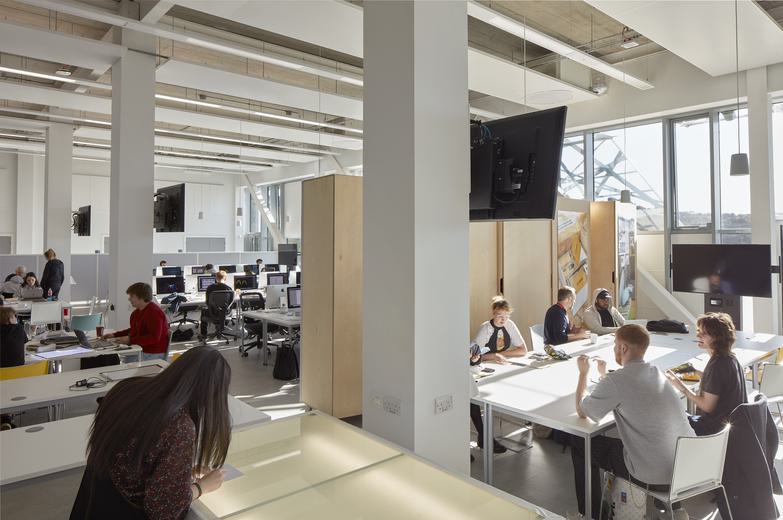 Creative learning hub as the first piece in the jigsaw of a wider campus masterplan
The Barbara Hepworth Building, home to the University of Huddersfield's (UoH) faculty of Art, Design and Architecture, is an open, flexible learning hub that unites all disciplines.
Named after one of the 20th century's finest artists, the space nurtures a new and inspired generation of designers. Through visual and physical connection, the environment encourages students to work together, stimulating communication and ingenuity, the ingredients of successful collaboration.
A statement of the University's ambition
UoH aspired to revolutionise design-focused education. Creating a building where multi-disciplinary learning is on display and students and staff of all disciplines are encouraged to collaborate.

The university wanted a building to promote and develop the key skills of each student, from theorising, conceptualisation to making of prototypes, in both physical and virtual forms. At the heart of this concept is the Phidias lab, which showcases the latest in motion capture technology.
Detailed stakeholder research was undertaken to ensure the appropriate amount of space was available to all subjects whilst ensuring each student, staff member and visitor maintain a feeling of ownership. During the design process, options were also tested in virtual environments, with students invited to navigate the full space and provide informed feedback.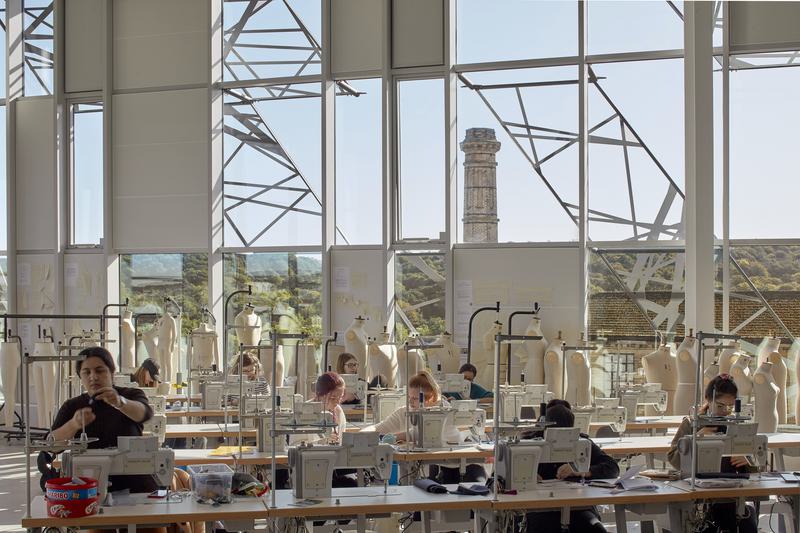 Connecting, adaptable design for interdisciplinary learning
The design unites previously disassociated disciplines, art, design and architecture, by creating interconnected spaces and studios.

Simple organisation places design studios on the upper levels, computer and research space around the atrium, then workshop and prototype spaces at the base of the building. This organisation is supported by a large, light-filled atrium, with adaptable spaces and furniture, promoting interaction between students and space.
Whilst also addressing the site's challenging topography with a 5m step change, the design's technique of 'folding' its way up the sloping site and forming the central atrium space that affords open views, terminating in an 18m cantilever over the adjacent canal.

The university's desire for learning to be 'on show' and open plan, proved to be an acoustic challenge, with each area needing to be visually connected without fixed barriers or partitions. To maintain a comfortable space, absorption was integrated into many elements including storage units.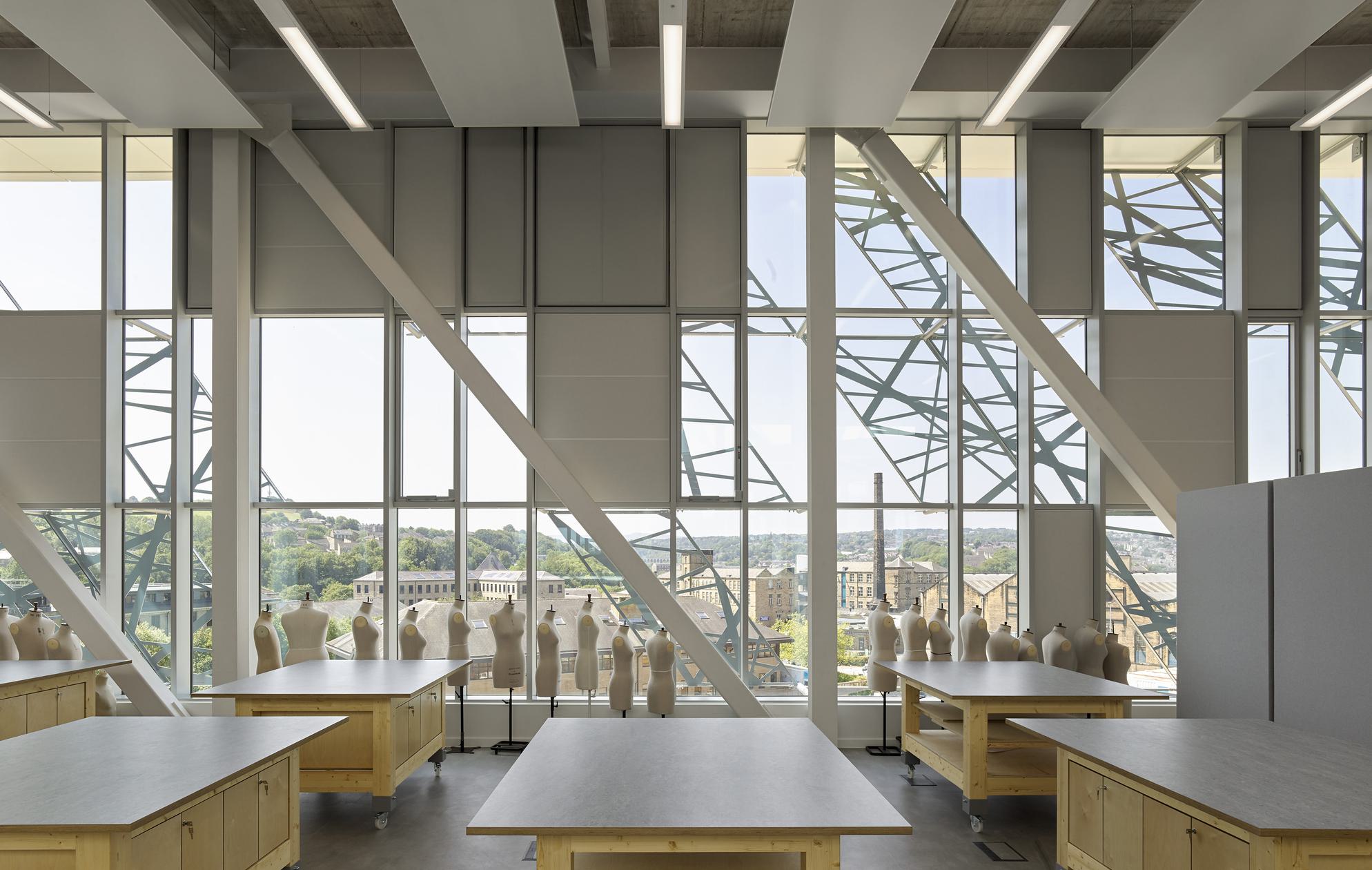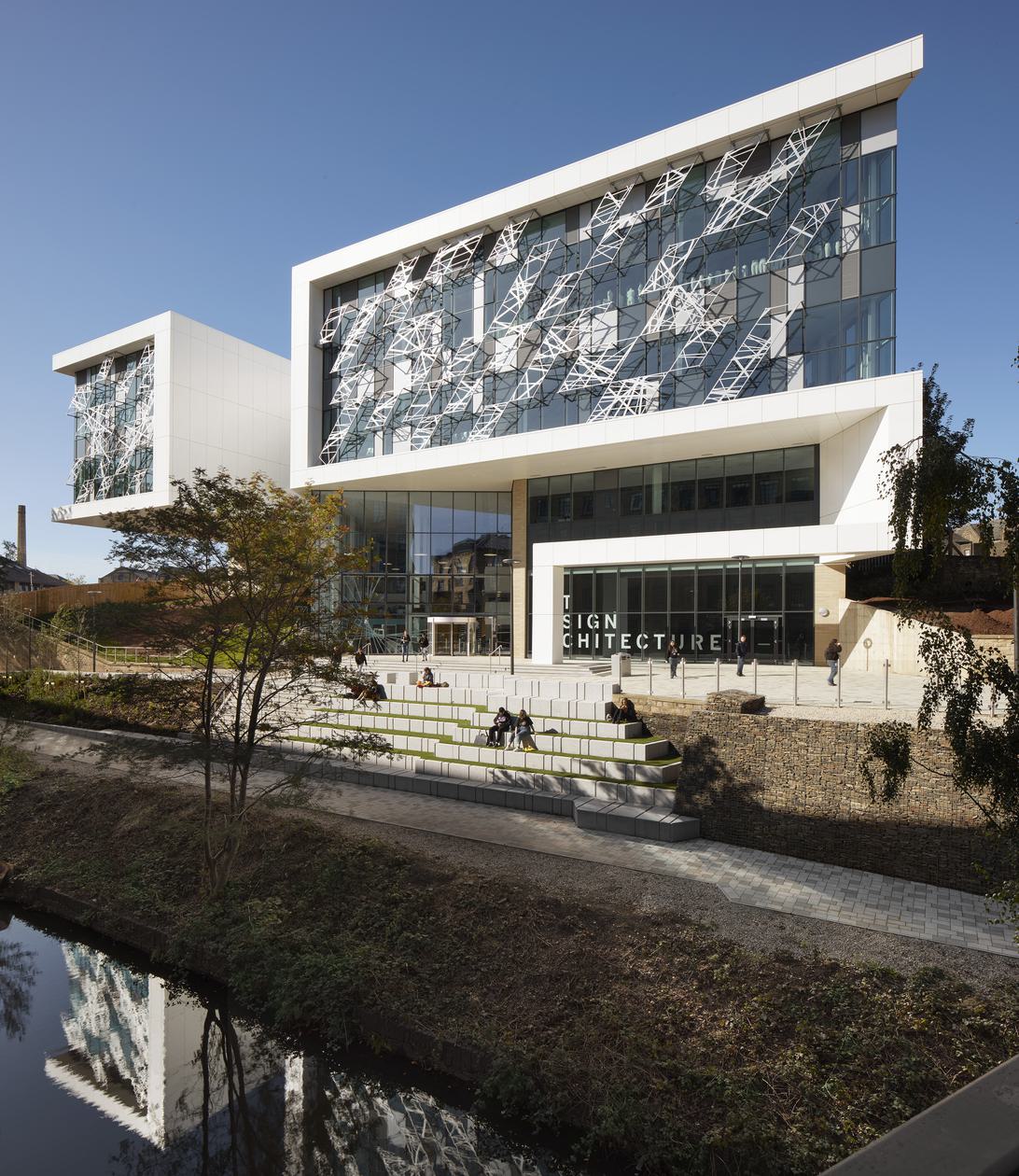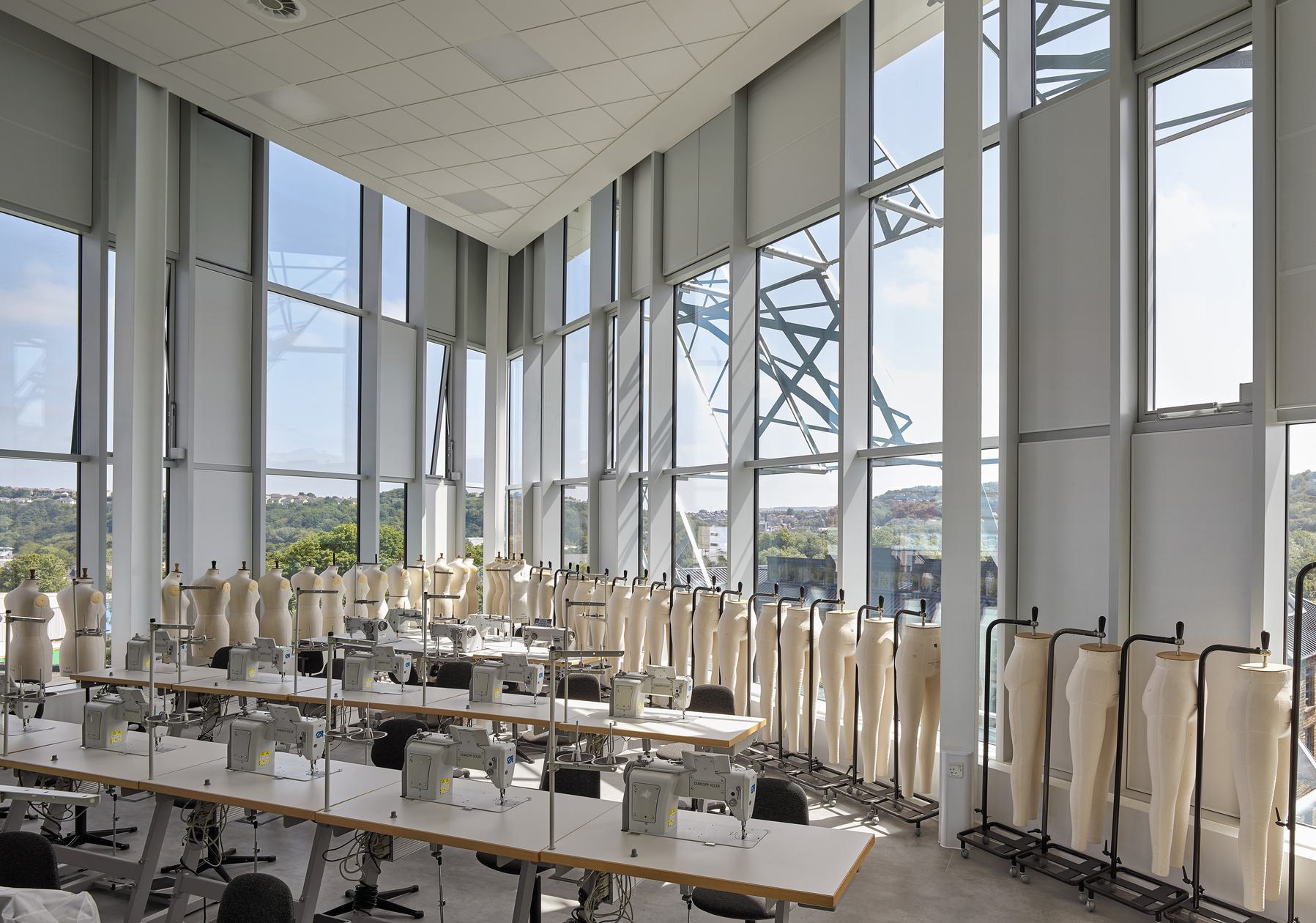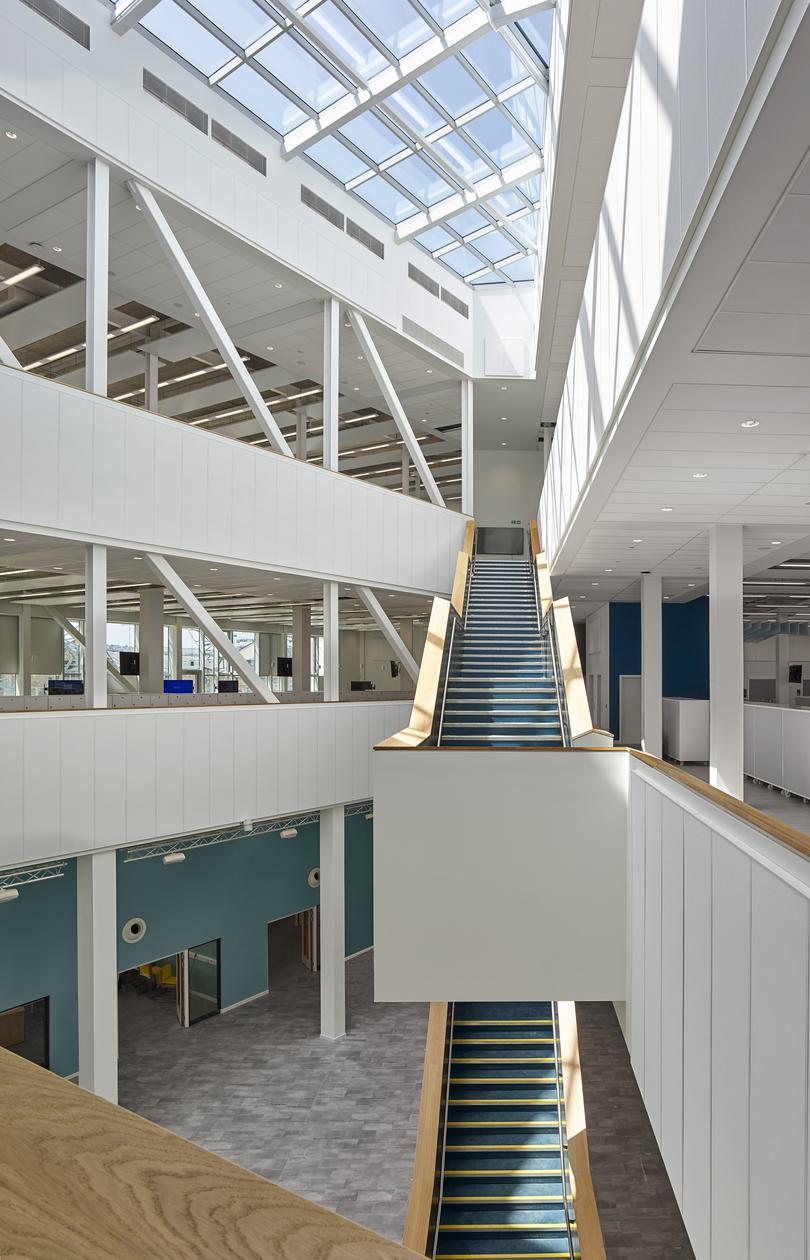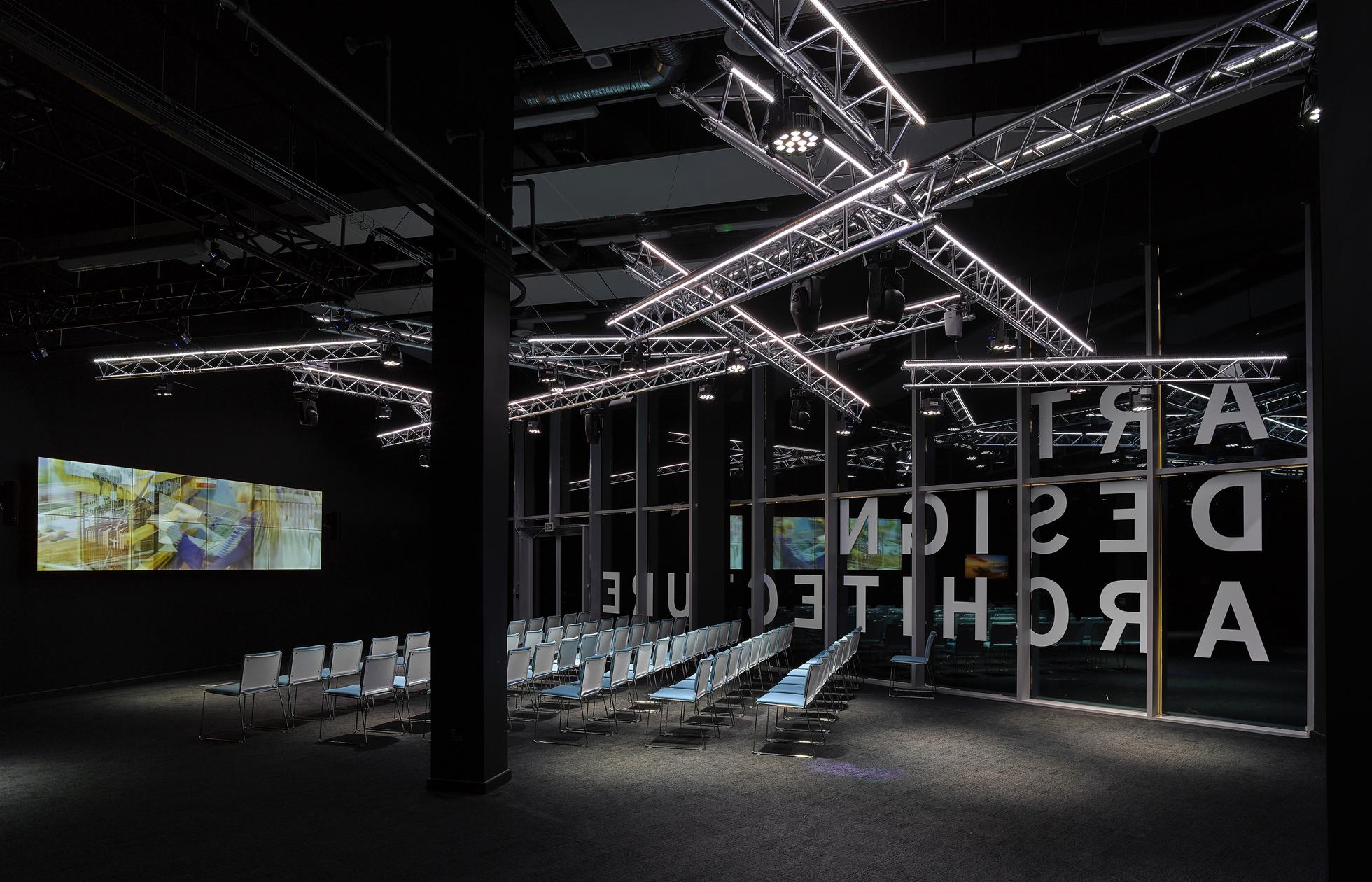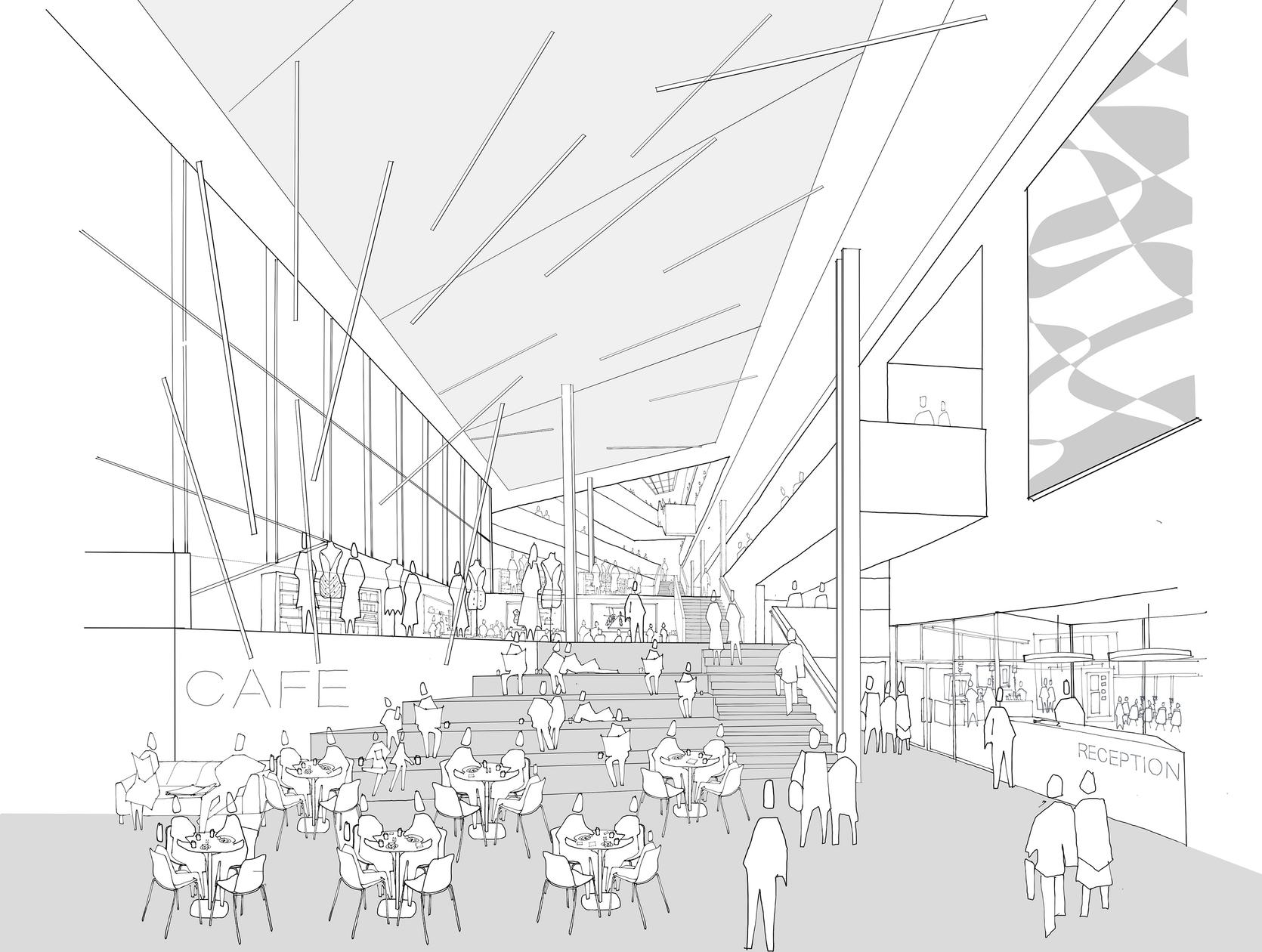 Design and innovation
A learning tool by creatives, for creatives of the future
Early in the design process, it was agreed to expose building services and primary structure to afford students the opportunity to see the building as a learning tool, particularly revealing how the cantilever was achieved through cross-bracing between floors.

The highly sculptural form of the facade is reminiscent of origami, and reflects a theme of contemporary yet abstract textiles design, which is interpreted through digital means to create an 'architectural veil'. This open transparent facade provides a full exposition of the work taking place inside, giving passers-by a detailed view of the creative process at work.
A bespoke laser-cut mesh wraps the building, reflecting the abstract design approach of Barbara Hepworth and acting as solar control for the South and East sides. This intricate metalwork prototypes were given to students as a learning tool.
The interior represents a narrative of a factory for learning; materials and finishes are both functional and inspiring. The upper floors, dedicated to sculpture and fine art, have robust timber furniture.
Each zone in the building has its own colour scheme and bespoke finishes. Blues in the atrium represent technology and research, studios use yellows and subject-neutral spaces are grey.
The Phidias lab, designed as the prototyping space of the future, provides students with the potential for developing high end simulation models in an immersive virtual environment.
The graphics, which make abstract references to Barbara Hepworth, work within the guidelines for the overall campus and the super graphics animate spaces such as the atrium.
Prioritising health and wellbeing surrounded by tranquil Yorkshire countryside
The environmental approach combines an aspiration to have a low energy building which is also a healthy and happy place for staff and students to thrive. Whilst formal certification was not ultimately followed, the principles were applied at project inception and have been maintained.

This included the consideration of good levels of natural light, the use of natural ventilation and materials and finishes which maintain good air quality. A substantial upper level external terrace, designed as a learning and event space, is accessed from one of the large studios, providing further connectivity between inside and out.
A calming colour palette, to make students work shine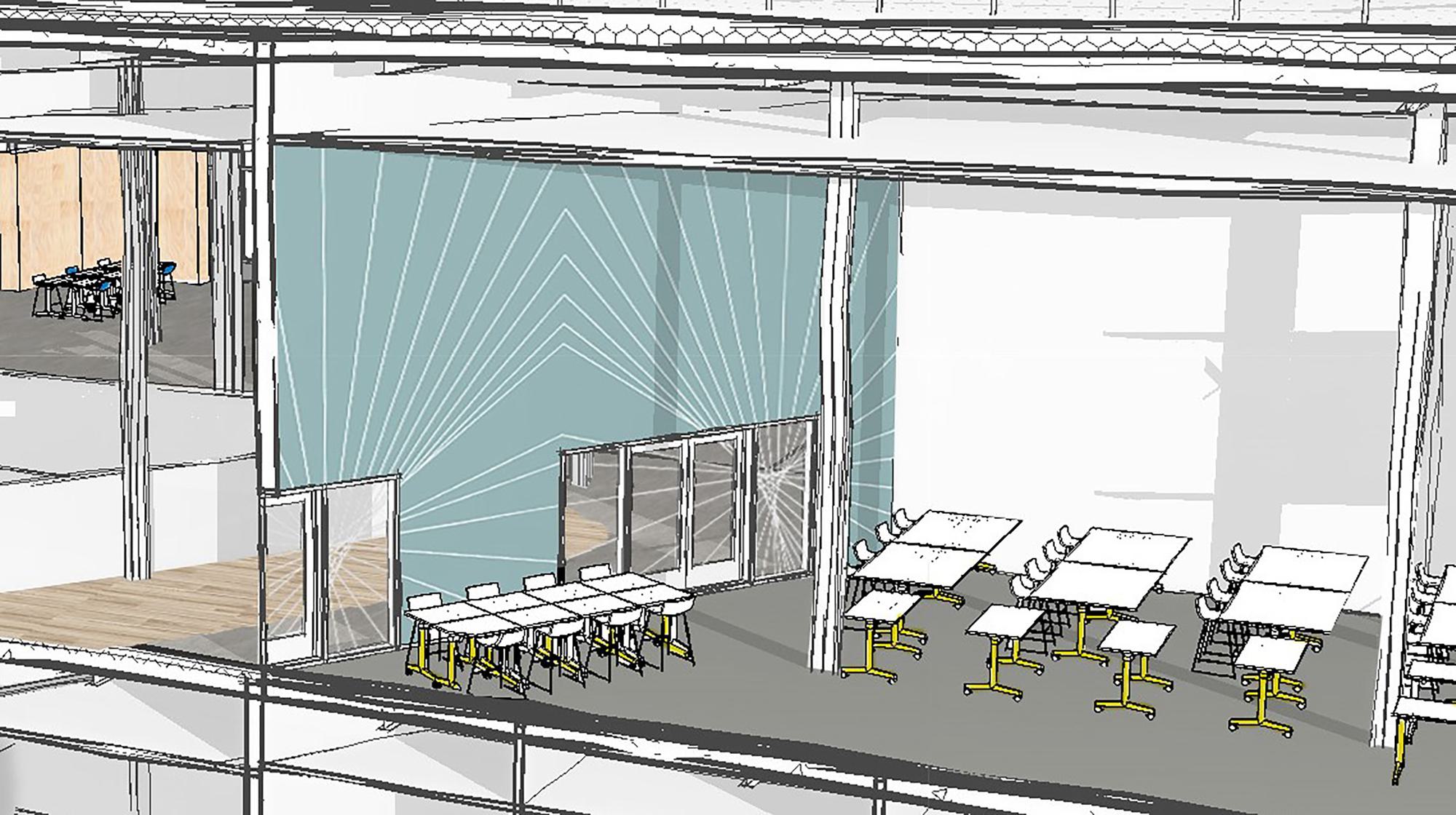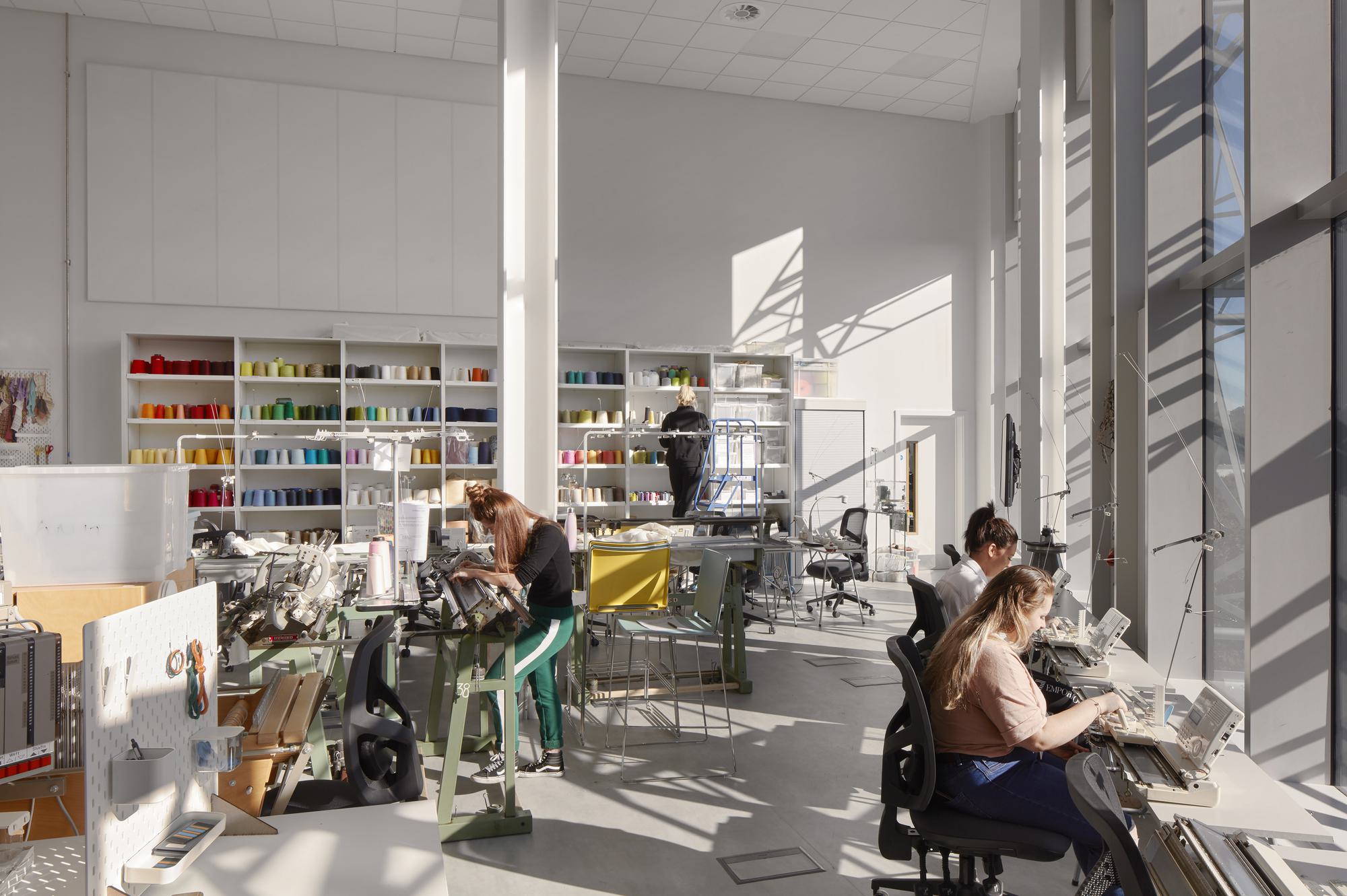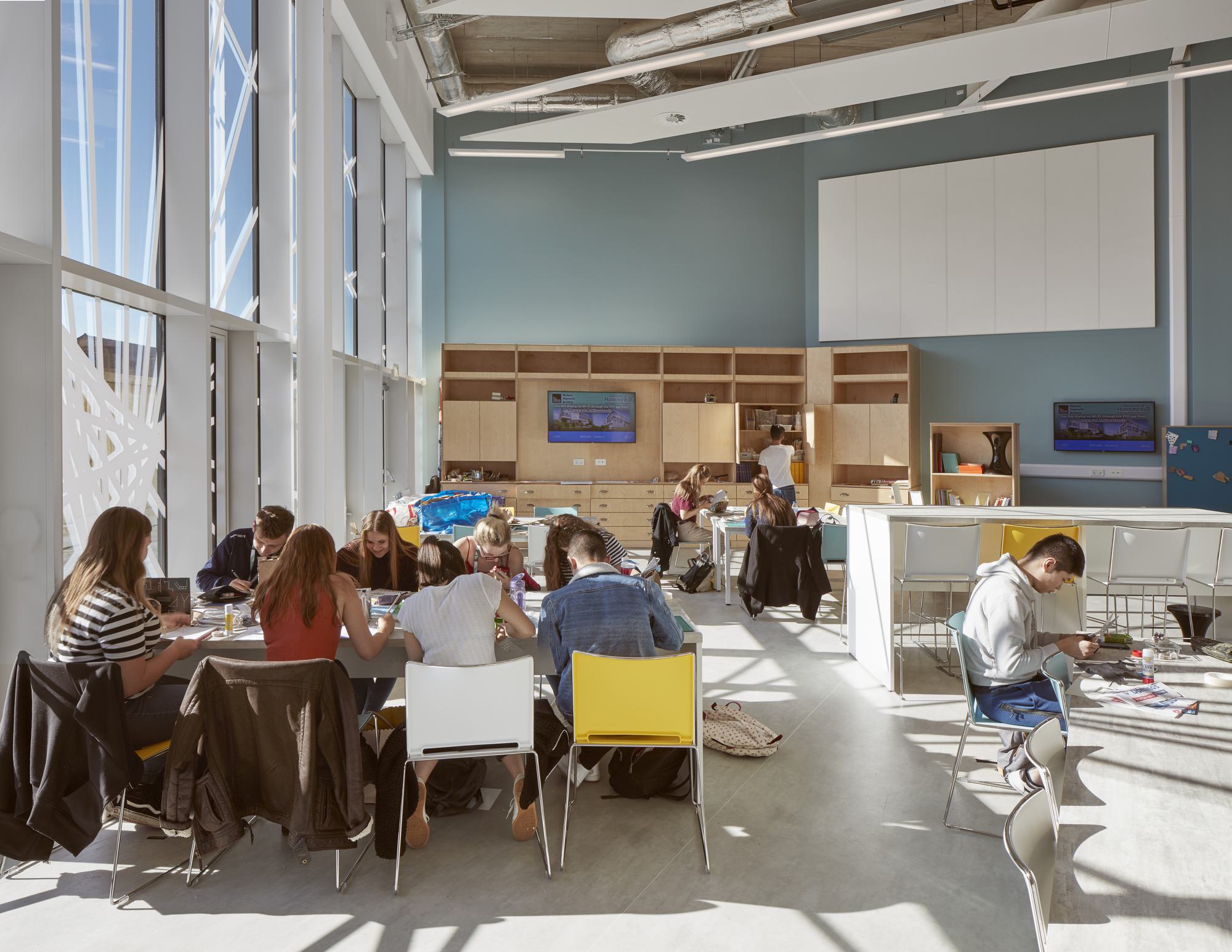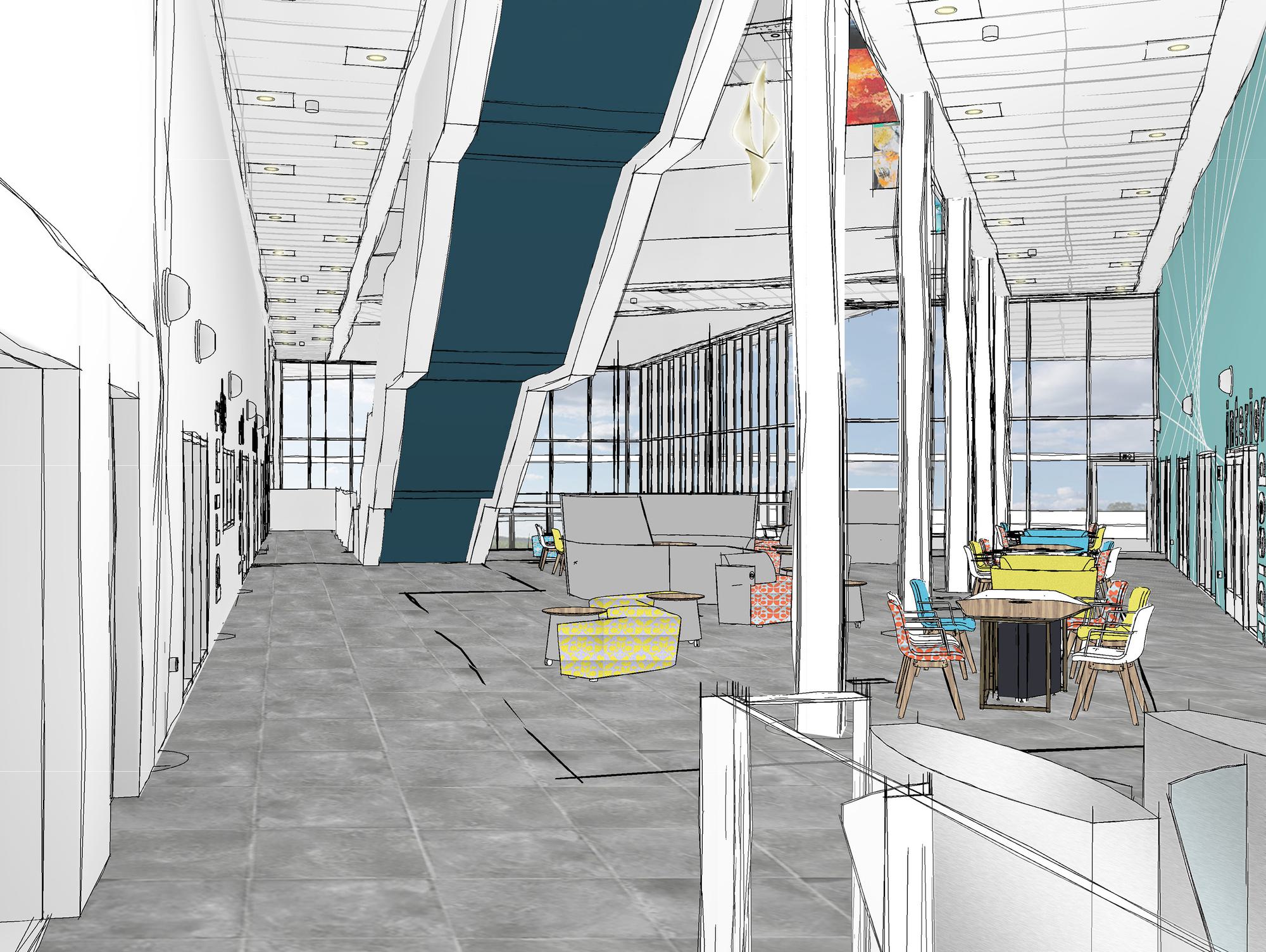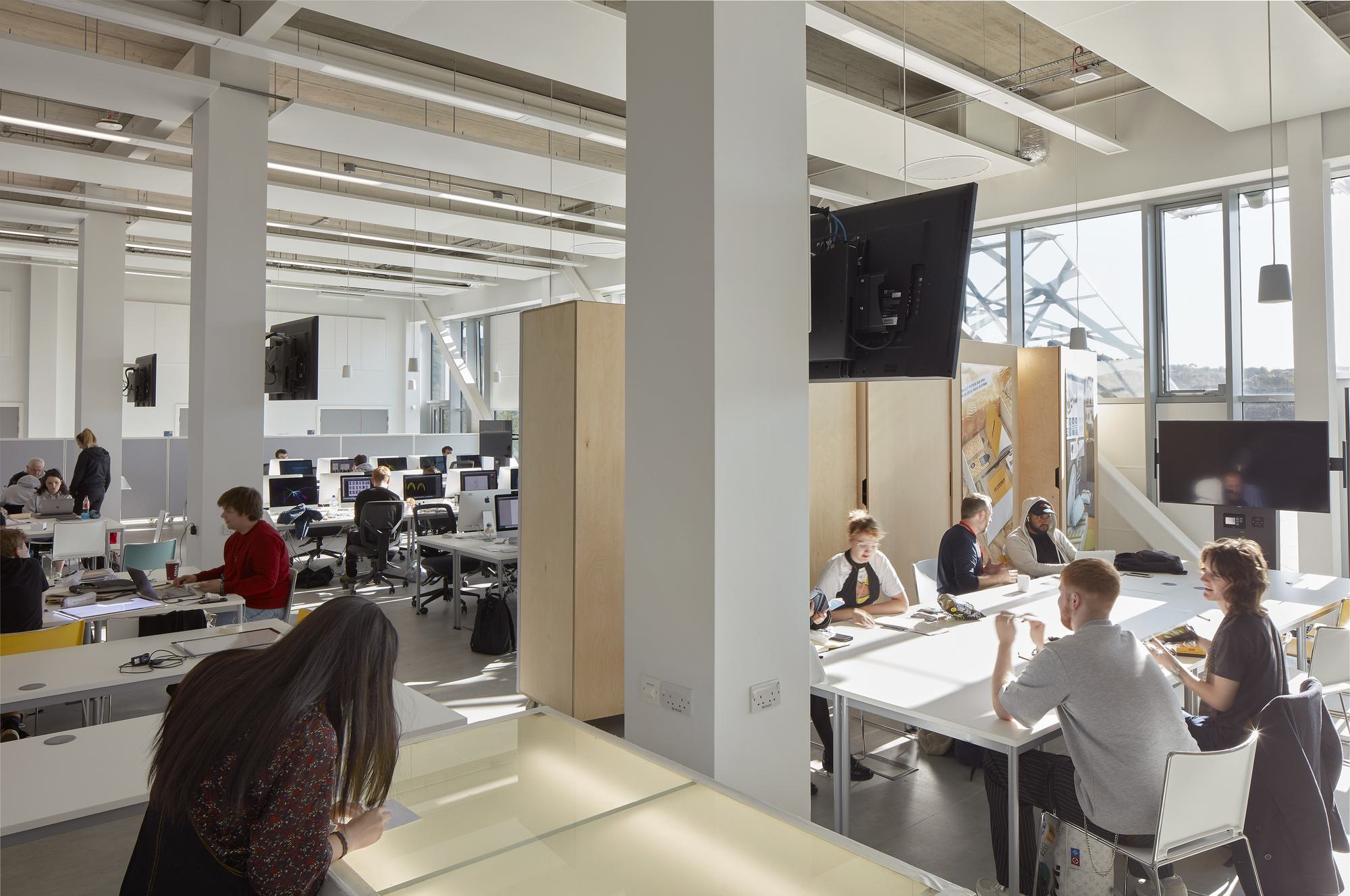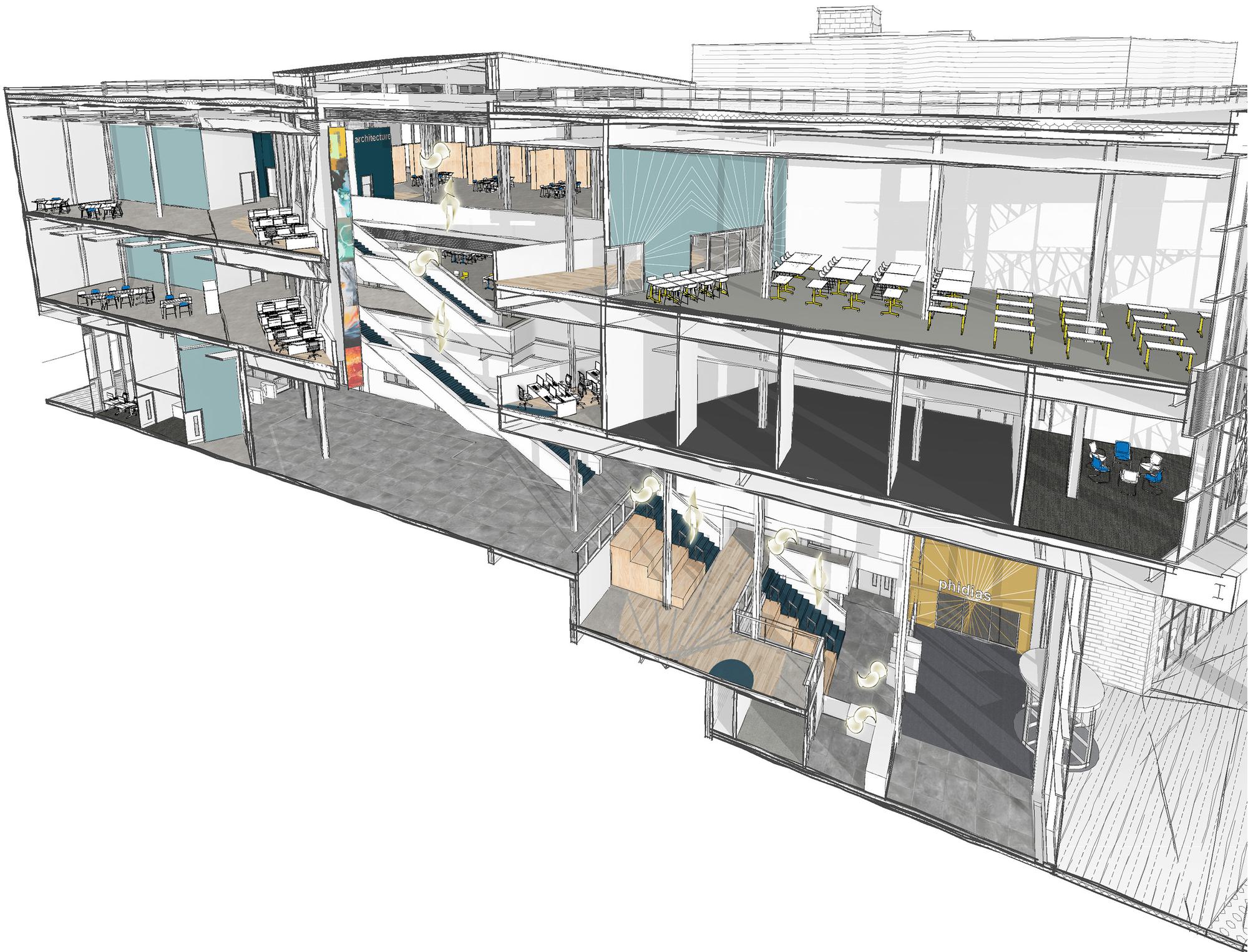 Feature walls
We included some coloured feature wall areas to add interest and one key colour that we had to incorporate was 'TEF(Teaching Excellence Framework) Gold'.
Colour palette
Following a brief from UoH, we created a neutral colour palette. As it is an art and design building, they wanted to keep most walls white/ neutral, to allow the students work to shine.
Furniture
We collaborated with furniture supplier, Greshams in designing bespoke equipment, specific to the art and design building's requirements such as work tables and pin-up boards.
Furniture, Fixtures and Equipment colours
We chose upholstery and RAL colours using our colour palette.
Prototyping
Together with UoH, we reviewed furniture prototypes from the furniture supplier, Greshams, throughout.
Barbara Hepworth
Inspired by the work of Barbara Hepworth, we designed feature wall graphics, window graphics and feature flooring layout patterns.
Supporting the local economy
Materials and services were procured locally, making a significant contribution to the regional economy. This included locally quarried York stone, which has a naturally low carbon footprint, while surplus timber was donated to Yorkshire Community Recycling.
Exhibitions and events for local businesses and the public are held at the building, establishing Huddersfield as a premier design destination.
30%
spend
in the local economy
60%
of labour
was employed locally
£8.6m
created
in social value
95%
project spend
with local SMEs
6
unemployed
given jobs on site
10
apprentices
given their start
Project summary
Location
Huddersfield, West Yorkshire, HD1 3DH
Client
University of Huddersfield
Includes
New build school of Art, Design and Architecture
Awards
Northern Design Awards 2019
Winner - Commercial Build

Huddersfield Civic Society Awards 2020
Winner - Best New Development

RIBA Yorkshire Awards 2020 Shortlisted

RICS Social Impact Awards 2020 Shortlisted
Team
Meet the team behind the project
Contact
Interested in
learning more?
Learn more about 'Barbara Hepworth Building' and other projects by reaching out to one of our team
Get in touch