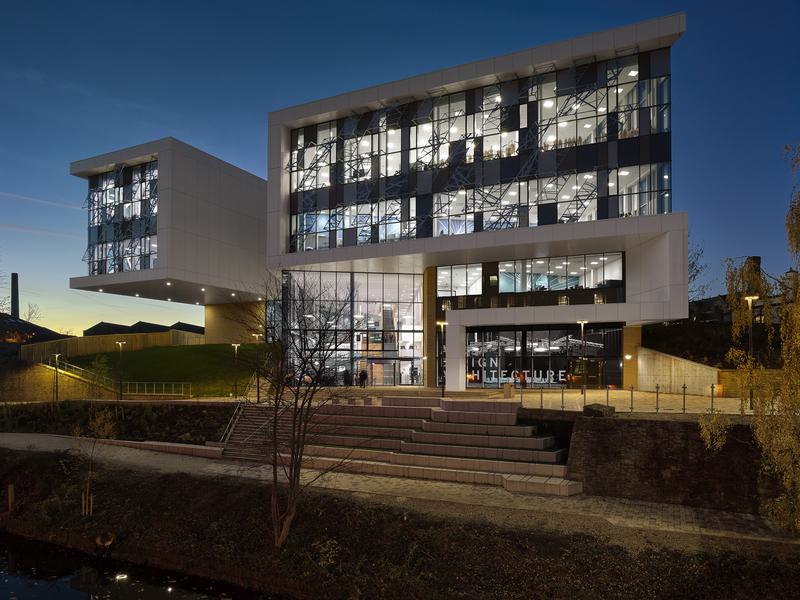 Thought Leadership
Building wellness

by Dominic Manfredi
Director, Architecture
The UK's commercial sector has a growing appreciation for the impact that workplaces have on the health and wellbeing of employees.
Many major commercial occupiers are now recognising that by investing in environments that enhance people's wellbeing, they can make huge gains for their business. However, with the commercial property sector under myriad new pressures – from meeting sustainability targets to incorporating evolving technology – it's easy for wellbeing to slip down the list of priorities.
Designing for health and wellbeing has been a core focus among many higher education institutions for some time. As graduates move into the workplace, healthy office environments will become more important than ever before.
Wellbeing in education and office environments
Universities have emerged as leaders in placing wellbeing at the heart of new developments. Investing in high-quality campus estates is a key way for these institutions to attract students and build revenue. With increasing awareness around student mental health issues and the common financial, social and academic pressures that come with studying, a healthy campus is no longer a nice-to-have but an essential.

The commercial office sector is taking inspiration from this approach. From a staff point of view, there are huge benefits to designing for wellbeing, including: increased collaboration and productivity as well as improving mental health. Additionally, there are a range of commercial gains that come from wellness at work, such as minimising absenteeism and helping to attract and retain top talent.
Innovation in practise
Flexibility is just one example of how to improve wellbeing and the Barbara Hepworth Building at the University of Huddersfield is an example of the lead the education sector has taken in this area. Collaboration was a key part of the brief, with the building uniting the university's School of Art, Design and Architecture under one roof for the first time. The spaces, desks and workstation layouts can be adapted and configured by students to suit their creative needs, fostering interdepartmental collaboration and enabling students to be inspired by one another. The space empowers people to share ideas within an exciting hub of creative studios and technology facilities; creating a sense of community within.

An appreciation for changing working practices and the move away from one-size-fits-all design is equally crucial in maximising wellness in office accommodation.

This approach informed the design of the UK Hydrographic Office (UKHO) headquarters in Taunton. UKHO sought to encourage a "one team" culture to boost collaboration – a fundamental part of its future business plans. Collaborative and agile workspaces, with generous break-out spaces, provide alternatives to traditional desks for different ways of working, prioritising connectivity. Meanwhile, elements like the scheme's gym, alongside abundant natural light through an internal atrium and natural ventilation, place wellbeing at the heart of the design.

Natural ventilation shouldn't be underestimated in office design. The World Green Building Council recorded that staff see an 11% increase in productivity as a result of fresh air being delivered to workspaces. Taking the natural ethos further, according to a study by Truspace, people who work in spaces with natural features reported 15% higher levels of overall wellbeing.

The Spine, the northern headquarters of the Royal College of Physicians in Liverpool leads the way in incorporating these kinds of biophilic elements, taking inspiration from the world-leading research carried out within.

The building features a distinctive facade that takes influence from human skin. Light entering through the facade design creates unique shadow patterns in the interior, aiding productivity and stimulating the mind, whilst assisting with solar control so workers benefit from an optimal working environment. One of the main biophilic interventions, rather than an atrium found in a typical commercial building, is The Spine's series of vertical villages which contain a rich mix of plants and trees, producing oxygen and promoting the salutogenic properties of planting in buildings. The Spine is the exemplar of what is possible when wellbeing is at the heart of design.
Looking to the future
We expect wellness as a trend will follow a similar pattern to sustainability. Years ago, many developers were just starting to incorporate sustainable elements in projects, whereas now almost every industry player has made it a core focus for building design.

We have already seen developers and occupiers pushing the boundaries when it comes to designing for wellbeing, however there is more to come. With a range of distinct benefits to be gained, now is the time to implement the increasing innovation in healthy design within the commercial and education environments of the future.
Posted on:
Mar 17th 2020
Topics: