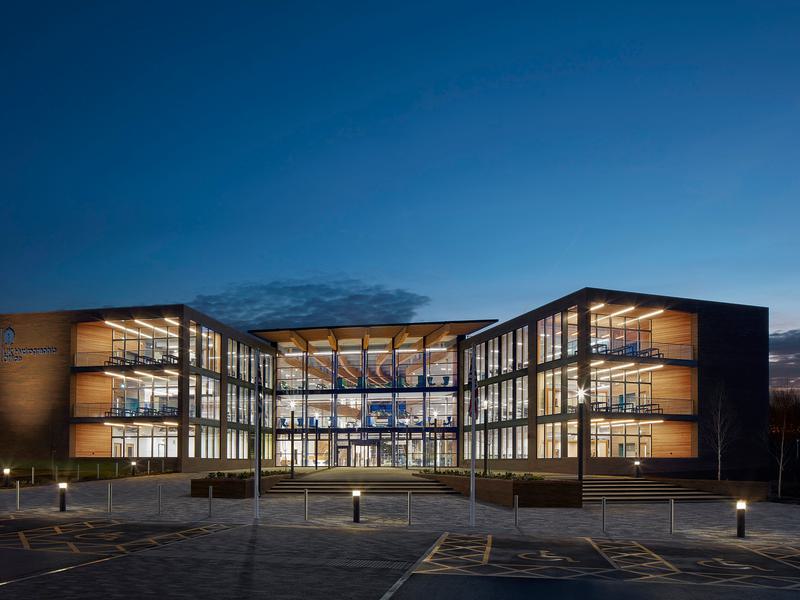 Thought Leadership
Maximising sustainability with the intelligent application of technology

by Karle Burford
Director, Architecture
The scale of the property sector's environmental impact is well documented. Nearly 40% of the world's energy-related carbon dioxide emissions are produced by the built environment according to the UK Green Building Council.[1]
This means the sector has a leading role in decarbonisation. The commercial benefits of sustainability are also becoming clear – research from the World Green Building Council stated that green buildings offer a 7% increase in asset value compared to their traditional counterparts.[2]
In response to this, the industry has implemented measures that reduce environmental impact. Standards like BREEAM and LEED have become ubiquitous and sustainability has become a barometer for the success of projects.
In 2019, we joined more than 400 other architecture practices in signing up to the Architects Declare movement. This initiative presents an 11-point action plan designed to raise awareness of the climate emergency and advocates for change in the industry.
Maximising sustainability through regenerative design forms a key part of the Architects Declare manifesto. Embracing this approach in property will be key in meeting the UK Green Building Council's ambitious targets to make new and existing buildings net zero carbon by 2050.[3]
Putting sustainability at the core of design
Many recognise the need to be active in addressing sustainability. The question is simply how the architecture sector can best play its part. Optimising tried and tested technologies of the past and applying them to emerging regenerative design principles could hold the answer.
For our part, we prefer to uncomplicate the matter. Our first port of call is to create a building or space that is self-sufficient, able to light, heat and look after itself. We look at passive strategies, such as Passivhaus design principles, combining natural ventilation, natural daylight, high levels of building insulation and robust detailing to create durable and energy-efficient solutions for our clients.
Some of these strategies could be termed as some of the oldest technologies for keeping buildings at an optimal temperature and enhancing sustainability across the built environment – yet UK Green Building Council claims this could save 60 to 70% on air conditioning loads. This is important given the International Energy Agency states that the energy used in heating and cooling buildings has doubled since 2000 – a trend that we must work to reverse.[4] As we move closer towards zero carbon, we need to ensure we are first and foremost intelligently applying these principles.
These approaches are a core element of our design for the headquarters of the UK Hydrographic Office. The scheme includes a state-of-the-art natural ventilation system that minimises energy costs while also creating a healthy space for staff. This is accompanied by a glazed atrium roof that maximises natural light throughout – ultimately creating a highly sustainable, low-energy operation by using existing principles that have been refined by scientific and technological development.
Identifying opportunities to regreen is also a key part of addressing the wider climate change challenges, as well as providing health and wellbeing benefits. Incorporating nature and natural materials, such as timber frames, can dramatically reduce the embodied carbon of buildings. The use of plants and nature within regenerative design principles offers an opportunity to build carbon capture directly into schemes while improving air quality and enhancing the occupants' wellbeing.
We embraced this in our design of The Spine, the northern home of the Royal College of Physicians in Knowledge Quarter Liverpool, which prioritises sustainability and wellness with biophilia, natural ventilation and a very careful choice of material specification throughout.
When we look at achieving regenerative design, these buildings and spaces need to positively add to our world, and this includes the health of humans, along with our environment. The Spine's pioneering advances in biophilia re-connect occupants with nature, through a mix of methods. These include a series of vertical villages which include a rich mix of plants and trees that reduce both carbon dioxide and toxin levels in the building whilst also producing oxygen, as well as a distinct facade which generates unique shadow patterns, reinforcing an ever-changing environment, aiding productivity and stimulating the mind.
Assessing environmental impact must be at the core of how we drive forward our role in reducing emissions. We use BIM and software such as Revit to model and measure, taking guesswork out of the equation. The industry has never had access to the quantities of data that it does now, and this technology now enables us to calculate embodied carbon, run daylight analysis and model passive ventilation strategies. By putting this to good use we make places as energy efficient and environmentally friendly as possible, maximising their lifespan and regenerative potential.
The appraisal of whether to reuse or refurbish existing space is the first step in any project. The time is now to embrace a circular economy and make more of our existing built environment. In the case where new schemes are being developed, the legacy and longevity of these buildings should be front of mind too and they should be designed and built in a way that allows them to be refurbished efficiently in future.
We need to learn from our projects to continue to increase our knowledge in sustainability. Post occupancy evaluations are paramount to measure environmental performance and minimise the performance gap. As we measure, we refine – and the key lies in sharing this knowledge so that we can collectively learn and bring about meaningful change.
As architects, we can inspire our clients and push the boundaries of sustainable design. With this approach, we can help to tackle the issue across the sector and ultimately create a built environment which is better for the planet.
[1] https://www.ukgbc.org/climate-...
[2] https://www.worldgbc.org/news-...
[3] https://www.ukgbc.org/ukgbc-wo...
Posted on:
Feb 13th 2020
Topics: