Wapping Wharf North
Bristol, UK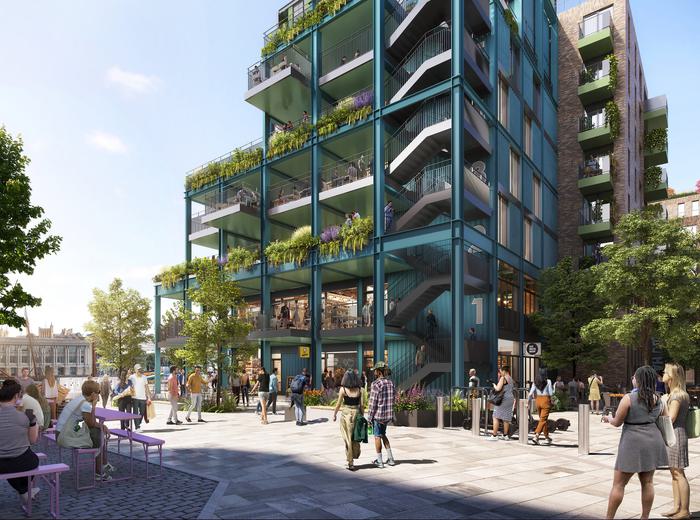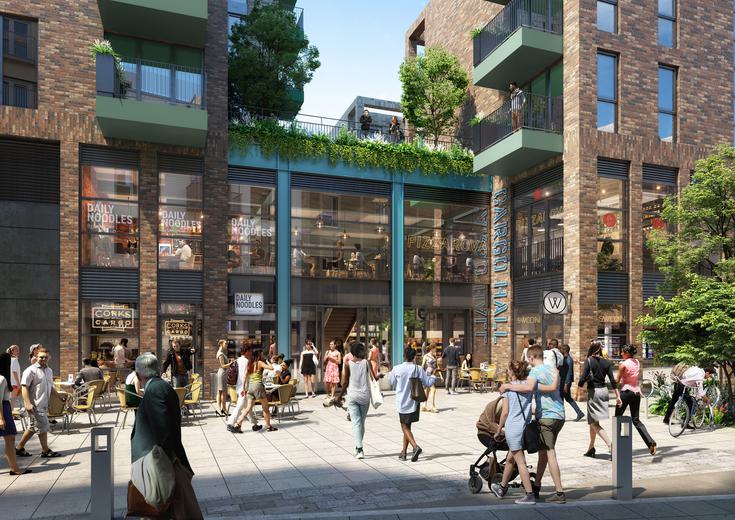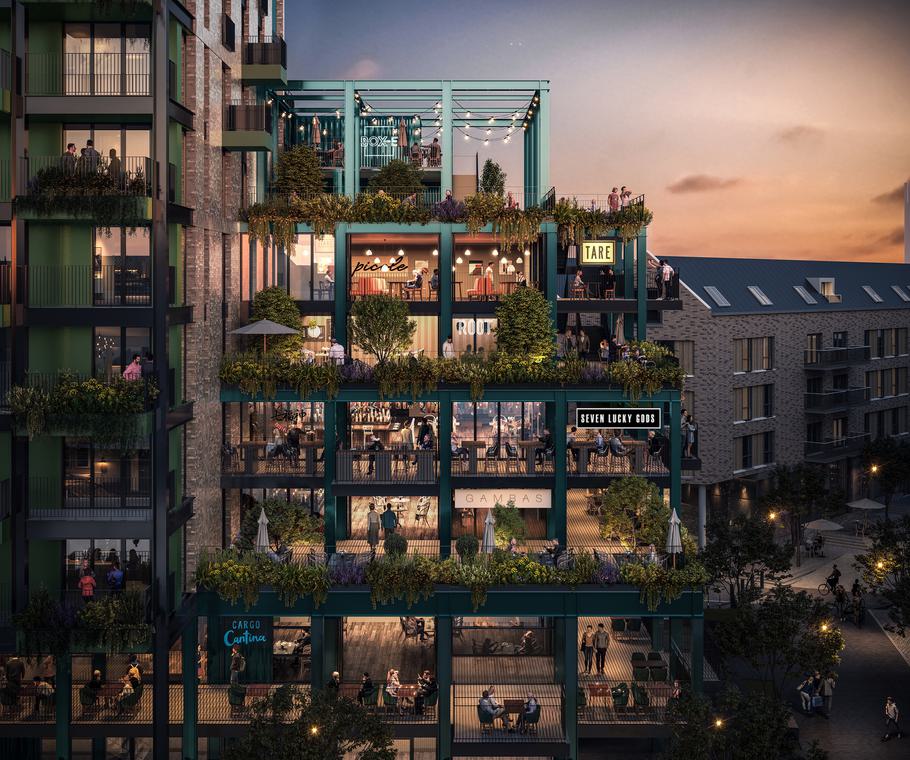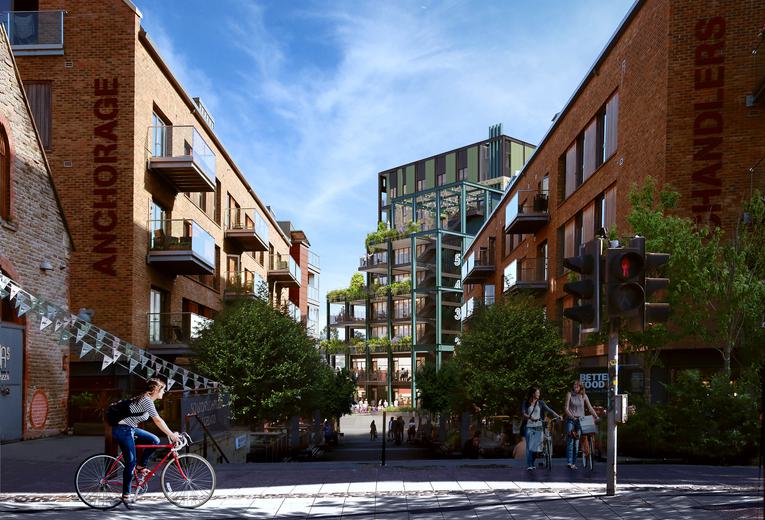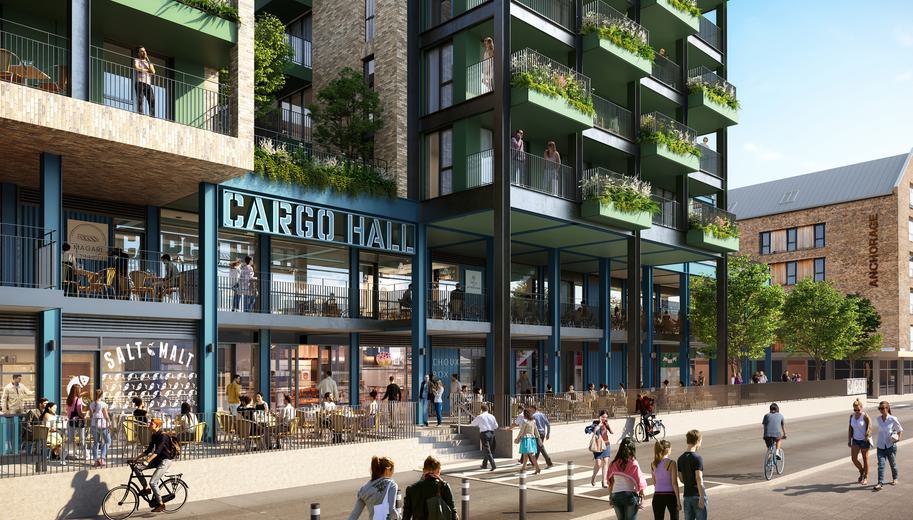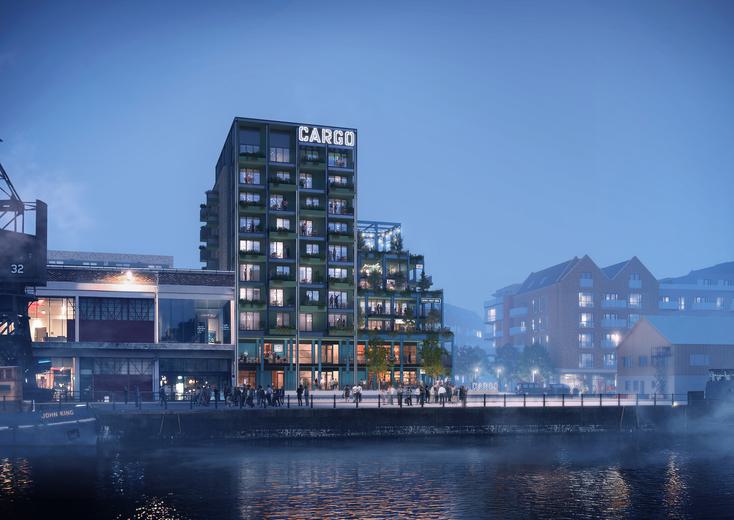 Exciting new mixed use hub in the heart of Bristol city centre
Set in the heart of Bristol's historic harbour, Wapping Wharf North provides a fantastic, vibrant new destination for people to live, work, socialise and relax.
We combined our masterplanning and architectural services to design the remaining north plot of the site. The north plot aims to positively complement the existing Wapping Wharf neighbourhood developed by Umberslade, which is already a successful and much-loved development in the area.
To be delivered in two phases, the north plot will include a new two-storey retail podium which will become a new, permanent home for CARGO, designed with small independent businesses in mind. The development also includes a mix of 245 stylish homes to meet a range of housing needs, 5,000 sqm of flexible workspaces and inviting public realm.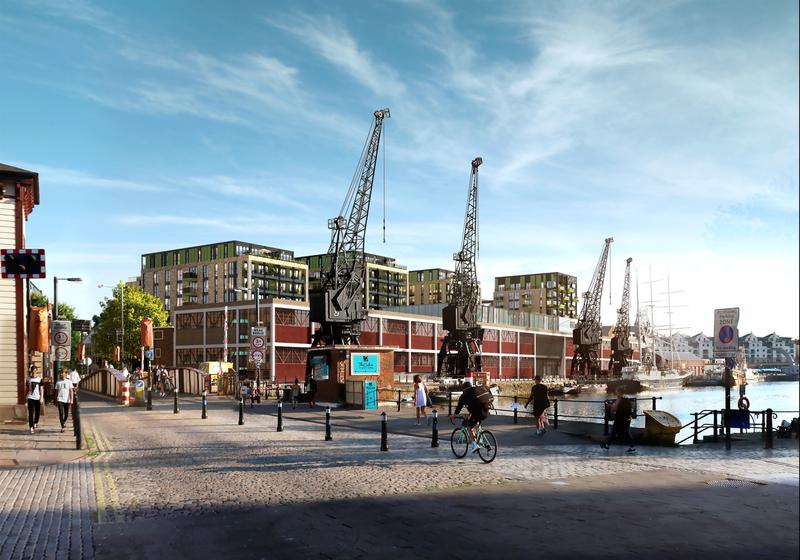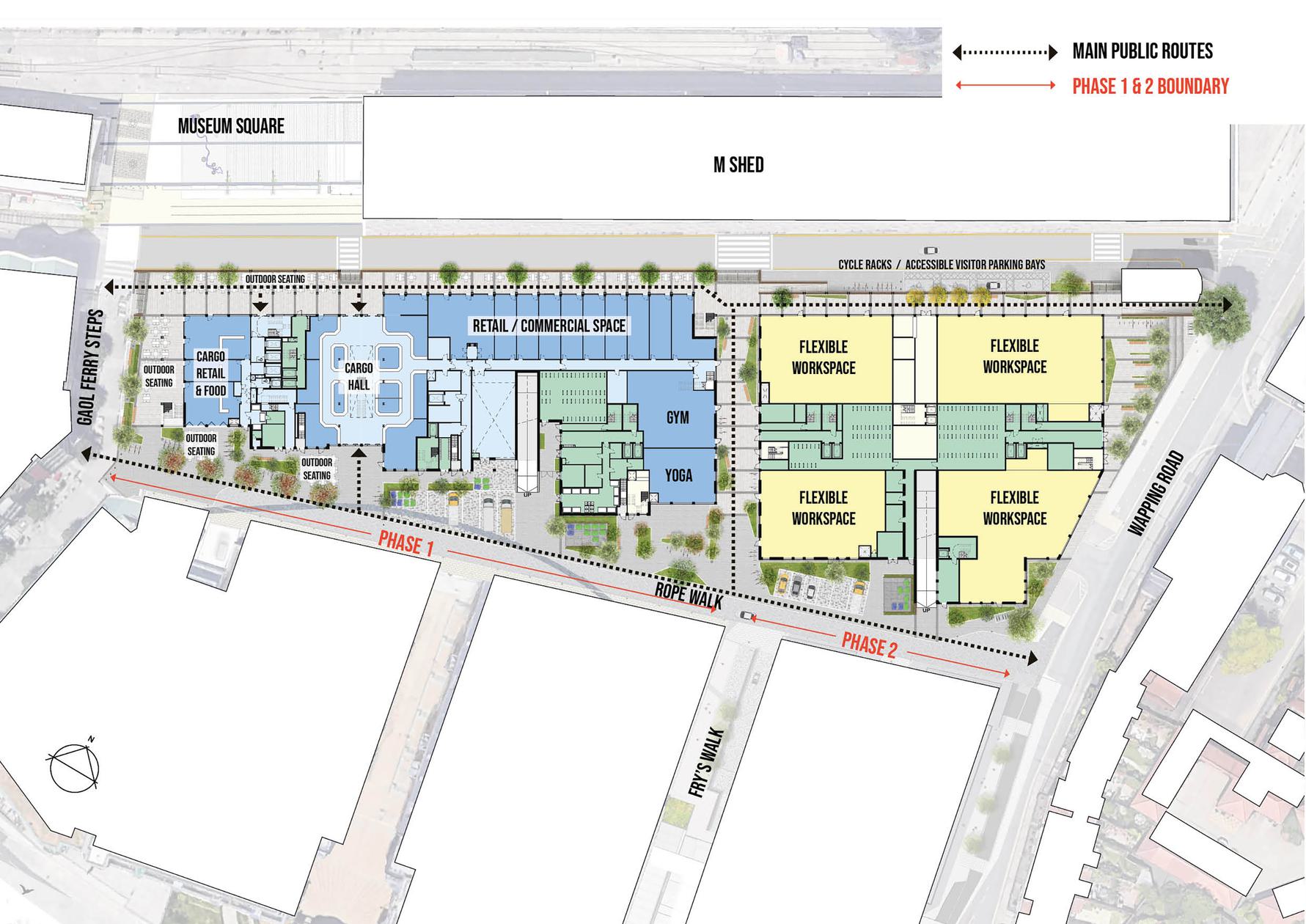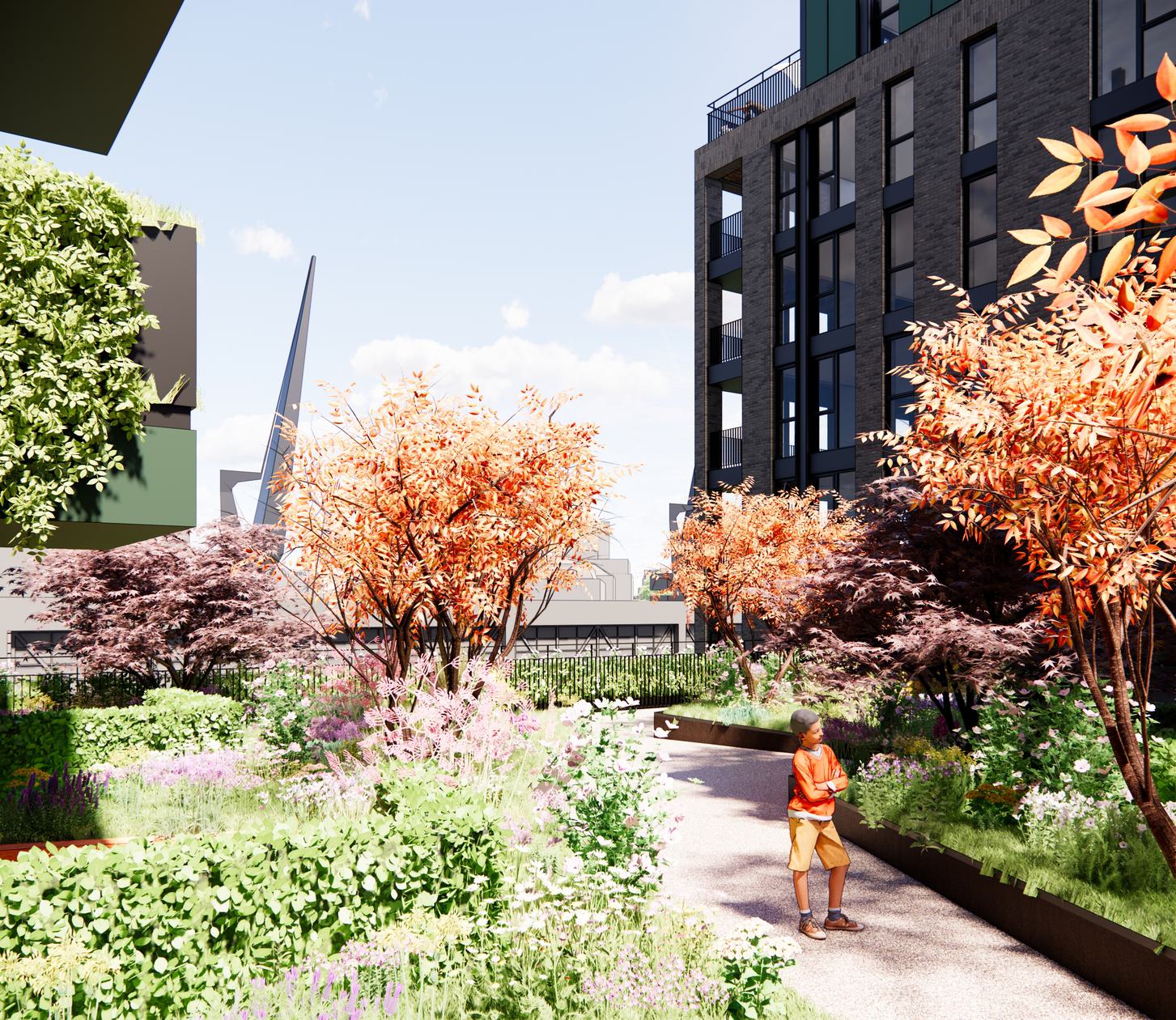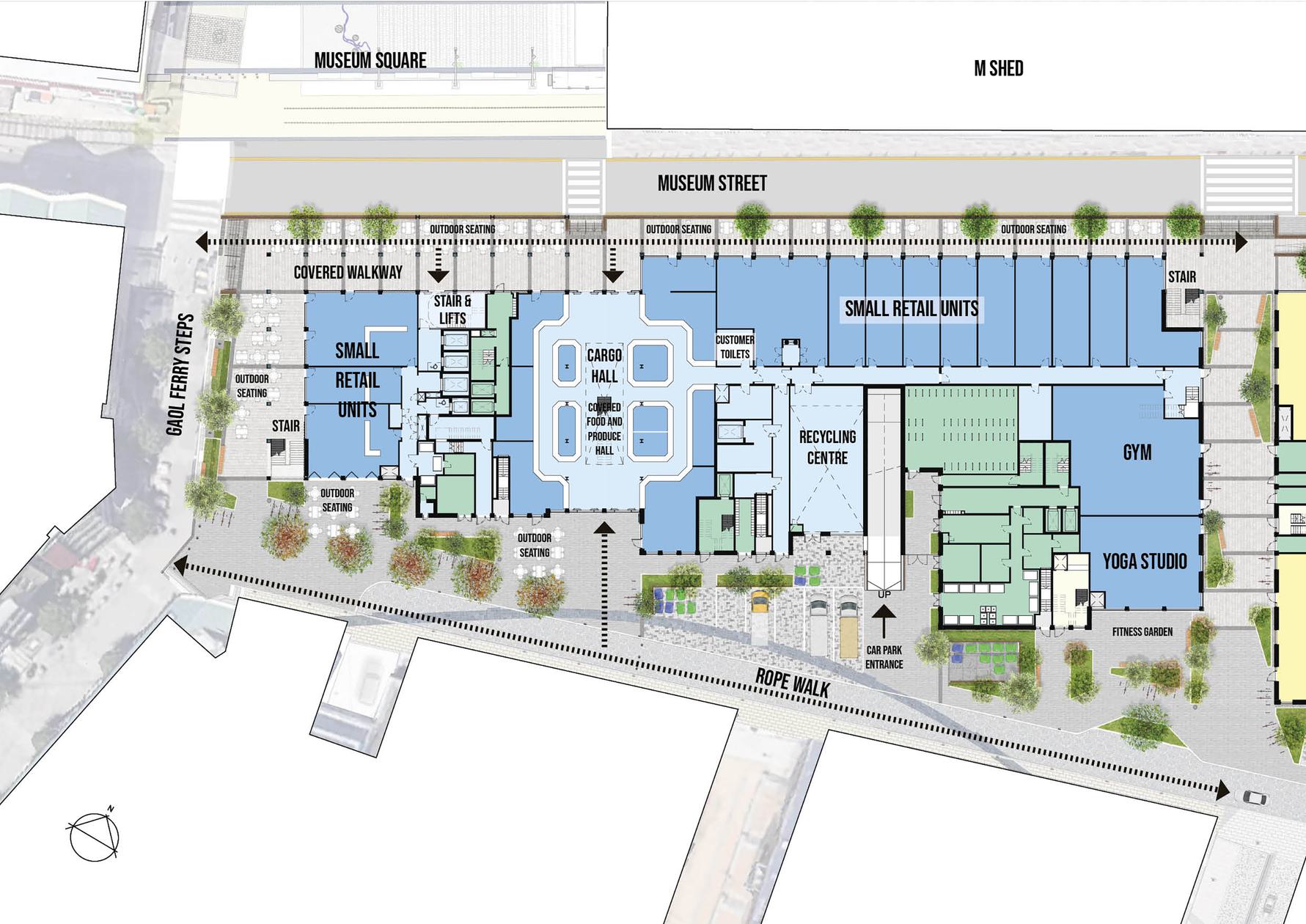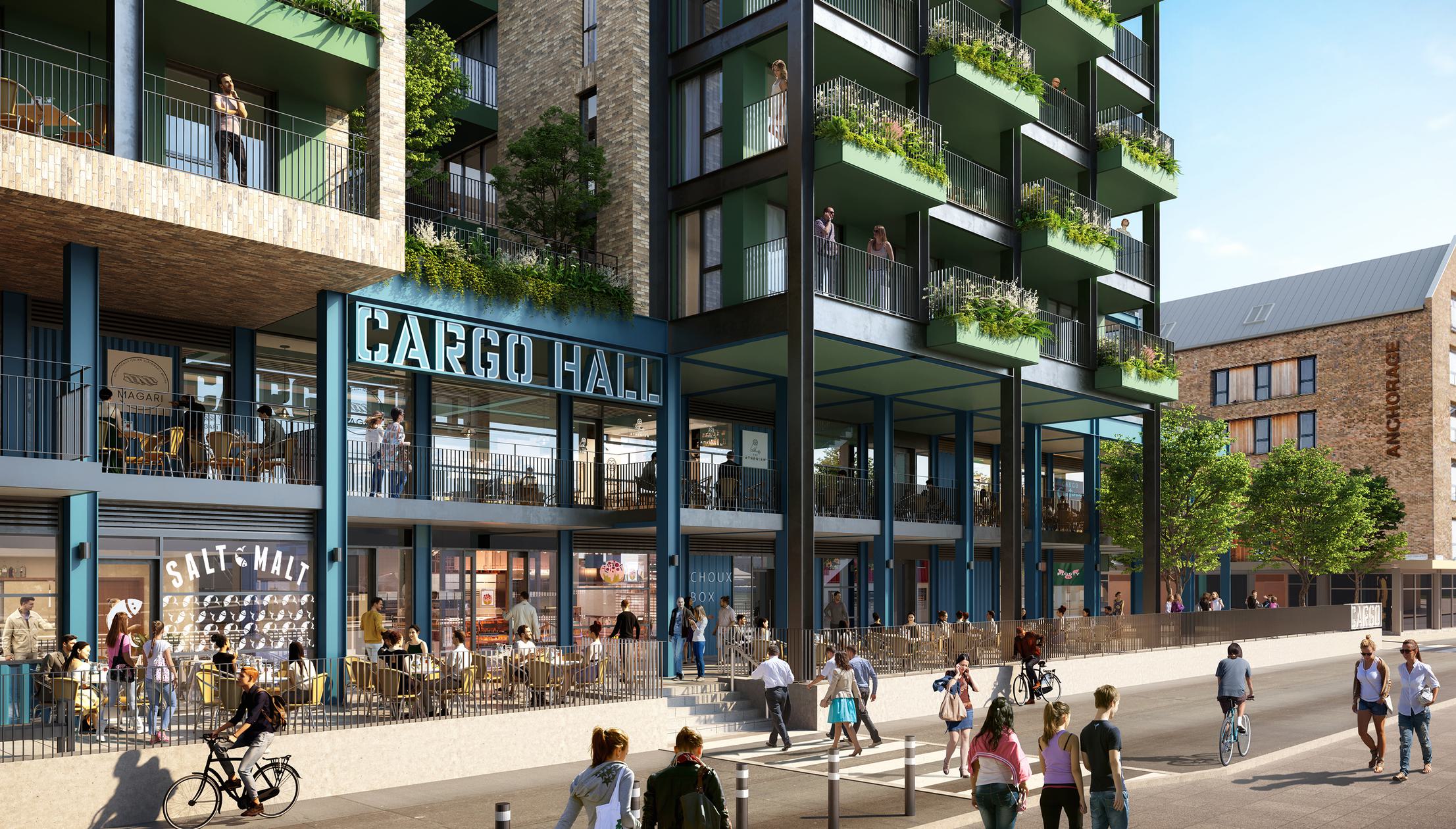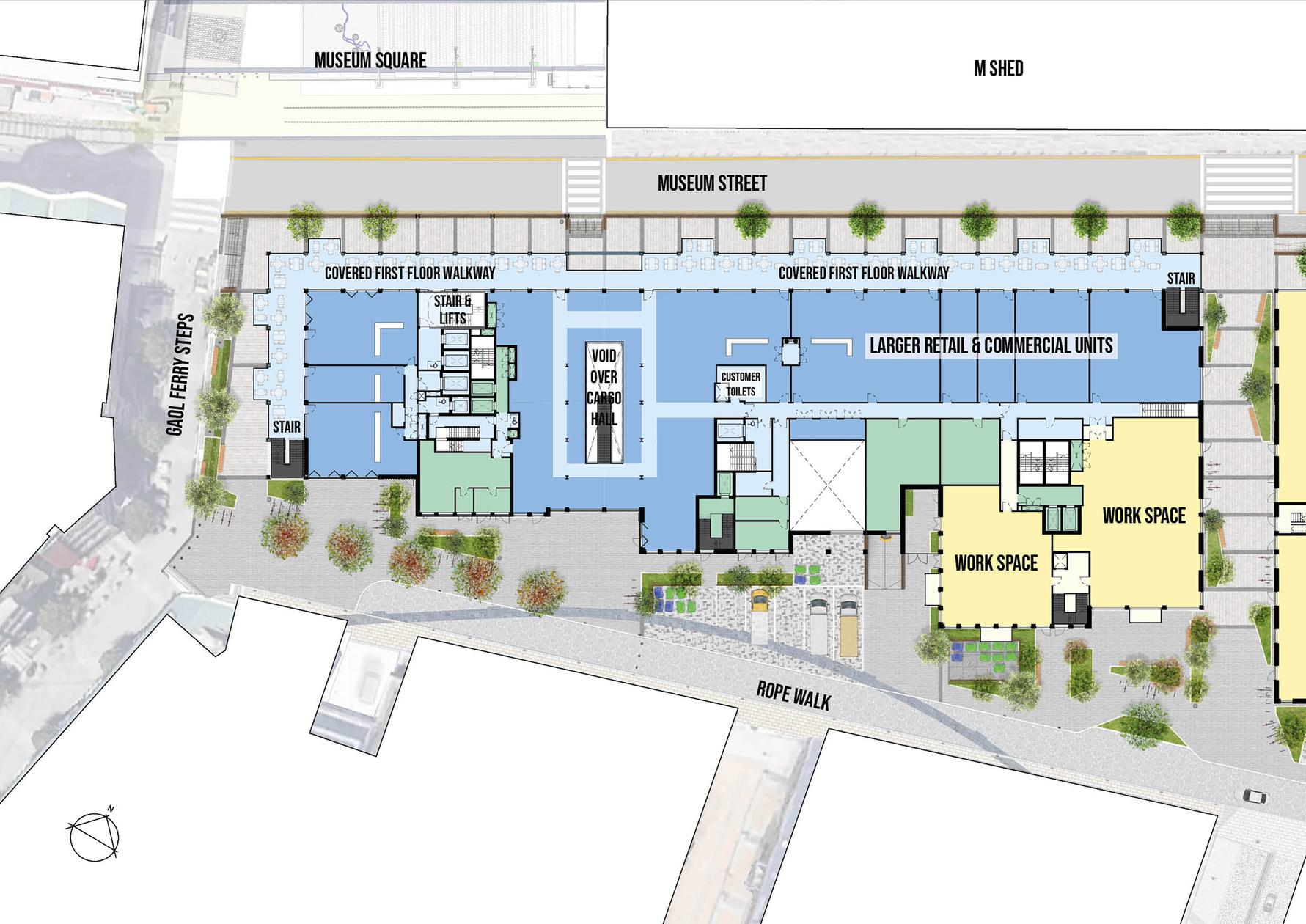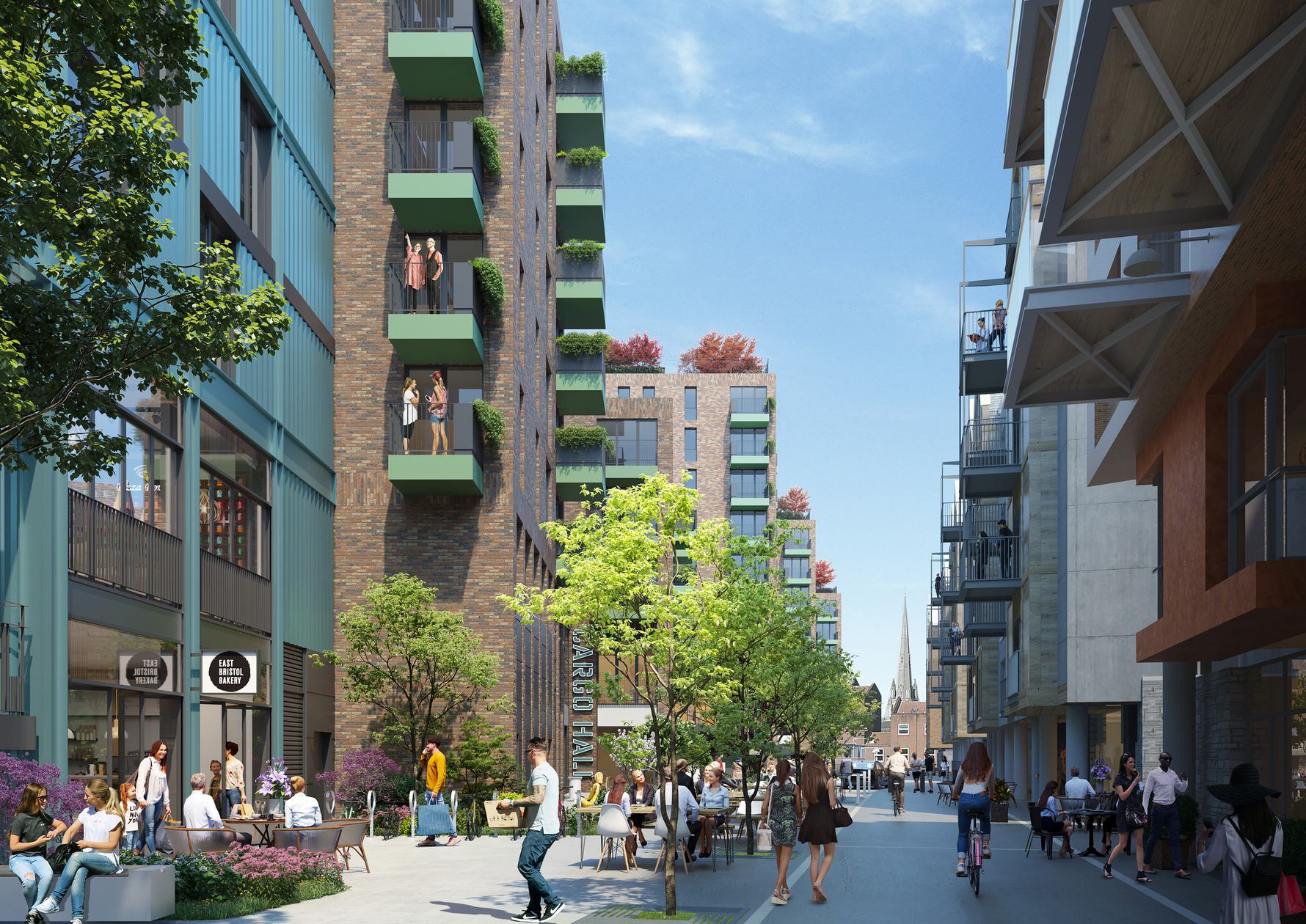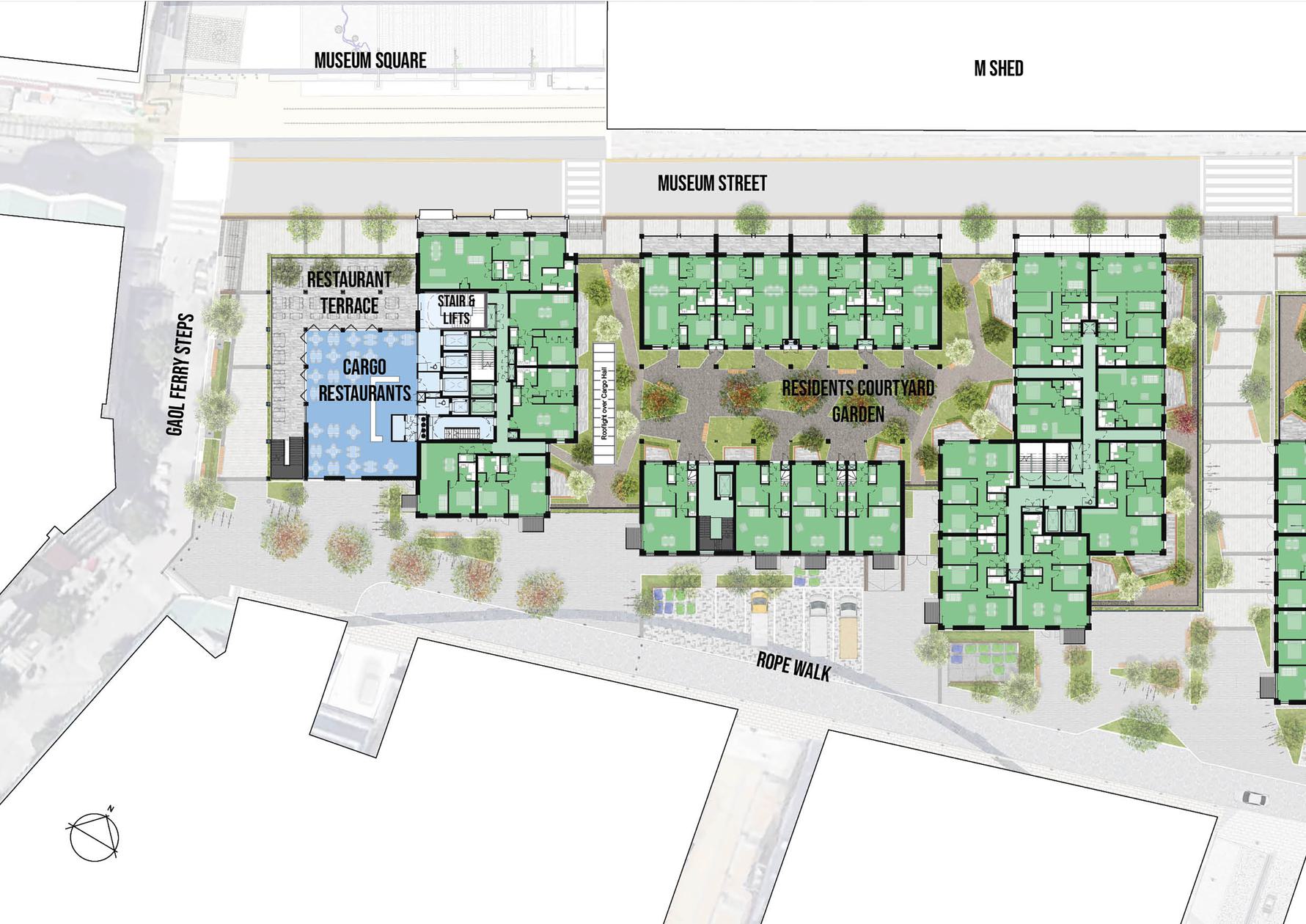 design concept
Building on the success of Wapping Wharf
The north plot is to be delivered in two phases. Phase 1, to the west, will include the permanent home for CARGO and around half of the new homes; Phase 2 to the east will include the flexible workspace and remaining new homes.
There will be a series of residential buildings arranged around landscaped residents' courtyard gardens. The communal leisure spaces for residents will promote a strong community ethos and help to improve health and wellbeing.

The two-storey retail podium for CARGO will provide small commercial units facing onto Museum Street and Gaol Ferry Steps.
An indoor food and produce hall – CARGO Hall - will create a new internal arcade linking Museum Street to Rope Walk.
At first floor level, there will be an external covered 'gallery' walkway that will run along Museum Street and Gaol Ferry Steps providing access to the retail and commercial units.
Potential uses might include restaurants and shops, alongside more community-based uses such as a children's nursery, pharmacy, optician, healthcare provider or education space.
Keeping families in mind and to meet diverse housing needs, our proposals include a range of apartment sizes including one-bed homes, 'standard' two-bed apartments as well as larger-than-normal two-bed homes and a small number of three-bed homes.
A key part of Bristol's harbourside regeneration
The vision for Wapping Wharf North is to create an attractive new neighbourhood that reflects the unique independent spirit of Bristol, where people enjoy living, working and socialising.
The aspirations for the overall development are to create high quality homes, flexible work spaces, a strong community feel and a permanent home for independent businesses at CARGO. With sustainability and biodiversity prioritised throughout to create a healthy and thriving community.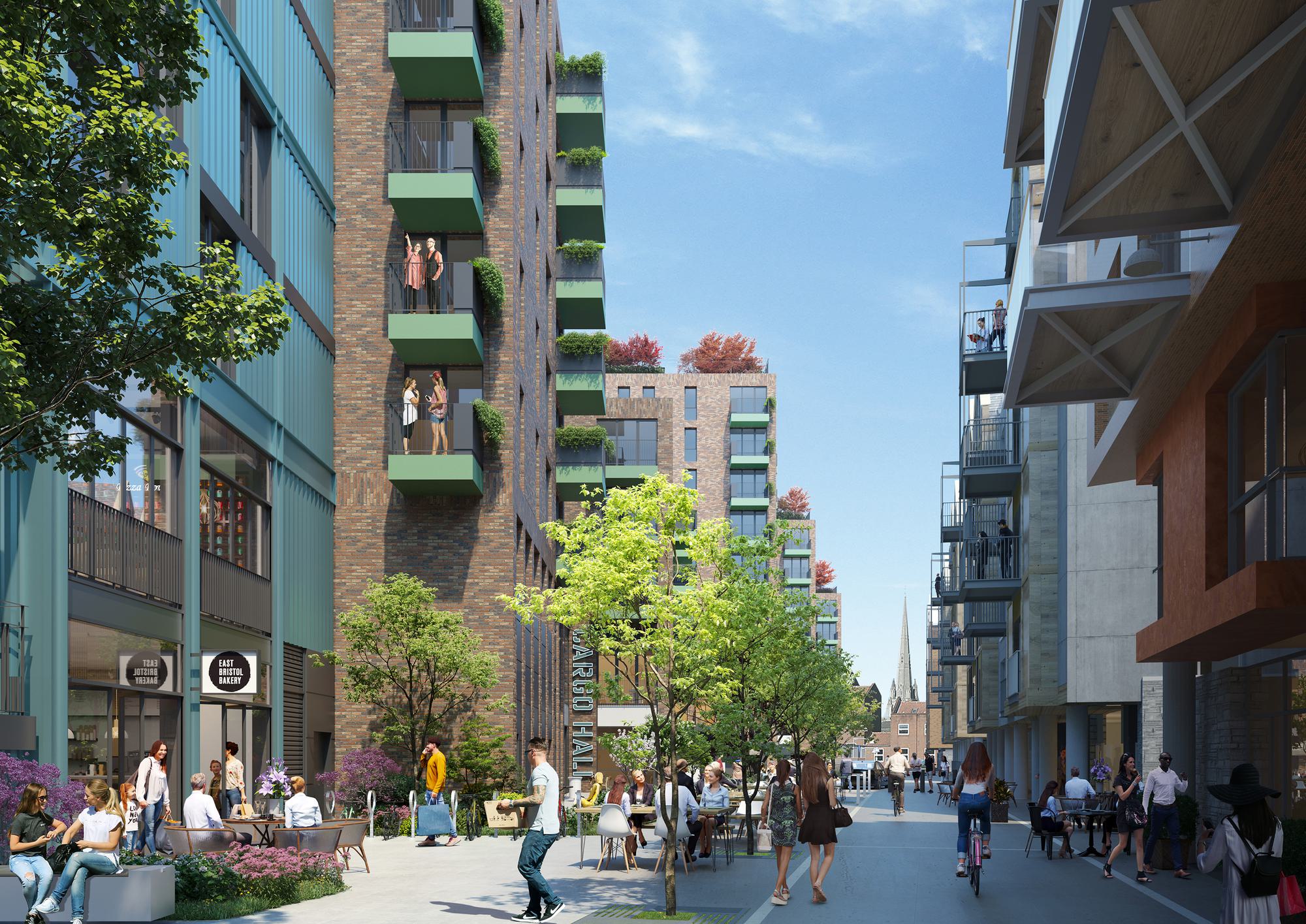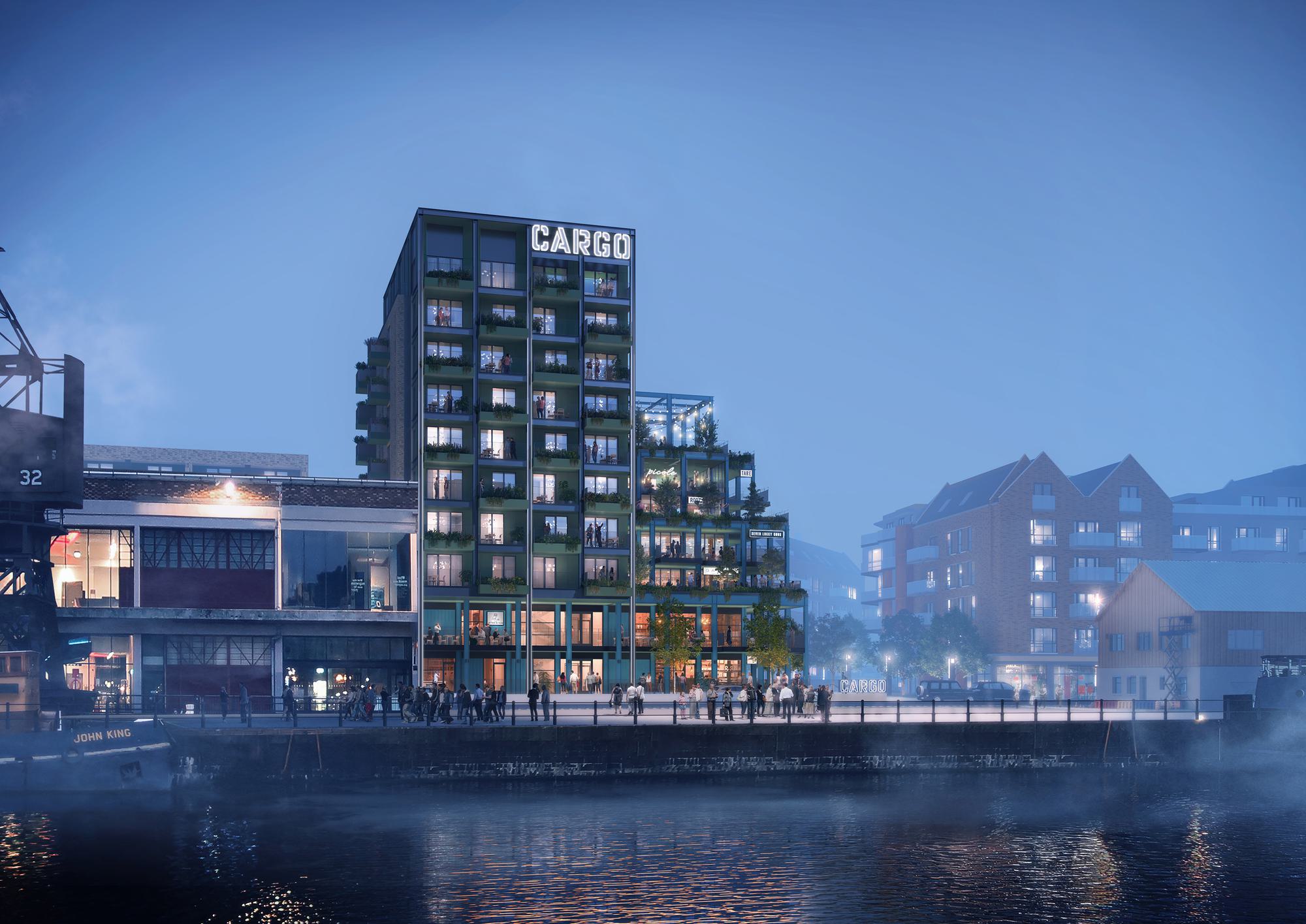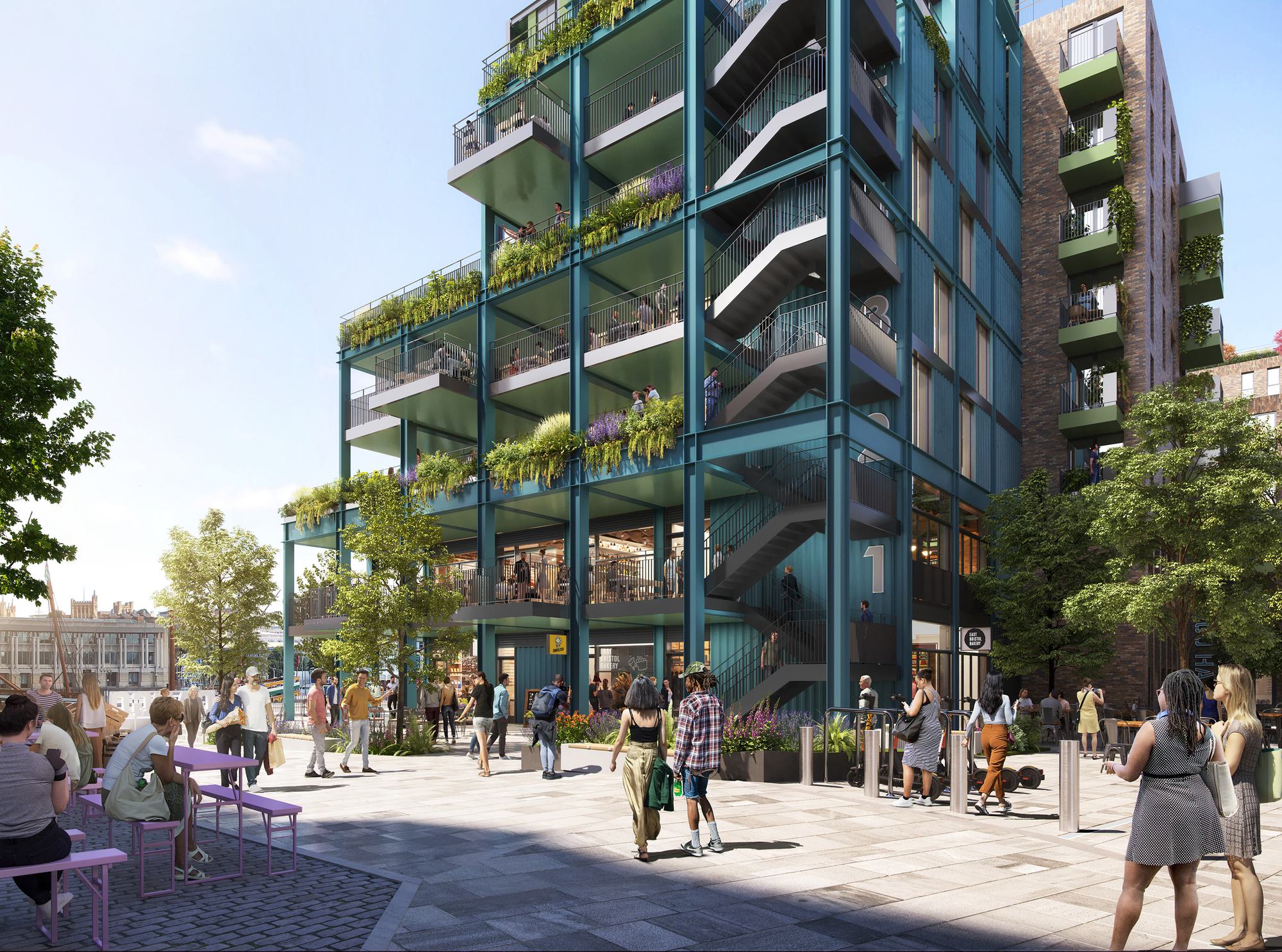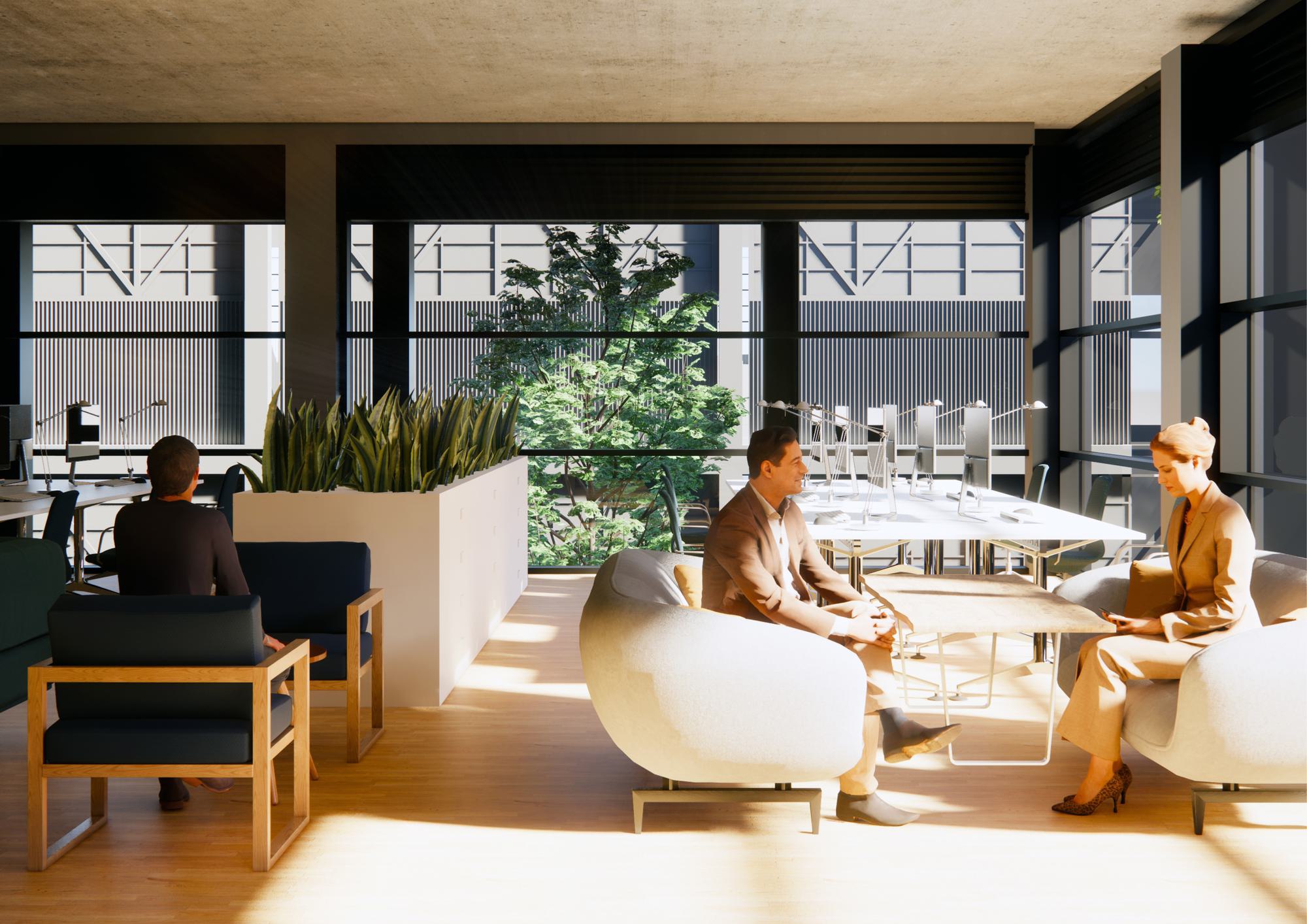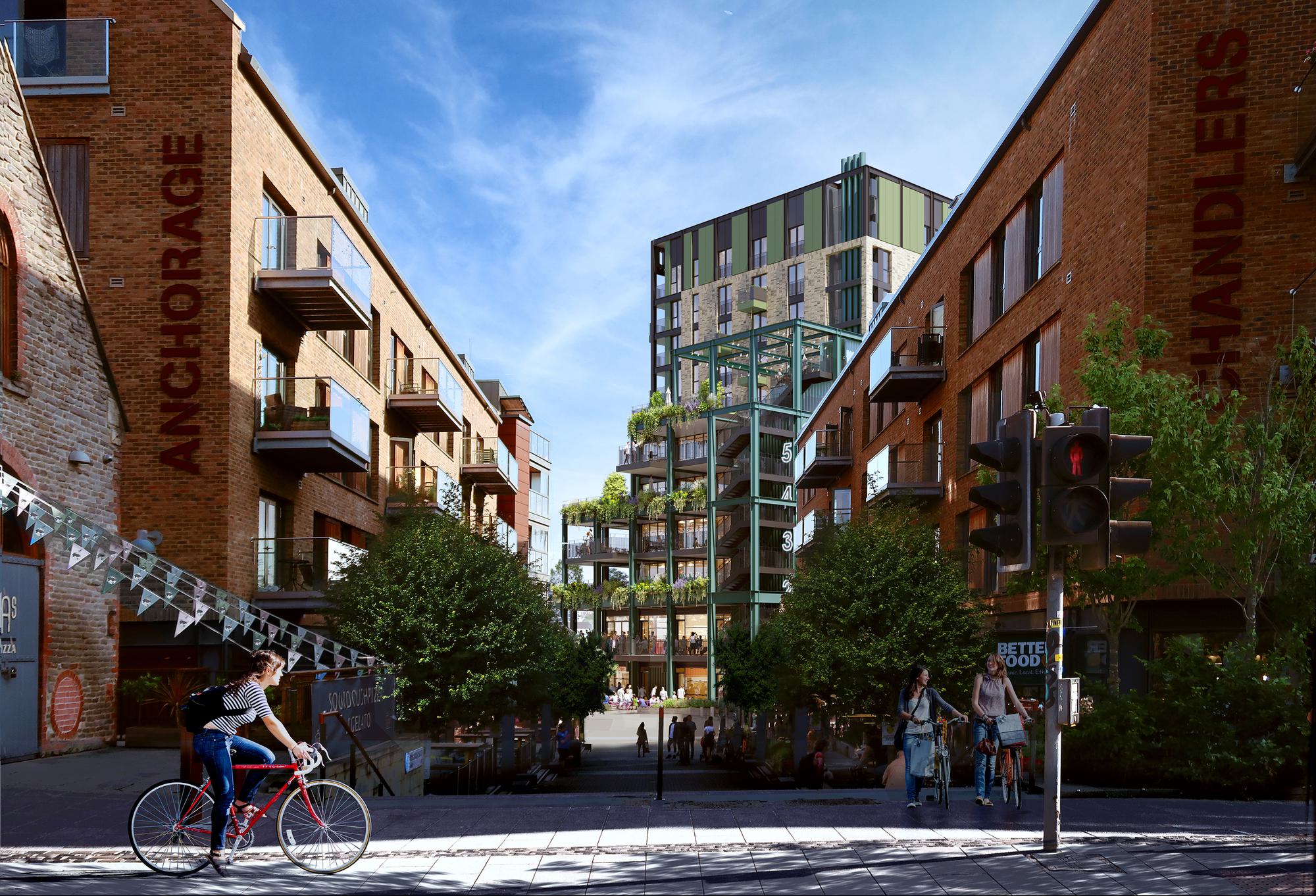 High quality homes with community at the heart
The aim of the new homes is to create places where people will want to live for the long term. To encourage community bonding and companionship, shared landscape spaces are included, which will also provide leisure space for residents, rainwater storage and new ecological habitat to help improve biodiversity.
Every apartment will have an outdoor balcony, some of which will enjoy views over the harbour.
A better permanent home for CARGO
CARGO is integral to the identity and special character of Wapping Wharf. There will be casual food outlets at ground and first floor. On the upper floors the building steps back to create restaurant terraces, which will allow restaurant go-ers to enjoy the evening sunset west across the harbour.
Our design is careful to reflect the industrial charm of the dockside and the modular look and feel of the CARGO containers.
A new harbourside landmark
The retail podium will form the base for a landmark, centrepiece building. The metal cladding is designed to resemble the shipping containers that have become so iconic on the site. The steel framing elements echo other industrial architecture around the harbour.
Flexible workspaces
Our proposals include additional flexible working spaces. Their purpose to suit the varying needs of the modern worker, with plenty of break out space, but to also bring more employment and opportunity to the area.
New pedestrianised streets and public spaces
The development sits in a key strategic route between south Bristol and the city centre, within a popular and cultural tourist site.
To create visually interesting outdoor spaces, we included stepping planted terraces. This also creates a more appealing walk towards the new CARGO entrance, as a landmark building, at the bottom of Gaol Ferry Steps.

Merging indoors and outdoors
The cascading balconies and terraces provide outdoor space for restaurants with unmissable views across the harbour towards Bristol Cathedral, Brandon Hill and the SS Great Britain.
The terraces will provide unique viewing opportunities this side of the river with all terraces up to level six allowing public access, so everyone can enjoy the 'rooftop' experience.
Supporting a greener city
Our proposals aim to create a healthy, resilient, and dynamic community where like-minded people can forge connections in a sociable environment, with greater access to a range of amenities and activities.
The design combines architecture and nature, with integrated greenery helping to foster biodiversity, soften the industrial frame, and bring rooftops and balconies to life. Biodiversity will be promoted with well-maintained planting on buildings, private balconies, and generous rooftop gardens and public spaces.
To keep the site energy efficient and low maintenance, we have integrated sustainable technology such as air source heat pumps that can be powered from solar or renewable electricity supplies. By prioritising sustainability and biodiversity, residents will benefit from increased wellbeing, improved air quality, and better control of the micro-climate and temperature.

Designed with the people of Bristol at the heart
Since the original public consultation, our design proposals for the Wapping Wharf north plot have journeyed through thoughtful iterations and developments to sensitively reflect the needs of its residents, tenants and visitors. We have held over 20 design workshops with a range of groups including:

Existing CARGO tenants
City Councillors
City Housing Delivery Team
Historic England
Design West (review panel)
Bristol Civic Society
M Shed
Notable changes have been refined and developed, such as the character of the retail architecture to ensure CARGO remains recognisable.
This includes the introduction of shipping container cladding and a bolder colour scheme that picks up on the blue and green of the existing CARGO shipping containers.

A further development saw the addition of a prominent 'CARGO' sign atop the retail building which illuminates at night, signalling the importance of the site within the harbour area.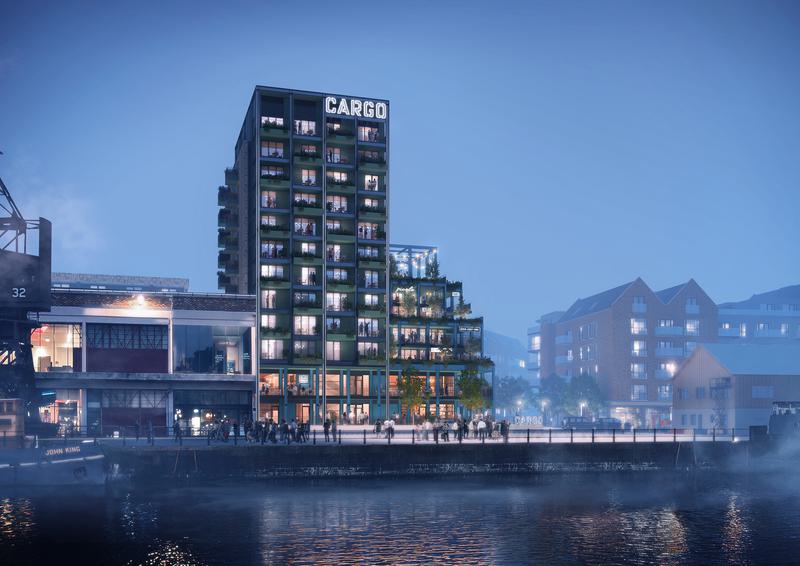 Project summary
Location
Bristol, BS1 4RW
Includes
Shops, restaurants and takeaways
Independent shops
New homes, including affordable
Flexible workspace
Extensive landscaping and public realm
Team
Meet the team behind the project
Contact
Interested in
learning more?
Learn more about 'Wapping Wharf North' and other projects by reaching out to one of our team
Get in touch