Oxford Station
Oxford, UK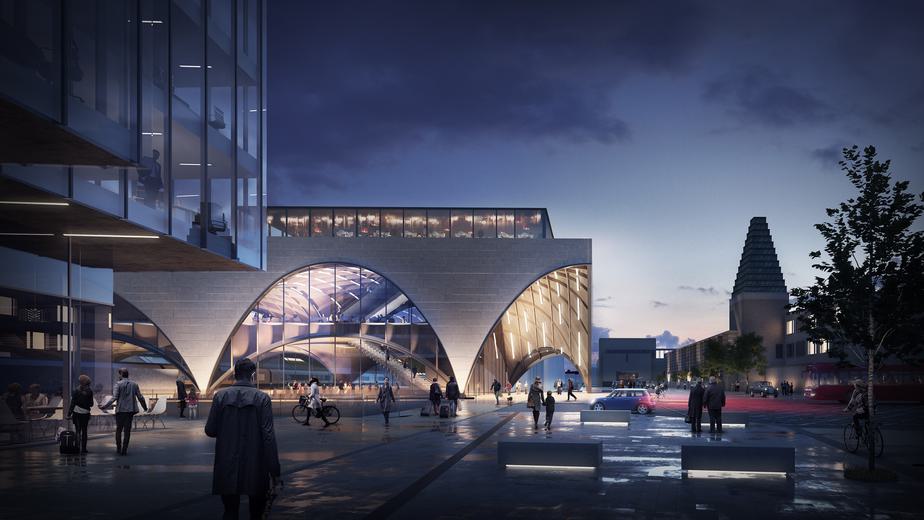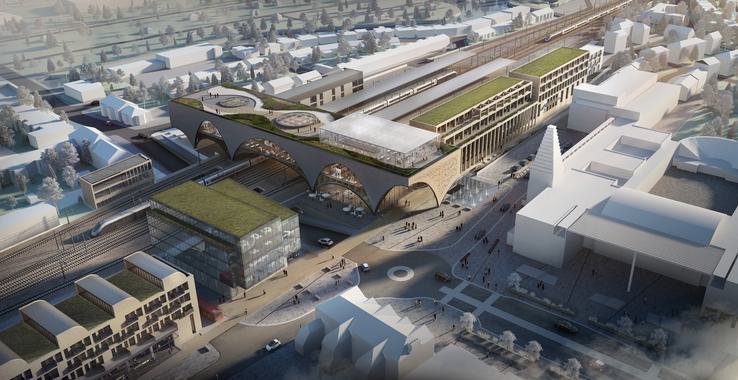 Seeking to create a future, world-class rail and transport interchange at Oxford
We were commissioned by Oxford City Council, Oxfordshire Country Council and Network Rail to prepare a masterplan for Oxford Railway Station.
Working closely with the rail industry, transport operators and the two local authorities, a strategic vision for the future development of the station was completed.
The completed study was subsequently used as the design brief for an international ideas competition held by Oxford City Council the Royal Institute of British Architects (RIBA).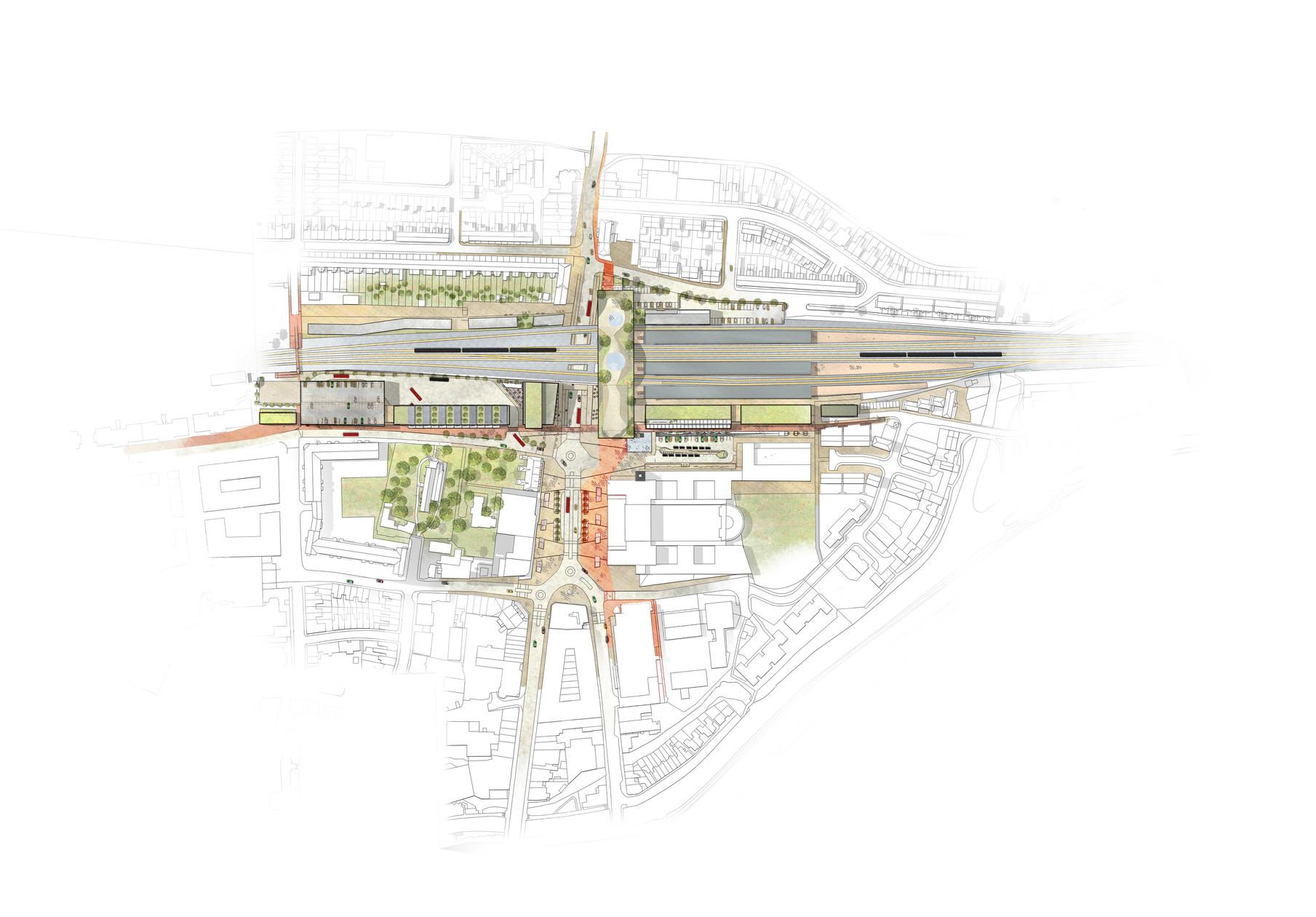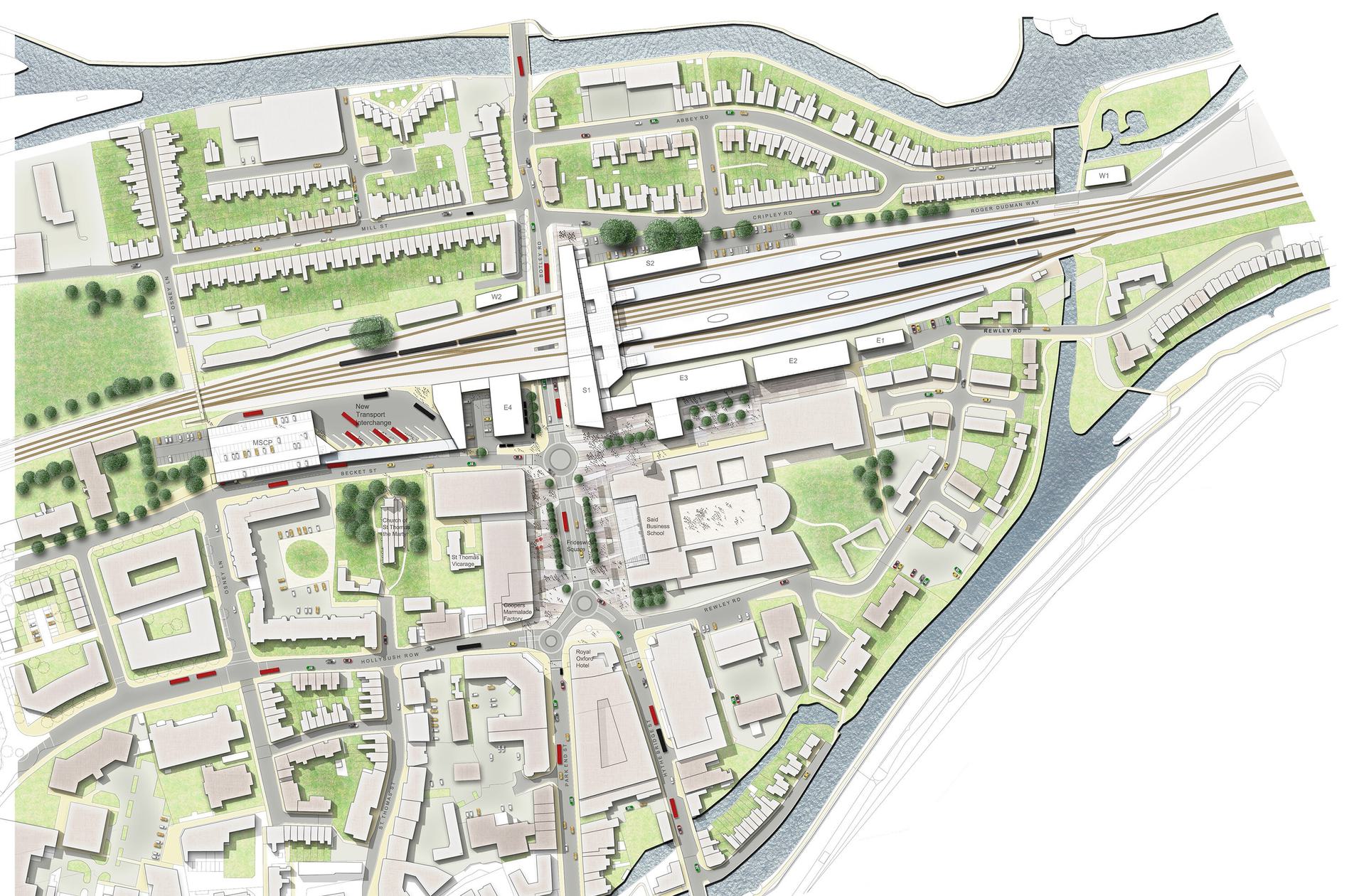 the masterplan
Better connecting people and places
The masterplan proposes options for the phased development of the station and surrounding area, linking into proposed city development aims.
The study identified the following objectives; a new station with improved access, new platforms, tracks and canopies, overhead line electrification and the potential re-use of the subway.
Additional objectives include wider improvements to the transport interchange including taxi, bus and coach stations and a revised parking strategy.
A successful design for an ambitious landmark building
Our entry for the RIBA Oxford Station Design Ideas Competition won the 'People's Favourite', with 70% of the public vote.

A judging panel from Network Rail, Oxford City Council and Oxfordshire County Council along with Department for Transport and Great Western Railway, awarded us a winning place for our concept design.
Inspired by Oxford architecture, our design respects the scale and street pattern of the neighbouring buildings and preserves the views across the city's skyline.

The concept emphasises key links with the city centre, aligning the new station with Botley Road and providing a memorable approach to the station from Frideswide Square.
The overall site configuration follows the principles of shaping space through the movement of people. Whether traveling by foot, train, bus, car or cycle, each mode was designed to be clearly defined and celebrated by modern and exciting architecture that is integrated into the wider context and characteristics of Oxford.

A new public plaza creates an appropriate setting for the station building entrance and forms part of a sequence of public spaces linking the new transport hub with the city centre.

Project summary
Client
Oxford City Council
Oxfordshire County Council & Network Rail
Completion
Masterplan study completed 2015

International ideas competition won 2016
Team
Meet the team behind the project
Contact
Interested in
learning more?
Learn more about 'Oxford Station' and other projects by reaching out to one of our team
Get in touch