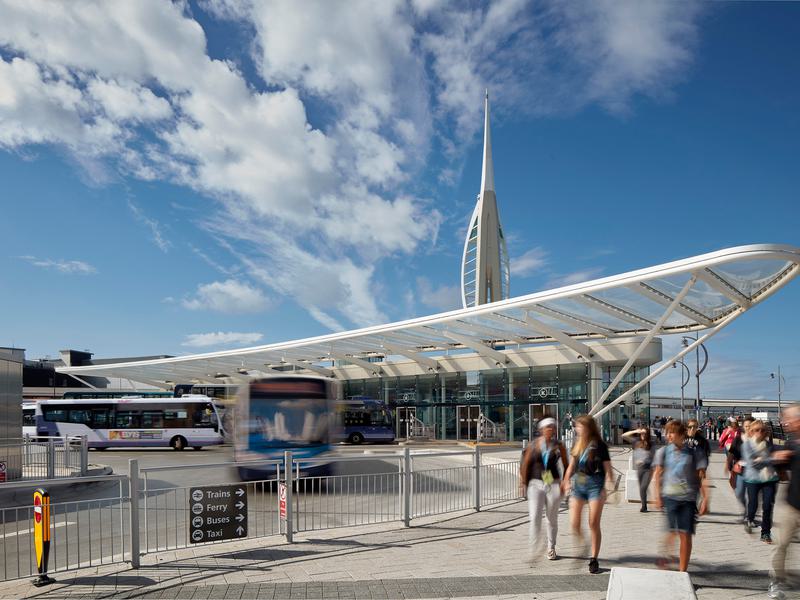 Thought Leadership
The future of transport is multi-modal
by Stephen Bottom
Director, Building Consultancy
Multi-modal transport interchanges have always played a critical role as entry points into major urban centres. Yet the strategic role they can play in even the smallest of locations has only recently become clear.
Helping to support a number of intertwined remits that are currently critical for the rail and other transport sectors, multi-modal hubs are also increasingly meeting the needs of broader development objectives.
There is, firstly, a widely agreed remit that car use needs to be reduced as part of the sustainability agenda. Increasing rail take-up can obviously play a part in this – and clearly also has commercial advantages for rail operators as a result. Yet rail stations are rarely located on the doorstep and without convenient connectivity between transport modes, attempts to reduce car use may fail.
Secondly, rail operators are becoming ever more aware of broader commercial opportunities, either within property development around rail hubs or merely better provision of retail and leisure offers. There is also the interrelated remit of enhancing entire areas around rail stations, and multi-modal hubs can act as catalysts for wider regeneration.
Finally, regardless of how strong a transport offer is, an unappealing or poorly connected train station can 'break' the seamless customer journey, either literally through inconvenience, or metaphorically by undermining perceptions of quality. This can be particularly important within tourism where the journey is part of a broader consumer experience.
Encouraging sustainable travel
A key benefit of multi-modal transport hubs is the way in which they encourage more sustainable travel by reducing car reliance (which in turn has benefits for the rail industry in attracting new customer bases). A major factor in preventing this has been the historical location of rail stations, and especially those built before the era of the car. Except in very densely built-up urban areas, stations have tended to be located away from residential areas and there has also been an historically low provision of parking space.
This creates both a literal and psychological 'gap' in perceptions of the ease of journeys. The distance between drivers' homes and rail access, even if relatively walkable, can create resistance to ditching the car in favour of alternative modes of transport. It is not new to note that private vehicles, unfortunately for the sustainability agenda, provide a genuinely seamless travel experience.
People are willing to travel more sustainably – but not at the expense of convenience, or even the perception of convenience. So better connections between transport modes, and improved parking facilities, can help alleviate this 'block'.
Role as catalysts for regeneration
More broadly, multi-modal transport hubs can act as catalysts for wider regeneration. Again, there is a desire from multiple stakeholders to integrate stations into the wider urban fabric or environment, and operators are also seeing benefits in developing around stations, whether increased residential in urban areas or simply a more compelling retail proposition and better use of railway buildings as meeting spaces. This can also dovetail into broader regeneration projects that have an impact on improved tourism offers.
This is very much the case with The Hard Interchange for Portsmouth City Council. A leading example of a major transport hub driving regeneration within communities, at a purely functional level the interchange provides access to rail, bus, boat and taxi services, but it is far more than this. The Hard is the latest part of Portsmouth's ongoing regeneration vision and is expected to act as a catalyst for further development in the surrounding area, serving as a key focal point for a £1.8 billion investment over twenty years.
The interchange maximises accessibility and by incorporating landscaping creates a new, shared public realm between itself and the existing rail station. Providing the full range of amenities that consumers now demand, it also allows for retail units in the station to be used more widely by other transport customers.
Paving bands radiating from the site of HMS Warrior, docked across the harbour, divide the paving along the harbour edge and alongside seating and bollards, visually distinguishing a clear pedestrian route for those using the interchange and the surrounding area. Finally, and crucially, it acts as a welcoming and iconic gateway into the city.
In this particular case the work was extensive and included solving clashes between the integrity of the new design vision and the existing below deck structure (which was resolved through 3D modelling). However, better connectivity and improved public realm need not require such extensive or wholescale work: more subtle interventions into existing urban fabric can do the job just as well.
At Govan Subway Station for Strathclyde Partnership for Transport, for example (while a subway rather than rail station, the principle is the same), interventions into and between existing facilities, including large curved glazed entrance canopies, provided a much-improved sheltered link with the adjacent integrated bus station.
Part of the remit here was also to present an improved public face for what was an existing 1970s surface building, with designs intended to complement and enhance the existing environment, for which a local community action group provided influence and feedback. Not only did this create seamless links between bus and subway stations but also had the benefits of improved access and significant enhancement of the wider public realm.
Supporting advances in ticketing technology
Another major remit for the transport sector is the implementation of advances in ticketing technology, again supporting the notion of the 'seamless journey', with an increasing demand for convenience from customers who want to be able to purchase all aspects of a journey online in advance, and across multiple modes of transport.

This in turn has encouraged closer working between transport providers across regions, which has gone some way to resolving the barriers to providing such a seamless experience.
Yet technological advances and increased collaboration will be undermined if transport modes are not themselves physically well integrated. Again, even a relatively short walking distance between parts of a journey can create resistance and lead to travellers opting to drive instead. So seamless travel cannot rely on ticketing technology alone but needs to be supported by interventions that minimise physical disconnect, creating ever more 'frictionless' journeys.
This can also be enhanced by better wayfinding and better provision of customer information. Again, consider Portsmouth: connecting five million passengers each year, the Hard also now delivers a fully interactive journey throughout the concourse, using the latest digital technology and information screens to relay arrivals and departure times, as well as advice for commuters and tourists, further supporting as smooth a transition as possible between travel modes.
Benefits of a seamless customer journey
An appealing 'customer journey' is always important but this can be especially the case on routes that are part of a broader tourist experience. The best quality travel service, including improved trains and timekeeping, can be let down by a poorly designed or unappealing station, disrupting the passenger (and brand) experience. Ensuring continuity of quality is a key factor at St. Erth in Cornwall, a 'portal' into the St. Ives tourist area, and a critical part of the tourist experience, despite being a small rural station.
This new multi-modal station hub presents a prime opportunity for Great Western Railway. As a listed building in some need of refurbishment and adaptation, it provides the chance to further showcase the Great Western offer by carrying the train branding seamlessly into the 'non-travel' aspect of the customer journey. The broader masterplan will also further integrate the station into its surroundings.
St. Erth is one of the busiest stations in the region, with around 250,000 passengers a year and growing, even before the new hub is completed. Despite the small size of the station, the St. Ives Bay Branch Line generates very high tourist footfalls, which create heavy pedestrian flows far beyond the usual commuter peak periods.
During the summer months, in particular, queues are very long, and part of the project was to improve ticketing facilities and passenger flows, as well as to enhance the facilities to create a sophisticated new station interior that seamlessly carries through the Great Western 'experience'.
The overall project is far bigger than this however. Though a 'park and rail' facility already exists at Lelant Saltings station (the next stop along the route), the facility does not meet demand during the peak season, nor does it link in with bus services or walking and cycling routes. A study identified St. Erth station as the preferred location for the new transport interchange, and the scheme will provide for approximately 750 parking spaces in new car parks to the north and south of the station, with a high season overflow car park to the south west.
The proposal also includes for alterations to the A30 junction where it meets Station Approach, together with improved links to the existing cycle routes and footpaths around the station. In addition, here the customer experience and the sustainability agendas actually connect: a review by Cornwall Council of the current transport infrastructure around West Cornwall identified that travel around the area is largely by private vehicle, with limited opportunities to make use of alternative modes of public transport.
Notably, the review also highlighted a forty per cent increase in traffic volume during the summer period – precisely due to the influx of tourists. This lead to congestion, increased noise and, crucially, increased pollution. So, the facilities also have the wider benefit of supporting environmental agendas, which, in turn, enhances the tourism offer since sustainability is now considered by many consumers a critical factor in a destination's appeal.
Multi-modal solutions
The drive towards sustainability presents a real opportunity for rail operators to increase their customer base. Yet without strong connections and improved parking facilities there will always be resistance to reducing car reliance, even with the best intentions.
Multi-modal hubs also support the desire to better integrate stations into the surrounding environment and can play catalytic roles in wider regeneration remits. They can also help to make the most of commercial development opportunities and new revenue streams. Customers have ever-growing demands for convenience, and this includes the ability to purchase tickets in advance, often across multiple transport modes, or else to hop on and off networks with a simple swipe of a debit card or smartphone. Yet advances in integrated ticketing, and more integrated working between transport providers, are of limited use if the transport modes are not fully integrated themselves.
Finally, the physical journey is not the whole of the 'customer journey', and a poor customer experience at stations can disrupt this seamless experience. This can be especially critical where the travel journey is part of an overall touristic experience. As such multi-modal transport hubs offer far more than simple connectivity: they also present 'multi-modal' solutions to many of the rail sector's current agendas.
Posted on:
Sept 2nd 2018
Topics: