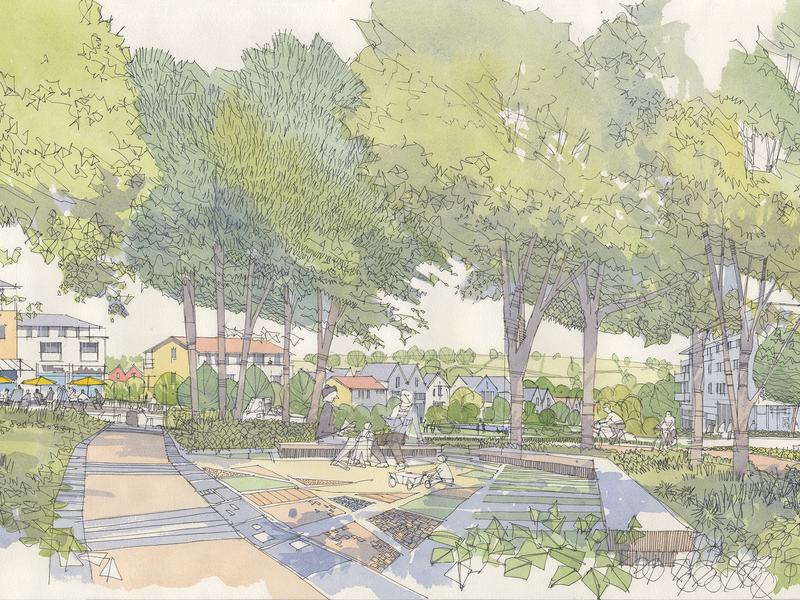 Thought Leadership
15-minute neighbourhood -Transport Infrastructure
During the third lockdown, I moved out of central London to one of the commuter towns within a 50-mile radius around the capital.
As an avid walker, I now struggle to achieve my daily step count, because everything around me is planned with a car in mind. The existing pedestrian routes are very hard to spot initially and then they are too narrow, too overgrown or look too risky to take alone. Their only traffic is the occasional dog walker. Additionally, there is a huge multilevel junction and roundabout spiralling in the town centre, and what used to be the town square is now a vast parking lot, in front of several superstores. There is no easy access and people are directed through half-lit tunnels to navigate this concrete monstrosity.
There is a reprieve in this urban sprawl, which is punctuated by an oasis-like wildlife reserve nearby. It is possible to get there from our doorstep, walk around the park and back, in less than two hours, and nearly 10,000 steps. However, most people would drive to it, because the surrounding roads and pavements are unwelcoming and often unsafe. Everything is focused around transit through the town and fast links to London and the seaside.
Transit planning creates transit places. There is no incentive for people to stay and spend time where they are. As early as 2012, I remember attending a talk about the benefits of Crossrail and how it would save time for millions of commuters daily. I asked myself- what if they don't have to commute at all – wouldn't that save even more time? I have been trying to advocate for remote work since then, but obviously, nothing less than a pandemic would trigger such a "minor" mindset change.
Concentrating all activities in a single desirable location deprives a vast territory around it. Decentralized community-based bubbles of activity on the other hand provide the vital energy required to sustain a place. We have all the necessary knowledge. The 15-minute neighbourhood has many names – before now it has been called the walkable city, the soft city, the happy city – all of them variations on Gehl's "cities for people".
Once again all we need is a "simple" mindset change. Focusing on urban design from the perspective of our human needs is the key to seamless interaction while coordinating many conflicting design requirements. Under the hat of each "stakeholder", there is a human. If we put the pedestrian first, making spaces suitable for the mothers with prams, wheelchairs and the seniors, providing safe routes, welcoming pavements and bike routes – we will bring back very soon the human scale and velocity to our cities.
Posted on:
Nov 5th 2021
Topics: