The Pheasantry
Crawley, UK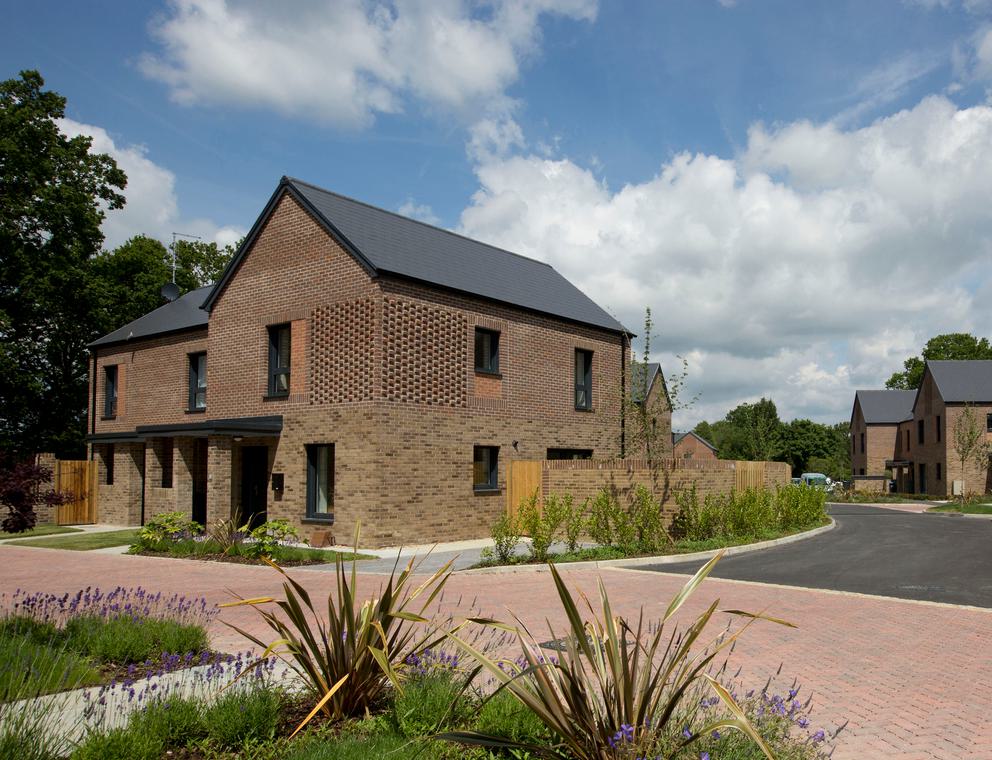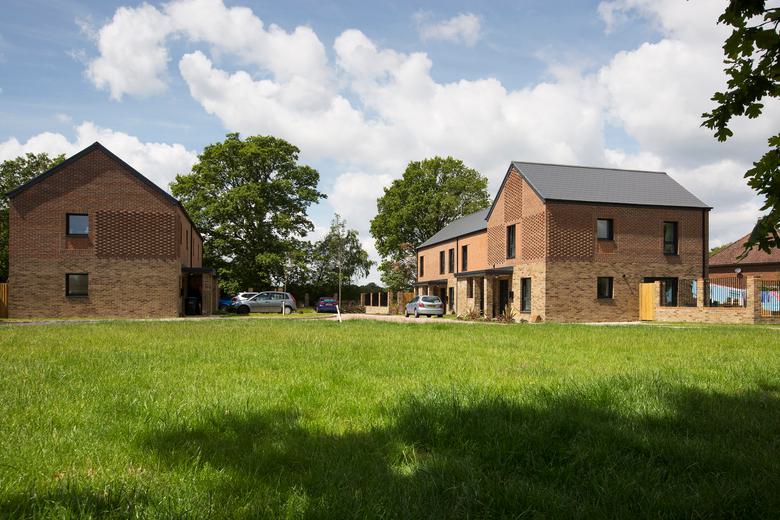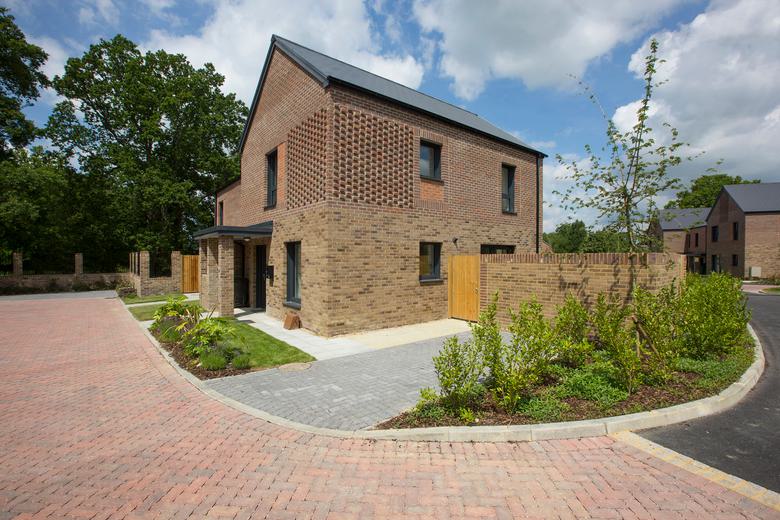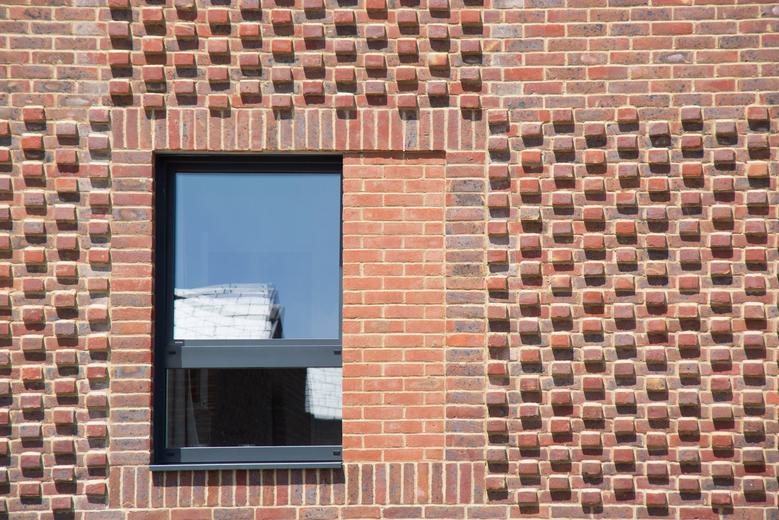 Passivhaus certified homes, in an idyllic, rural setting
The Pheasantry at Turners Hill, Crawley, is a highly environmentally conscious development, consisting of 26, 100% affordable, Passivhaus certified, family homes. Set on a Rural Exception Site in Mid Sussex, the Pheasantry was designed to meet local housing need and has given the community who has been priced out of the local market, the ability to remain where they work, live or have grown up in.

We developed a masterplan for the site which complements its idyllic rural setting. The homes enhance the health and wellbeing of the community, by providing comfortable places to live, which are extremely good value, with very low energy bills each year, reducing fuel poverty.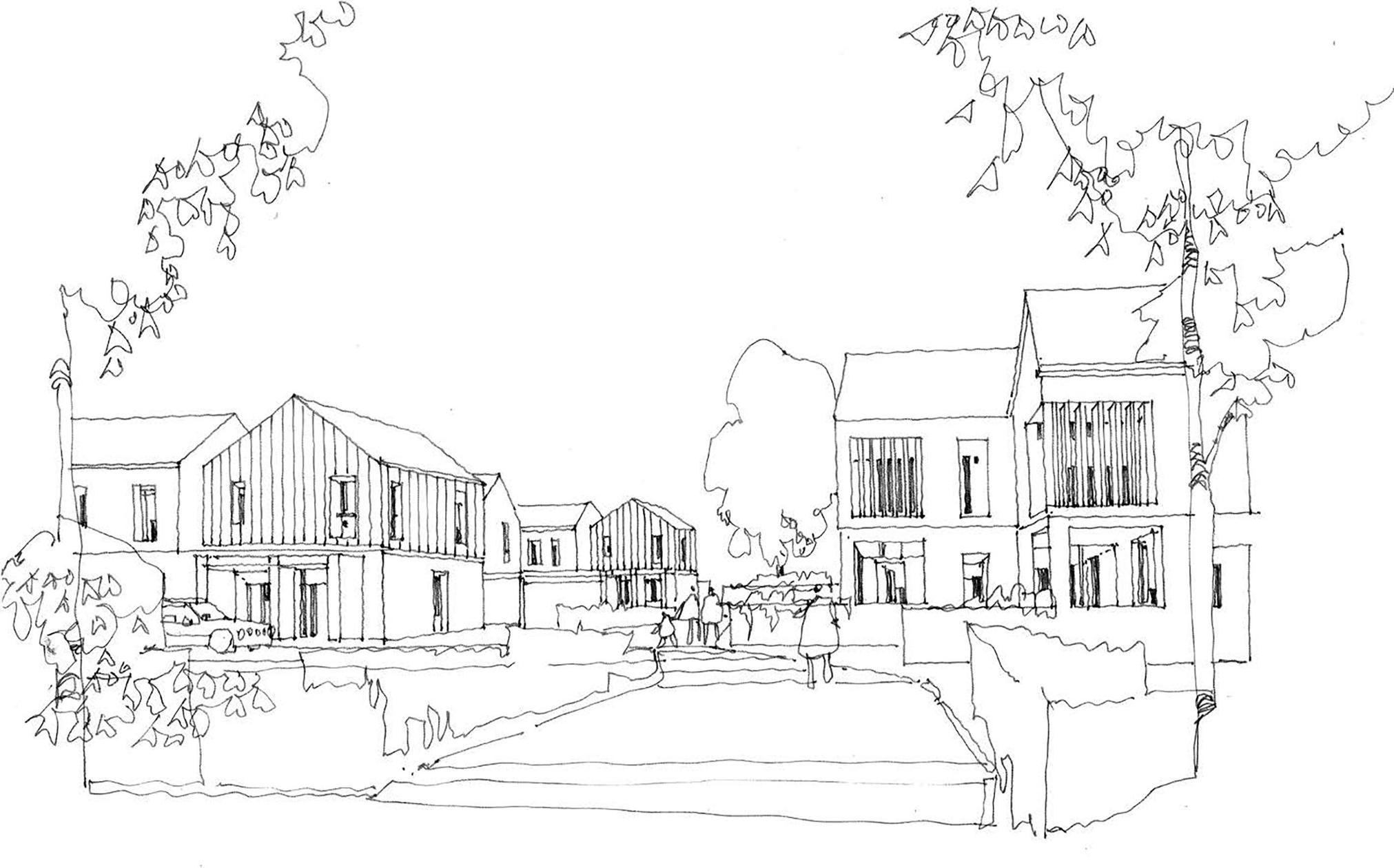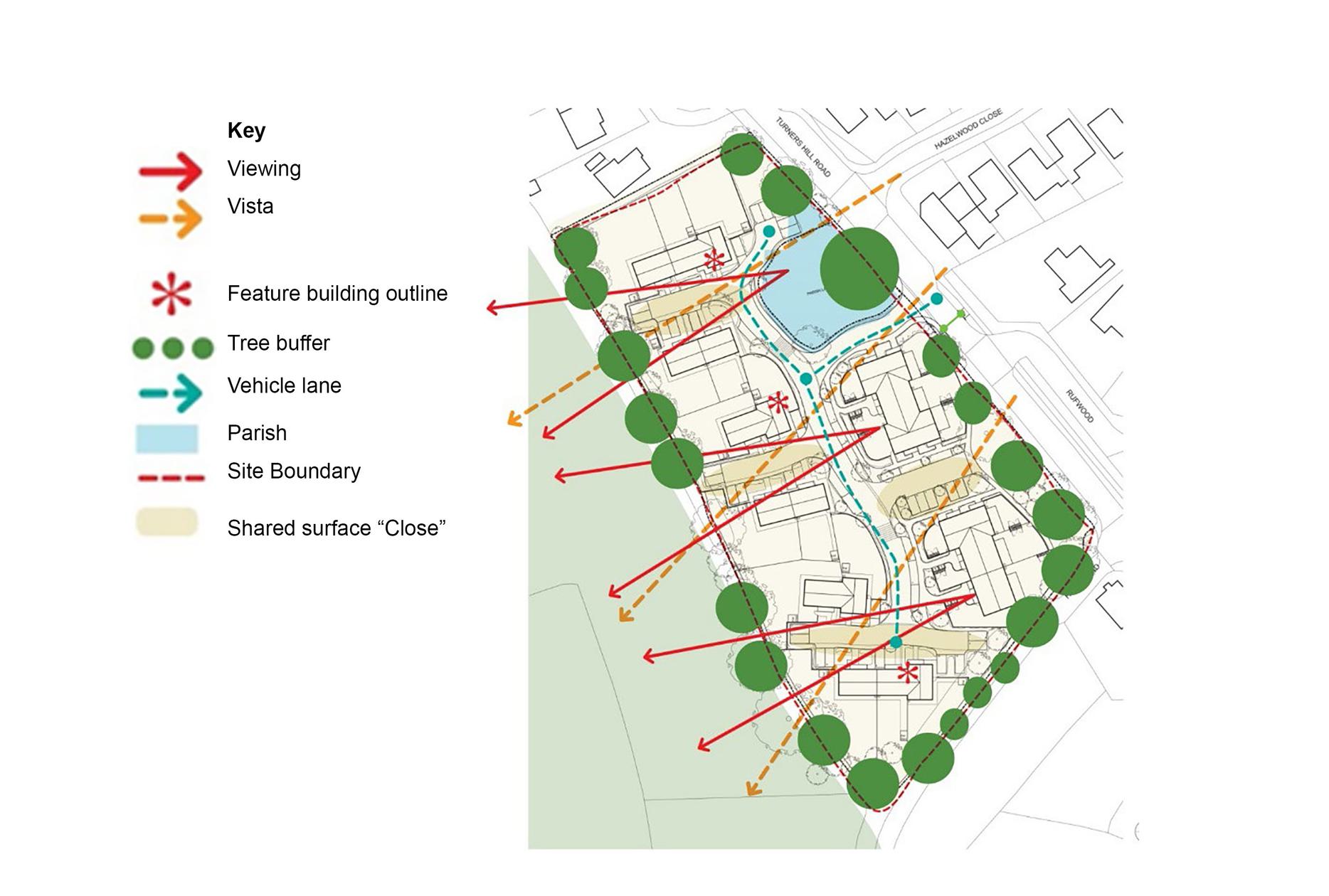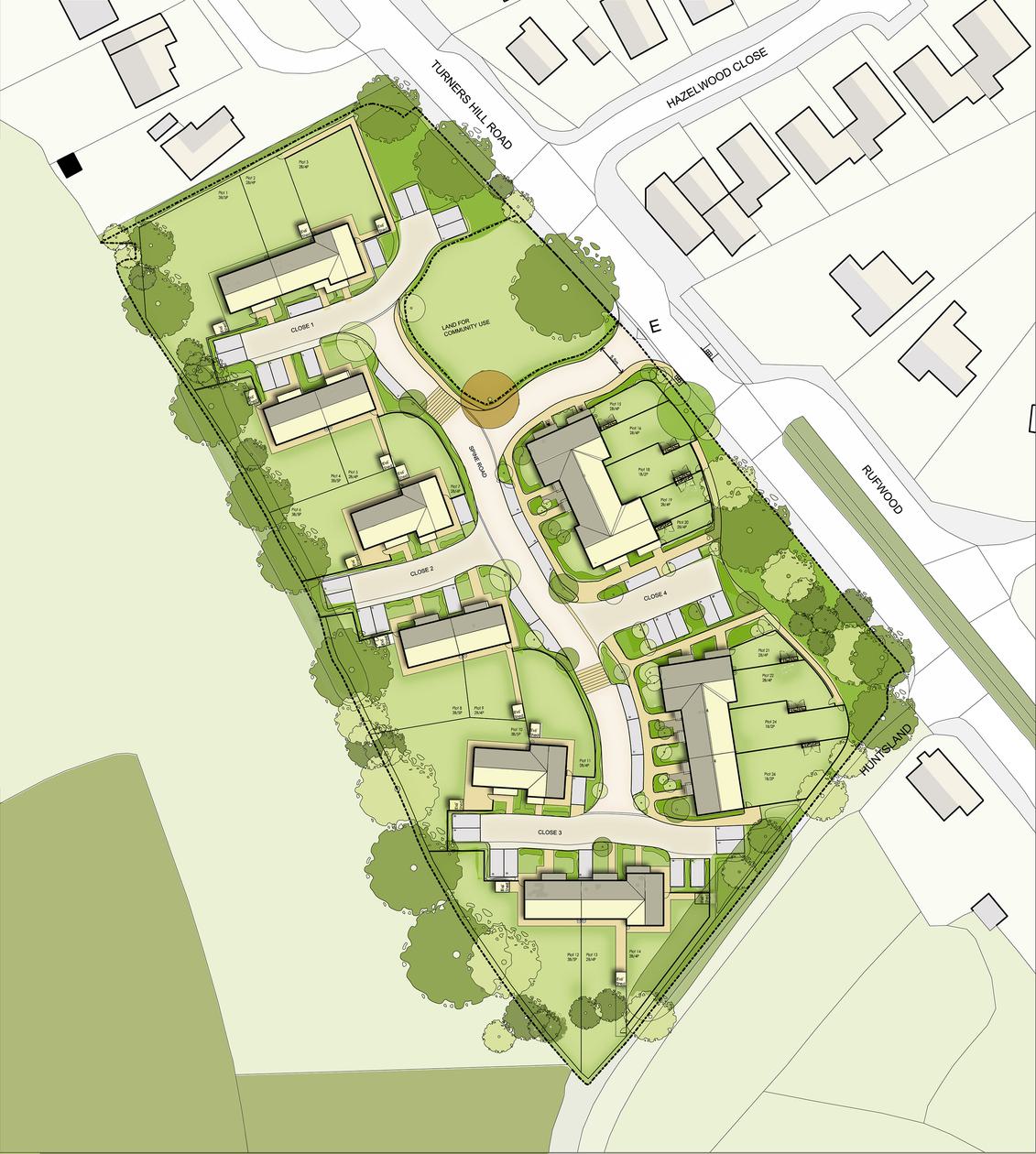 site development
Responding to the context whilst providing highly innovative, sustainable homes
The first iteration of our site design included two site entrances, with an informal layout and a predominantly south orientation. However, single-storey dwellings are not suitable from a Passivhaus design perspective, and some homes' orientation would also not support Passivhaus design. As the site had been designated a Rural Exception Site by the local authority, there were several constrictions to the site by the strong tree line around the perimeter and the associated encroaching root protection areas.
Through consulting with highways and an arboriculturist we developed the masterplan to create views throughout, retain the boundary trees, and include a single entrance, with improved pedestrian links. However, following the Design Review Panel, we received feedback that the configuration was still too rigid, with more variation needed and more parking required.
In our final layout the meandering streets create more of a village-like feel and we have increased the parking provision. By including a variety of house types and layouts, we have increased the public realm available, whilst still adhering to Passivhaus principles. Houses are grouped together and face a southerly direction, reducing the external area and providing a Heat Loss Factor of 3.3-3.5.
We have also not disturbed any existing Tree Preservation Orders, which now act as a natural screen, creating a sense of enclosure and a feeling of nature within the development.
Prioritising comfort, efficiency and sustainability
Passivhaus is a comfort standard and an independent certification system to verify both the design and its implementation. By using the Passivhaus standard as a methodology when designing The Pheasantry, we could build upon our sustainability expertise and this enabled us to look for value-added solutions from the adoption of Passivhaus technology and principles.

We worked with Passivhaus Consultants, Low Energy Building Consultants (WARM) to ensure that the homes were low energy in use, whilst being kind to the environment.
Having Passivhaus certification ensures that all the homes in The Pheasantry are extremely airtight. This creates less drafts, making them feel warmer at lower temperatures. Fuel poverty is reduced, with residents using their central heating systems much less. The homes have an extremely high environmental performance standard, whilst working well for family life and without being 'out of the ordinary'.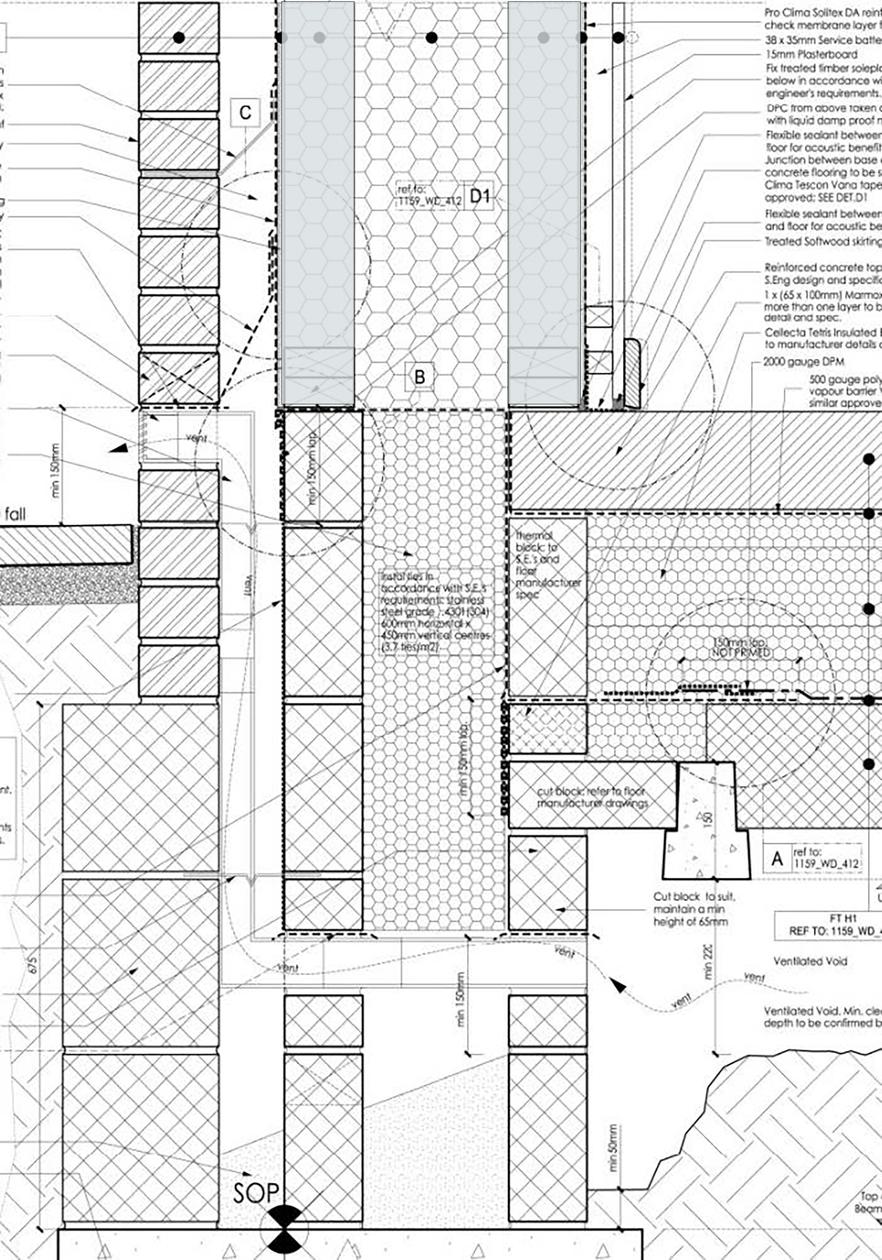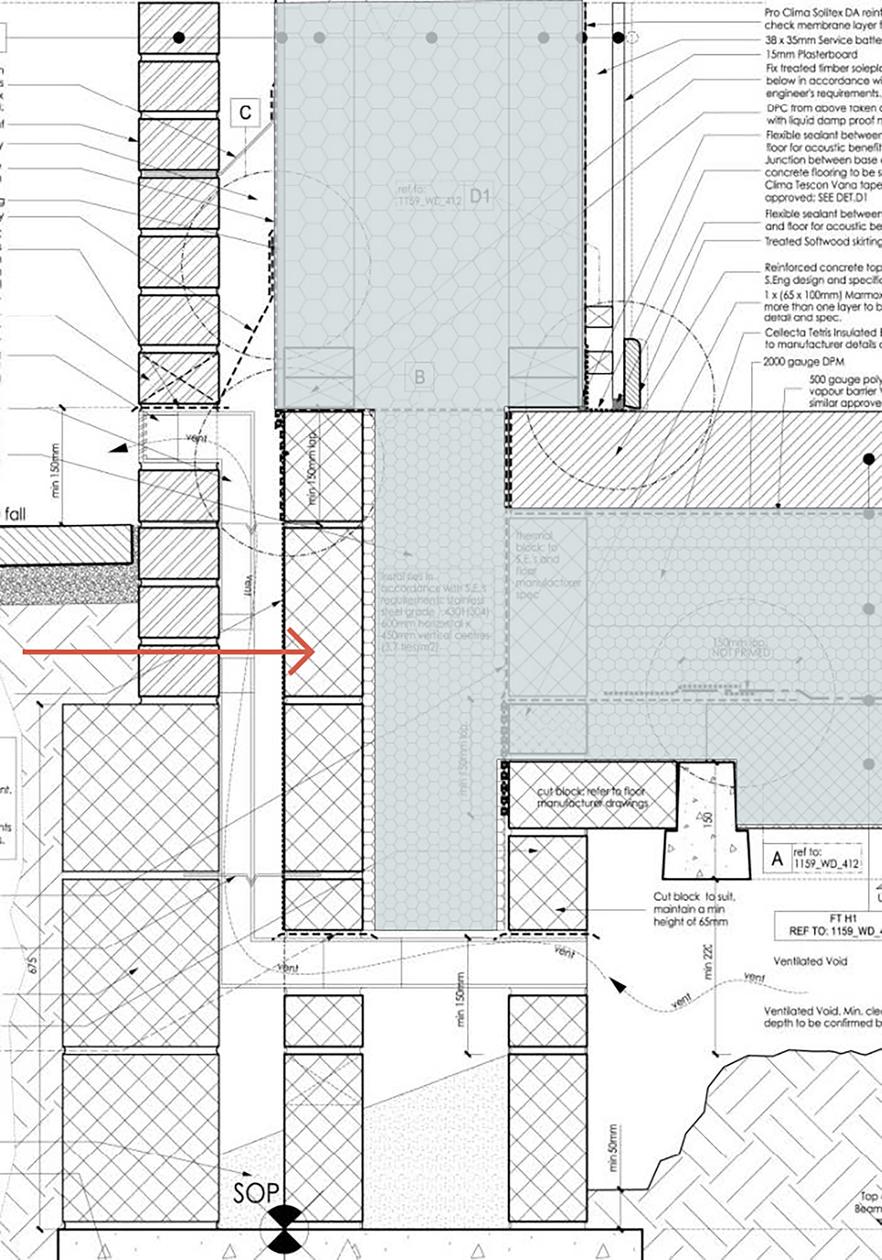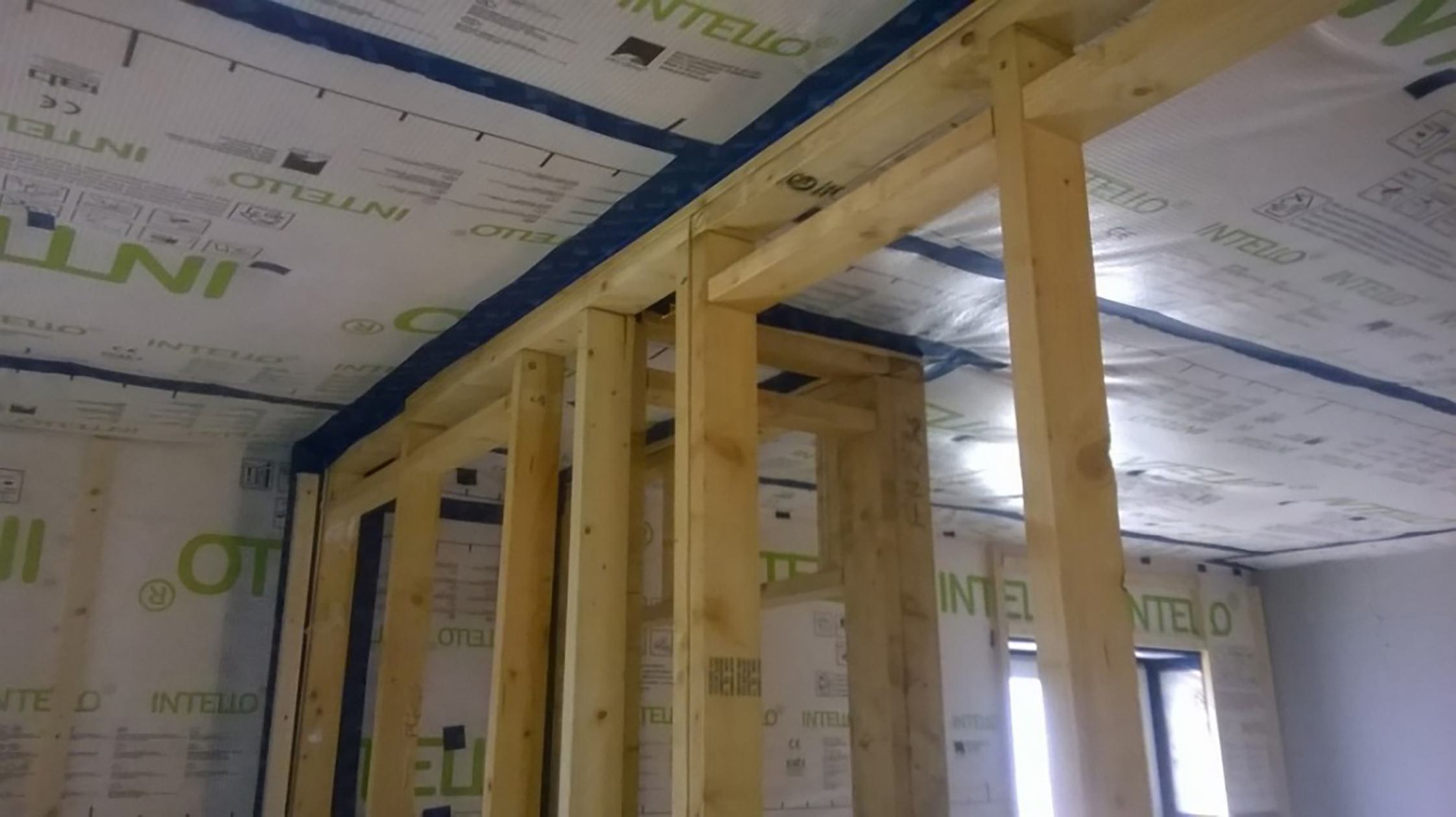 passivhaus design
Essential elements in achieving a good thermal envelope
Building fabric In Passivhaus buildings wall, roof and floor elements should aspire to a U-value of between 0.10 W/m2K to 0.15 W/m2K, with minimal thermal bridging; and ideally, an internal service void so that services do not penetrate the airtight/vapour barrier. We used two timber double stud frames as these were lighter, easier to install and required less time on-site and a higher specification blown in insulation.

Thermal bridging When designing a building to the Passivhaus standard, there is great emphasis on thermal continuity and avoiding cold bridges. 'Weak spots' can be avoided by overlapping insulation to wrap the whole building or using blown in insulation of an equal density throughout.

Airtightness Passivhaus buildings need to achieve 0.6 air changes/hour @ 50 Pascals, approximately 5 x more airtight than the present UK Building Regulation requirements. To deliver a robust airtight design, there must be great attention to detail when sealing junctions and penetrations. By conducting rigorous air-testing we were able to highlight risk areas.

Delivering efficiency with measurable targets
Using the Passivhaus standard enabled us to create homes which were quantifiably more efficient than housing built to building regulation standards at the time of construction in 2015.

2.5
times more efficient
insulation values
5
times better
air tightness
3
times less
energy than average
2
radiators required
in each house
3.5
maximum
Heat Loss Factor
An exacting, meticulous and fabric-first approach to construction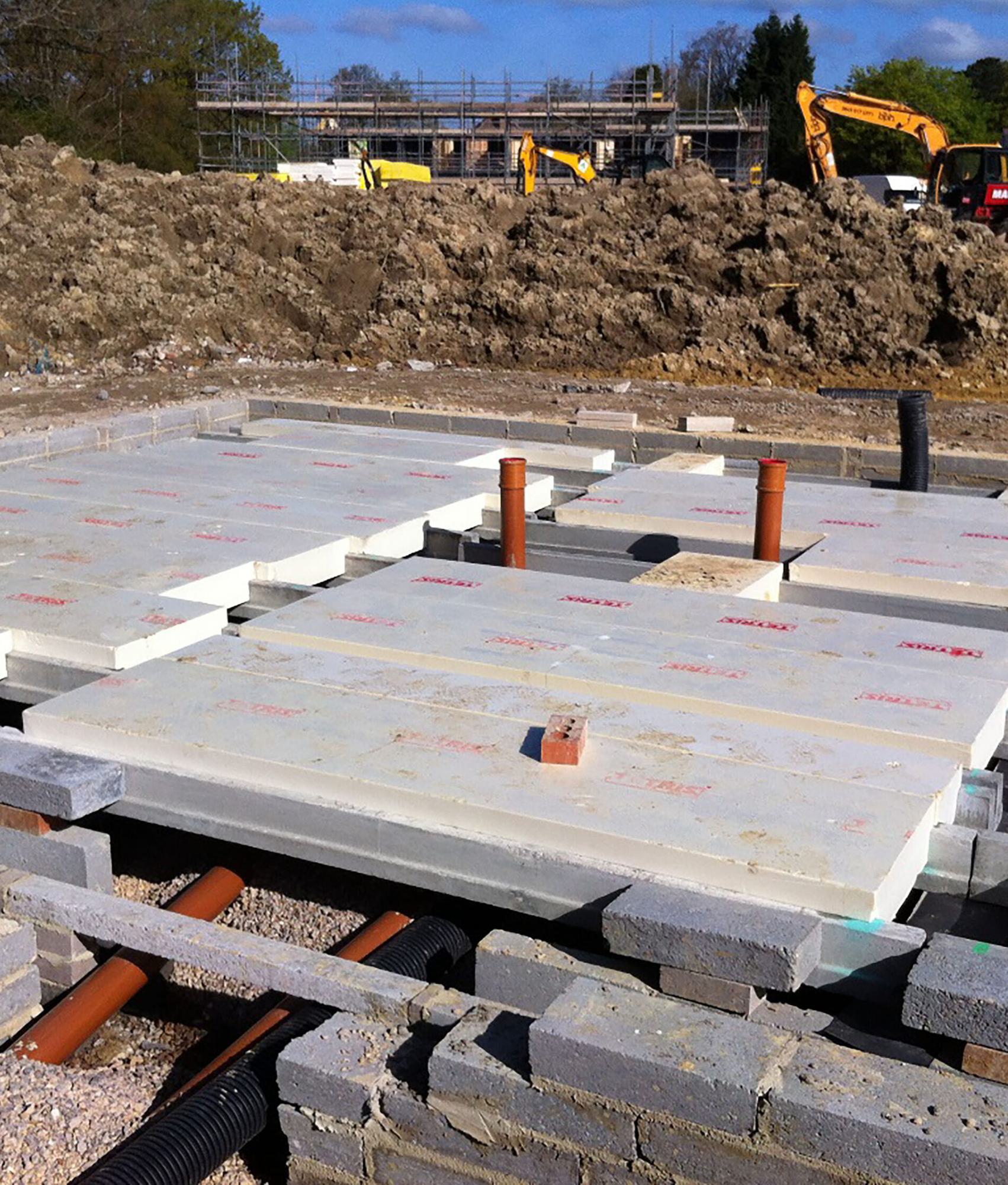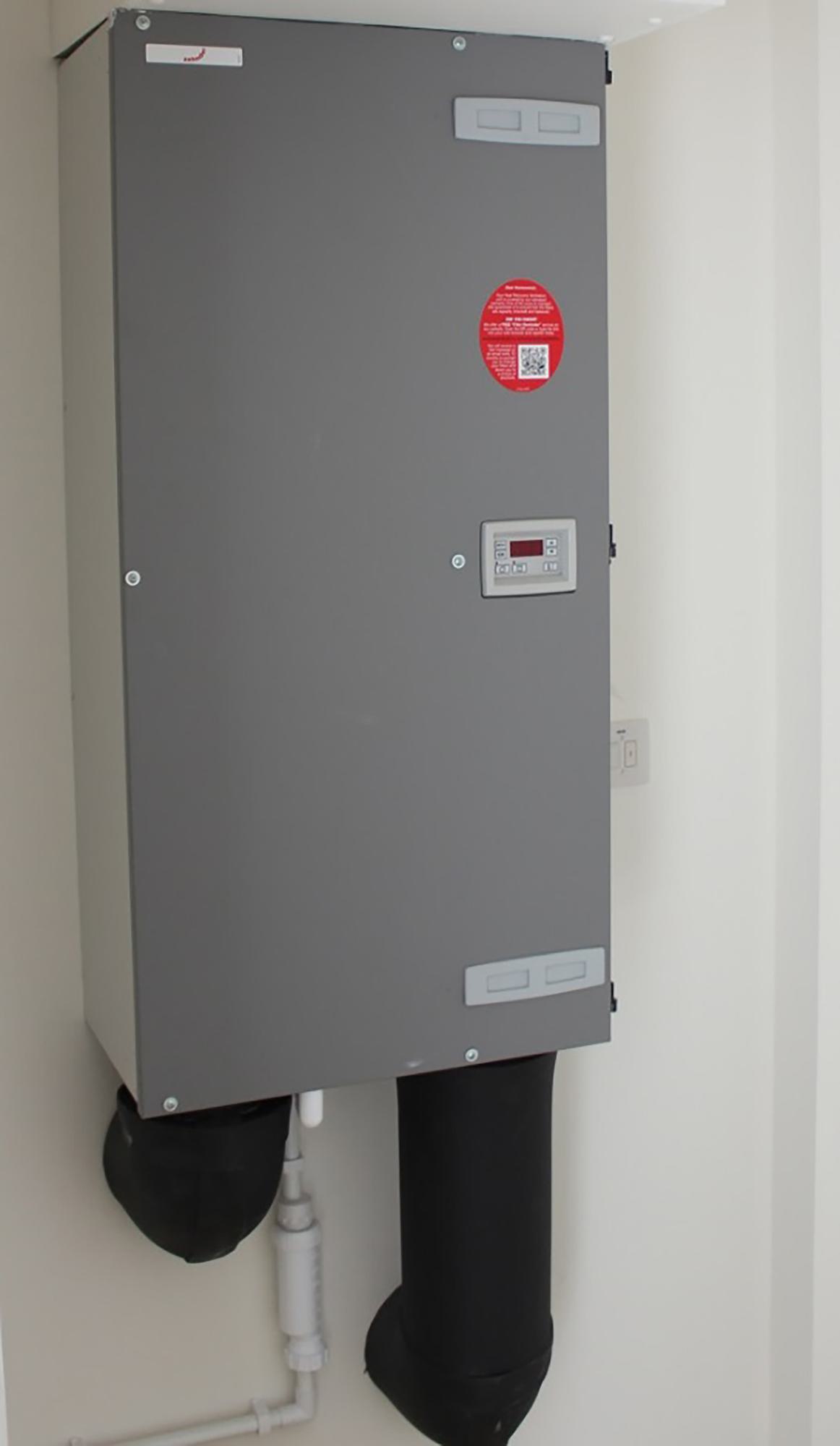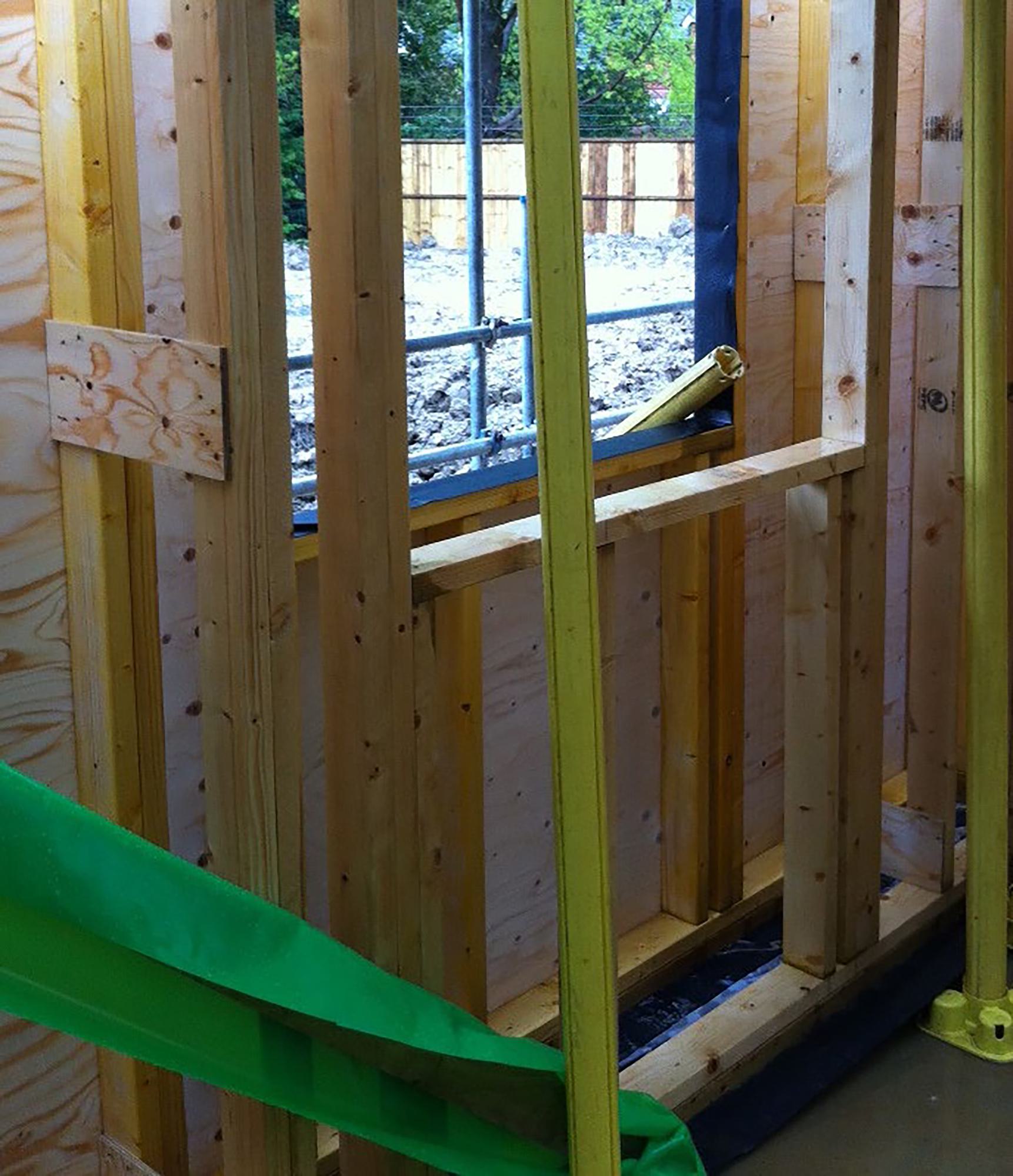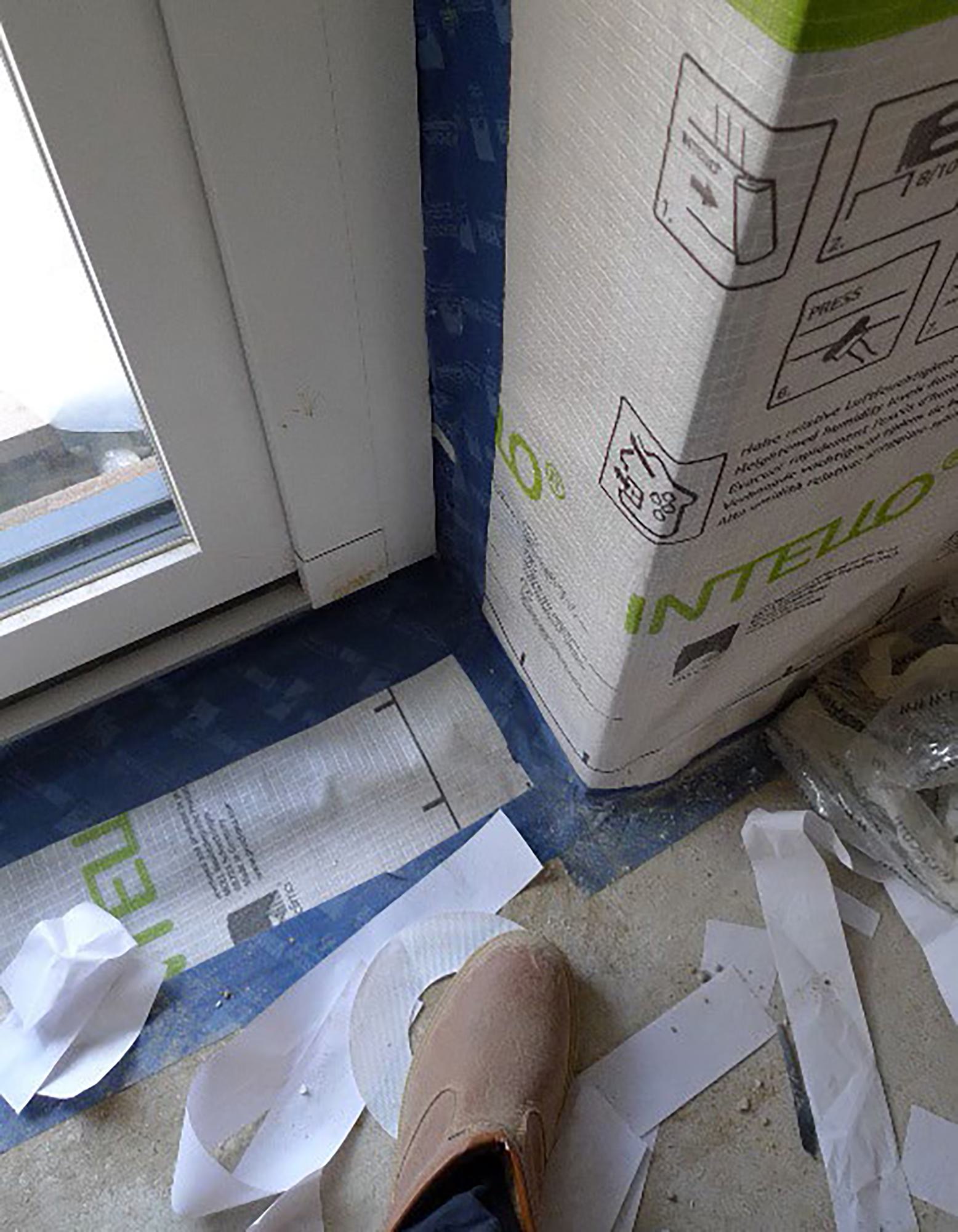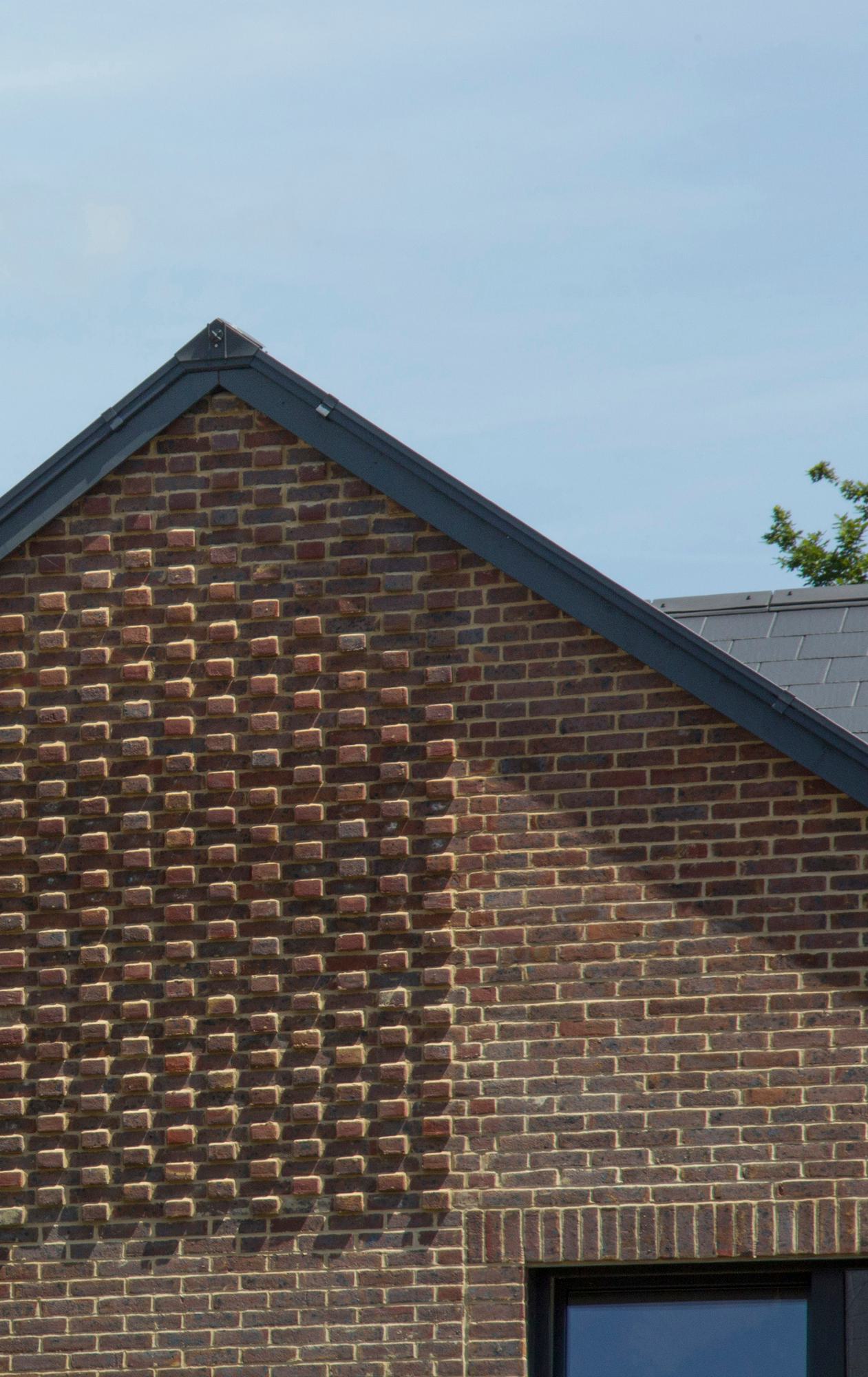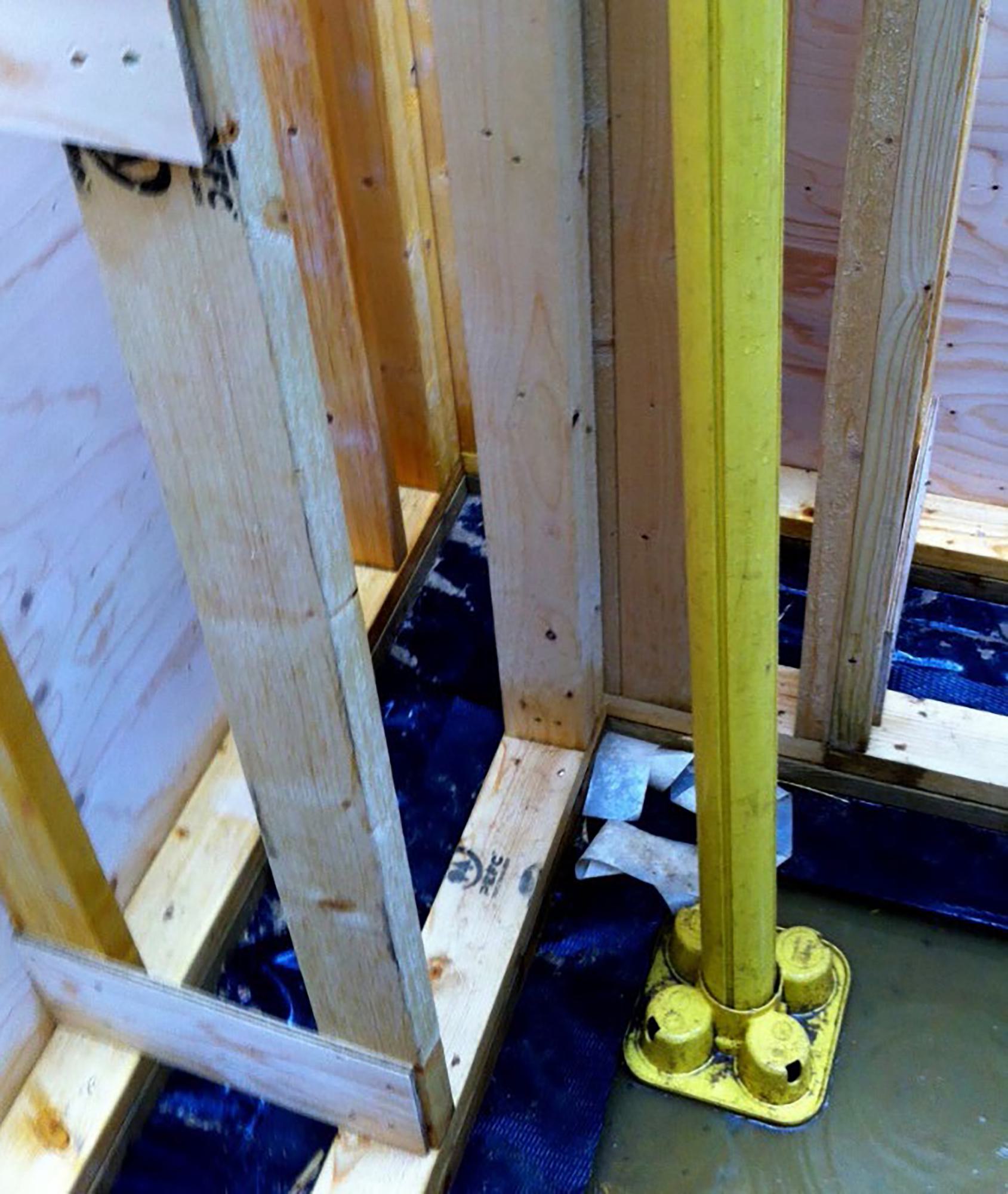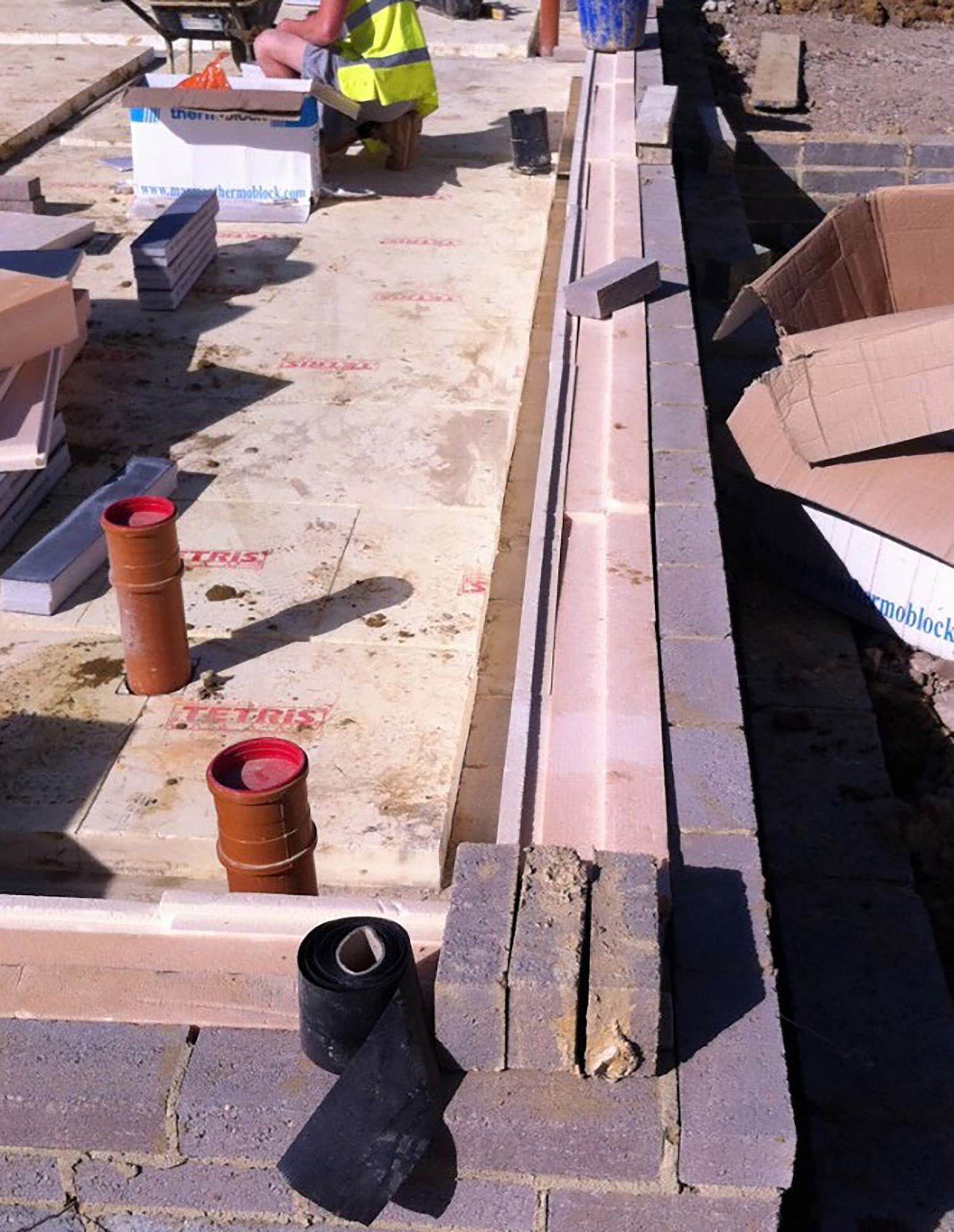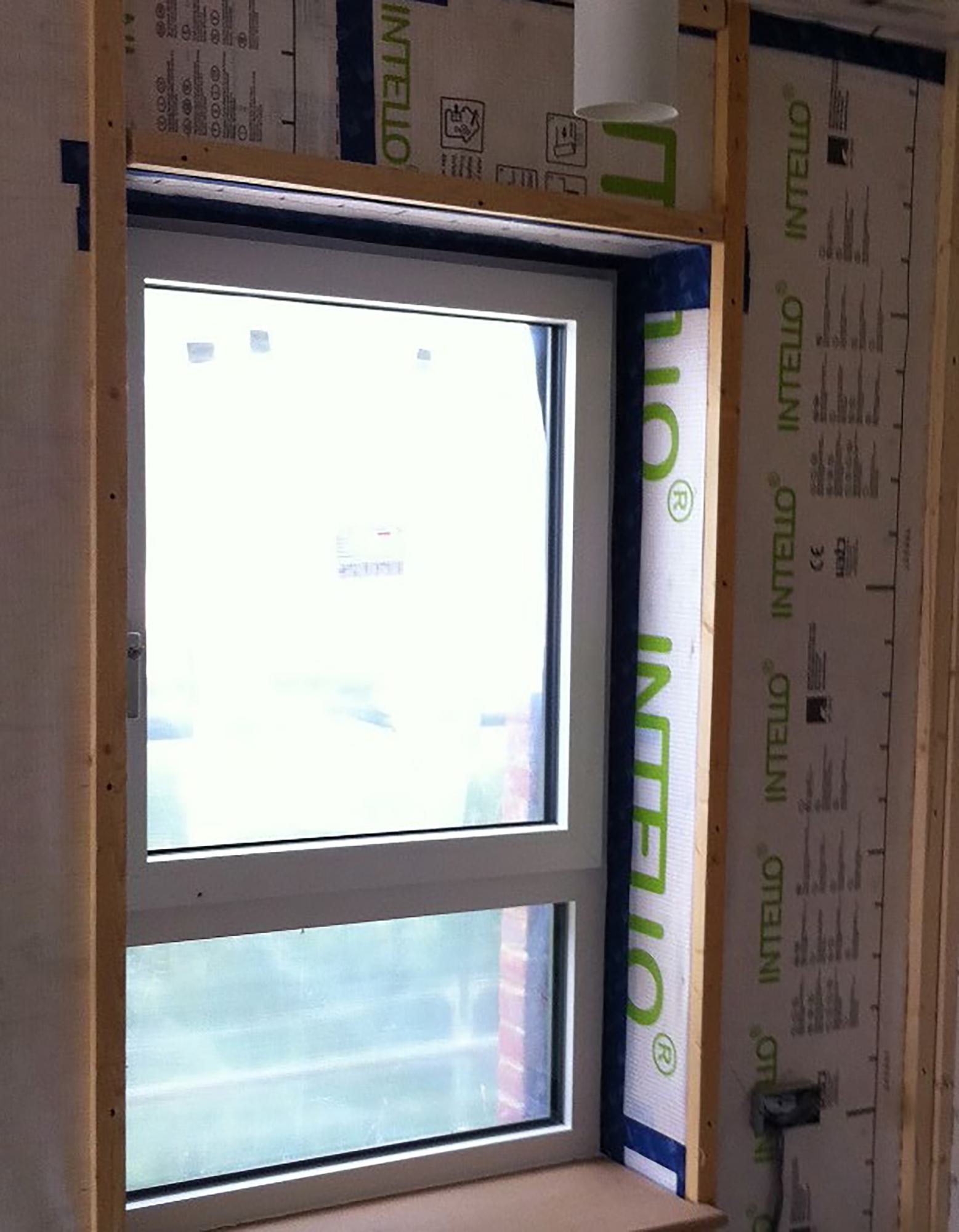 Tetris Beam and Insulated Block
We used a Tetris Beam and Insulated Block which produces very high insulative qualities and is quicker and easier to install than a concrete block floor. It is also supplied in specific quantities which reduces waste.

Mechanical Ventilation
All homes are fitted with a Passivhaus certified Mechanical Ventilation with Heat Recovery (MVHR) unit located externally, which offers both ventilation and heat recovery.
Prefabricated Timber Frame
Originally we designed a masonry loadbearing wall with a cavity and brick outer leaf. However, we changed this to a timber double stud, as the prefabricated timber frame was lightweight and easier to install, with minimal thermal bridging. As it was manufactured off-site, this also reduced time on-site.

Airtightness
We took a proactive approach to air tightness - after an initial air-test where some leaks were found, we highlighted risk areas were highlighted and revised our process for the remainder of the build to eliminate all future issues.

Minimising heat loss
The simple forms of the houses not only complement the local vernacular but minimise the external wall area, reducing the heat loss from walls and roofs.

Off-site manufacturing
As the prefabricated timber frame was manufactured off-site, time on-site was greatly reduced providing cost efficiencies.
Cold bridging
We achieved continuous thermal lining by using very high insulation materials and the thermal bridge was minimised with careful design.

Fenestration
We carefully designed facades with each window detailed to ensure maximum solar gain can be achieved, whilst avoiding overheating. In addition, we were able to keep the roof clutter-free, with no need to bolt on any photovoltaic panels.
Project summary
Location
Crawley Down, Crawley RH10 4HE
Client
Hastoe Housing Association
Includes
14 houses
12 flats
Environmental
Passivhaus accredited
U values
Floor - 0.093W/m2K
Roof - 0.065W/m2K
Ext. wall - 0.10W/m2K
Windows - 0.79W/m2K
Sound insulation - 34dB
Awards
National Housing Awards 2015
Winner - Best Sustainable Scheme

Mid Sussex Design Awards 2015
Winner - Best Sustainable Scheme
Team
Meet the team behind the project
Contact
Interested in
learning more?
Learn more about 'The Pheasantry' and other projects by reaching out to one of our team
Get in touch