Thought Leadership
Reimagining our railway stations as hubs

by Samantha Smith
Director, Building Consultancy
Reimagining our railway stations as hubs to enhance economic growth and support the promotion of sustainable travel
Britain's rail infrastructure is the oldest in the world. Since the opening of Liverpool Crown Street station in 1830, train travel and our stations have formed an integral part of our cultural and economic history.
However, in the wake of the Covid-19 pandemic, hybrid working has become part of many of our weekly lives and, as a nation, our commuter patterns are changing. This, teamed with recent surges of industrial action, timetable changes and lack of staff in the rail industry, has led to the decline in passenger numbers since March 2020. In the latest quarter, rail passenger journeys were recorded at 359 million; 80.3% of the journeys made in the same quarter three years ago (448 million) before the pandemic. (1)
Despite this, our requirement for train travel remains crucial, especially in a world where sustainability and greener travel is at the forefront of our minds and there is opportunity for people to work further afield due to advancements in technology. Rail operators must now seize our changing travel demands as an opportunity to reimagine their stations. The requirement to modernise and diversify our railways to attract customers is essential to ensuring their place in the future of the UK's economic growth.
Improving the customer experience
Accelerated by initiatives such as Network Rail's Re-Imagining Railways 2020 Competition, ExploreStation from the Design Council, and HS2's Future Stations Living Lab, now more than ever, the customer experience has become central to key improvements rail professionals are making to stations across the UK.
Where historically stations have been designed as almost purely functional spaces offering sometimes minimal provisions, our future stations are set to become diverse cultural hubs that meet today's travel demands. Providing enhanced retail, entertainment and dining spaces will assist in positioning our stations as 'destination' venues and help to create stronger connections to local communities.
For example, our building consultancy team are nearing completion on a project to deliver new business growth units at Newbury station on behalf of Great Western Railway. Positioned on previously unused land on the south side of the station, once opened, the hubs will be leased to local businesses. This is hoped to help connect the station to its local community as well as creating employment opportunities and the potential to attract new customers.
The three new business units form part of a wider scheme of works commissioned by GWR which has been designed to help support the town's economic development, not just that of the station.
At Bristol Temple Meads, 'The Station' community hub provides a place to support young people and allow them to explore their interests and talents, as well as space to host a variety of events; from music concerts to panel discussions and training seminars. This initiative makes great use of a previously abandoned building to form connections between the station and the local community.
Bridging the gap to promote sustainable travel
There is also a notable opportunity to promote sustainable travel as we look to reimagine and remodel our stations. However, it is crucial that redesign looks to bridge the gap between stations and their community links.
The first challenge travel operators must look to overcome is encouraging people to leave their cars at home in favour of traveling more sustainably. The hurdle though is that many of Britain's stations are located away from residential areas, with often weak public transport links, which forcibly requires commuters to drive to stations. This is further compounded by historically low parking provisions and our growing demand for a 'seamless' journey which leads us to prefer driving the car for the entire journey instead of stopping to park, and potentially struggling to do so, at a station.
Creating additional parking spaces not only supports commuters in their endeavour to choose more sustainable travel options but there are benefits for retail provisions too, as the ability to park thereby creates an increase in potential customers. There is also an opening here to install new electric charging hubs to encourage electric and hybrid car travel. This also has wider advantages of enhancing the UK's electric charging network which most would argue is less than adequate.
Another opportunity here is to redesign and expand the pedestrian areas, walkways and cycle paths that connect stations to their local communities.
In many of our schemes we have provided cycle hub provisions, most recently at Newbury station, where we delivered over 200 spaces for bicycles to be left safely while customers use the train or retail facilities.
Expanding and enhancing pedestrian areas between stations and their associated towns and cities promotes travel by foot, enabling people to take advantage of other public transport links to and from town and city centres - without their journey feeling prolonged or unwieldy.
Such enhancements also present an opportunity to improve local communities. Designs can accommodate for new trees and flower beds to be planted, as well as practical provisions for seating or play areas.
Connectivity to create a seamless journey
Our demand for constant connectivity and our desire to decarbonise our economy is also pushing us to embrace technology and innovation more than ever before. Millennial customers expect quality digital connections and the increasing desire for seamless journeys and 'on-demand' services must also be considered as traditional ticket purchasing decreases.
Our research for a recent scheme at York station found that only 15% of ticket sales were completed over a ticket desk, with the rest online or via self-ticketing machines. This informed the design proposals to the rationalisation of the ticket office to encourage self-service which supports the idea of seamless travel.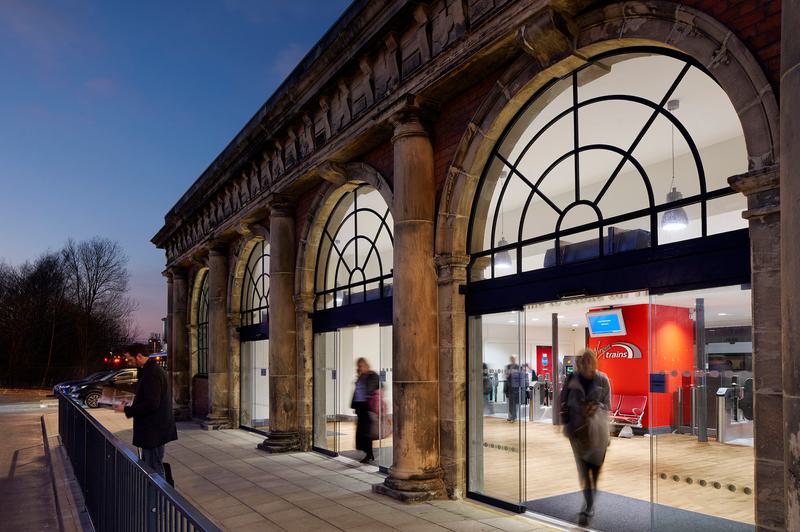 Stoke-on-Trent Railway Station
Providing modern spaces while preserving historical features
Given the richness of Britain's rail history, it may be of no surprise that many of our stations are housed in Listed or protected buildings. This can pose challenges when it comes to remodelling the existing buildings to meet our changing travel demands, whilst also ensuring that their cultural history is preserved. Protecting stations local identities is also an important factor in achieving and maintaining strong community connections.
At Grade I Listed King's Cross station, we designed a new first-class lounge with a contemporary feel and refreshment facilities while remaining sympathetic to the building's heritage by retaining several features including the windows and decorative skirting boards.
In a separate scheme at King's Cross, we have provided a brand-new family waiting room – the first of its kind in the UK. Designed for the leisure traveller, the space provides educational play areas and entertainment for children, as well as plenty of features for adults such as practical seating and a breastfeeding facility. It is hoped that these spaces will ease the use of train travel for families and encourage travel by rail – perhaps for a family day out – over the use of a private vehicle.
Our commission at Stoke-on-Trent station saw us alter and completely restore the west side of the station to provide a modern space for customers whilst preserving historical features such as the original gothic style fireplace and areas of Minton tiled floors.
Close liaison with key stakeholders and historical experts teamed with comprehensive public consultation is key to creating stations that meet our changing demands and yet still safeguard history.
Moving gate line provisions to open up our stations
Rethinking where gate lines are positioned is also an important consideration to embracing this change and helping to drive economic growth. Traditionally, gate lines have prohibited customers without a valid travel ticket from visiting amenities and have sometimes presented as uninviting at station entrances.
Today, the remodelling of stations is making better use of space by moving gate lines inwards, nearer to platforms, in a hope to encourage increased footfall in retail provisions - even where customers are not intending to travel but instead plan to meet with friends to shop or dine out.
Moving the gate lines also creates a more inviting entrance to potential customers as we look to redesign our station frontages.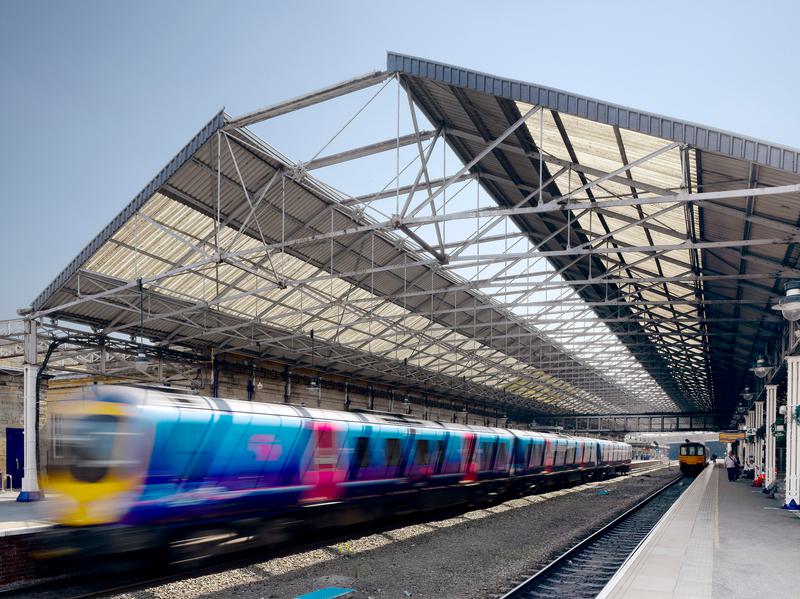 Great Western Railway Anti-trespass surveys
Anti-trespassing surveys to help improve public safety
As we begin to look at remodelling our stations, we are also presented with an opportunity to install measures to help prevent trespassing – which is a significant issue for the station operators.
Trespassers not only present risks to public safety but also cause delays and can have financial implications as well as causing damage to property. Understandably then, station management are actively implementing a range of measures aimed at addressing the problem, which intensified during the Covid-19 lockdown.
Great Western Railway commissioned us to conduct anti-trespass surveys across all stations on its routes – the first survey of its stock in the UK.
Our surveys provided the GWR with data which could then be developed into a strategy to identify and prioritise stations to reduce trespassing on railway lines.
The surveys were commissioned following a Department for Transport request to the client to investigate anti-trespass measures at each station. This was particularly crucial at rural stations, many of which are unstaffed and potentially pose the greatest risk.
Learn more about how our building consultancy teams are supporting our transport clients to reimagine stations and drive economic growth, whilst also promoting sustainable travel:
https://www.ahr.co.uk/projects/services/building-consultancy/infrastructure