Science Building Pharmaceutical Lab
Huddersfield, UK
Converting spaces to create state of the art scientific facilities
The University of Huddersfield aimed to convert two existing lecture theatres into one state of the art pharmaceutical science teaching laboratory within the Science Building. The new laboratory would create space for up to 60 students and support technical teaching.
The project included the strip-out of the existing lecture theatres and refitting the shell of the space. New suspended ceilings were added, with new vinyl floor coverings installed.
Laboratory work surfaced utiliser high-quality solid surface materials, and solid grade laminate cupboards and drawer fronts.
Glazed screens were fitted, allowing viewing into the laboratory work areas from the corridor, along with a comprehensive, multi-visual system with several display screens for teaching. All work was undertaken during the semester, with care not to disrupt normal teaching and University operations.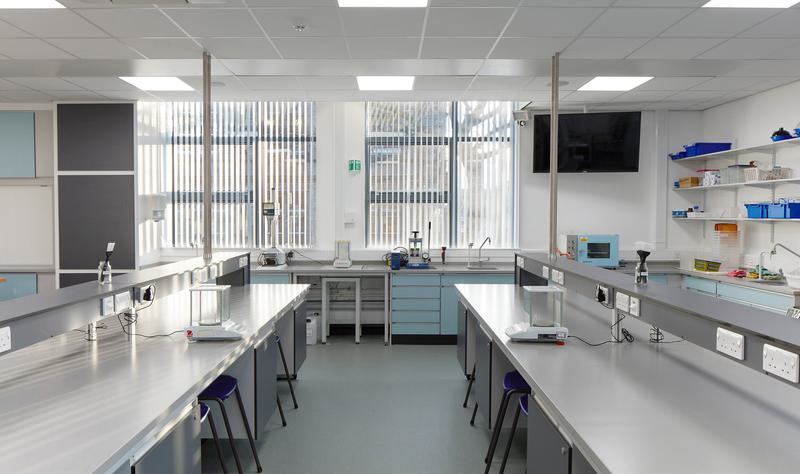 Working with key stakeholders to ensure high quality delivery
We worked with stakeholders at all points during the project, including department staff, the estates department, and the university's in-house mechanical and electrical team. This ensured efficient communication and smooth running of the scheme and supported the delivery of high quality services to the required specification for the laboratory.
This also supported careful planning of the works. For example, we facilitated and coordinated the connection of the fume cupboards from the laboratory to the existing extraction system. We planned this with input from university teams, as the remainder of the building's laboratories remained in operation during the works. To prevent the escape of hazardous gases when this work was undertaken, we organised a coordinated, temporary shutdown.
To improve the building's environmental performance, the project included the installation of highly-efficient heating systems and services, double-glazing, and solar-controlled glazing, as part of the site has a south-facing elevation.
Team
Meet the team behind the project
Contact
Interested in
learning more?
Learn more about 'Science Building Pharmaceutical Lab' and other projects by reaching out to one of our team
Get in touch