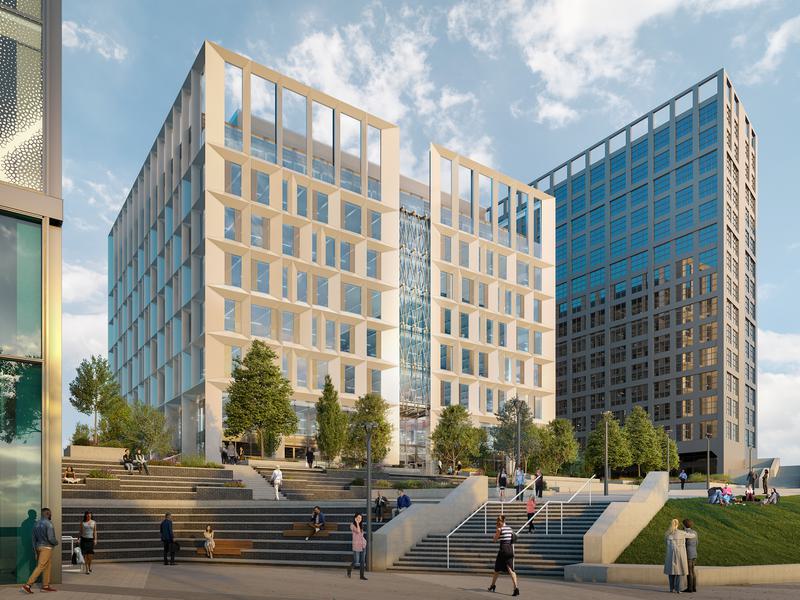 Project News
Unveiling HEMISPHERE, a sustainable and dynamic building transforming the future workplace

by AHR
HEMISPHERE, our sustainability-led, Grade A office building which puts the health of its workforce first, has been unveiled at MIPIM by Sciontec.
Located on Paddington Village in the heart of the growing Knowledge Quarter Liverpool (KQ Liverpool) Innovation District, HEMISPHERE is set to become one of first new builds in the UK designed to achieve six global sustainability accreditations.

Inspired by the changing needs of a growing workforce, HEMISPHERE focusses on what the future workplace will look and feel like.
One of the project's key aspirations is to create a place for a happier and healthier workforce which will encourage greater creativity and productivity through its smart design features.
It will include:
Collaboration spaces
A wellness studio
Cafe
Innovation lab
Outdoor workspace
Multi-purpose event space
Public realm
With biophilic interventions used throughout, the workplace will prioritise health, social and cultural wellbeing. HEMISPHERE's unique design and position at the gateway to the city will make the building a place that people will want to visit, whilst showcasing the very best of health, life sciences and technology in the region.
HEMISPHERE complements our growing portfolio of sustainability driven buildings which includes its iconic neighbour, The Spine.
---
You can read more about the project and its fascinating design inspiration by visiting our case study here.
Posted on:
Mar 14th 2023
Topics: