Practice News
Achieving decarbonisation: The challenges and opportunities in retrofit

by AHR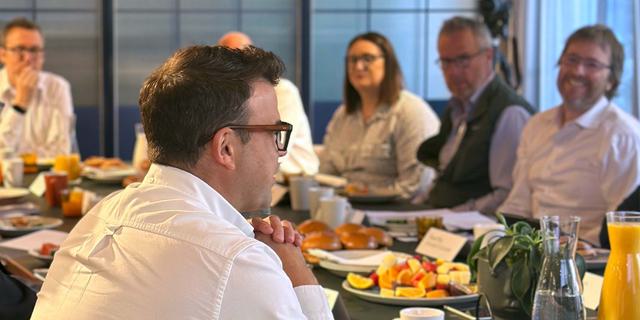 In our Achieving Decarbonisation roundtable series, we sat down with colleagues from across the industry in Manchester to discuss the challenges and opportunities in retrofit.
We were joined by representatives from CBRE, University of Lancaster, University of Salford, Aecom, Bruntwood, Willmott Dixon, Gardiner & Theobold and Manchester Metropolitan University (MMU).
All were at different points in their net zero journey and the roundtable focused on sharing experiences, understanding shared challenges and opportunities, along with discussing where we needed to get to. Some common themes came through from the discussion.
Addressing skills and knowledge gaps is a crucial factor in the successful decarbonisation of properties. As we strive to transition to a low-carbon future, individuals and stakeholders in the construction and property sector must be equipped with the necessary skills and knowledge to implement sustainable solutions effectively.
One of the main challenges in decarbonising properties that was discussed is the lack of expertise and understanding amongst building owners. Some do not know how to tackle it or are even aware of the implications of doing nothing. Undertaking a new build is seen as an easier route as the path to achieving net zero is much clearer. Heads are often in the sand when it comes to repurposing existing buildings.
Another issue linked to this is perceived cost and that retrofit is more expensive. The cost to repurpose is harder to estimate whereas it is easier to do the appraisal on a new build and know exactly how much it will cost to construct and operate a building. In retrofit, money is being used to plug a skills gap rather than investing in people and technology.
However, decarbonising a property does not have to be expensive. Capital allowances can be used to offset costs. Undertaking a carbon assessment on both refurbs and new builds helps property owners to understand where they are now and what the opportunities are to reduce. A plan can then be developed and implemented over five to ten years and adapted to the building's natural lifecycle for maintenance and refurbishment.
This skills gap is acting as a barrier to action. This is also a huge opportunity to provide skills and training as well as job opportunities for young people. The education sector is already adapting to this, for example at MMU all first-year students received carbon literacy training. Within the School of Architecture all masters students do a reuse project and there is a new master's programme in adaptive reuse. Whilst this tackles a future workforce, it does not address immediate need. Many agreed that businesses and organisations needed individuals embedded within them who could educate their colleagues and advise on priorities.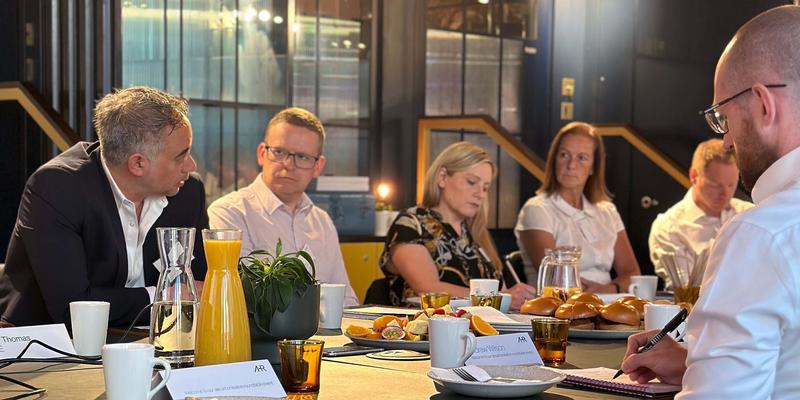 Not only do sustainability champions need to educate and support their colleagues, but they play a critical role in driving a culture of sustainability within organisation. Their influence is maximised when they have the power to participate in strategic decisions and advocate sustainable practices at the highest level. It provides the opportunity to embed sustainability into their core business operations rather than being perceived as an add-on.
Salford University has developed a central team for sustainability that sits within the vice chancellor's office. The team can influence the campus masterplan for new builds and are seeking to generate engagement around tackling their existing assets. The University started their net zero journey with a 6-month project to identify the scale of the task. The aim is to be carbon neutral by 2038 with an 81% reduction in Scope 1 and 2 emissions by 2030.
Salford University's masterplan is being refreshed every couple of years so that it can adapt. There is a lot of ongoing decision-making around what is staying and going. One of the challenges they are going to need to overcome is how they seek investment in buildings given the constantly changing landscape.
Bruntwood is another example of a business that has a centralised sustainability team that has influence at all levels within the business. They have developed asset plans for each individual building and how it will achieve net zero.
Banks and lenders are increasingly prioritising sustainability in their funding decisions as they recognise the importance of aligning their activities with environmental and social goals. This commitment involves considering the environmental impact of their lending portfolio and investing in projects that contribute to sustainability and decarbonisation efforts. CBRE indicated property owners who do not consider this risk limiting the financial products at their disposal and higher lending rates.
Banks are developing sustainable financial products to support a transition to a low-carbon economy. They offer green bonds, sustainability-linked loans and other innovative financial products that incentivise and reward borrowers for achieving sustainability targets. Lloyds Bank is one such example with their Clean Growth Financing Initiative which provides discounted lending for green purposes.
However, we have seen the insurance industry be slower to tackle climate change within their products and premiums and insuring low carbon buildings. One of the initial challenges is the lack of understanding and familiarity with these innovative building materials. For example, insurance companies have been slower to embrace the use of timber-framed construction due to uncertainties regarding long-term effects related to factors such as fire resistance and water ingress. This lack of knowledge makes it difficult for insurers to accurately assess the risks associated with alternative building materials and to determine appropriate coverage and premiums.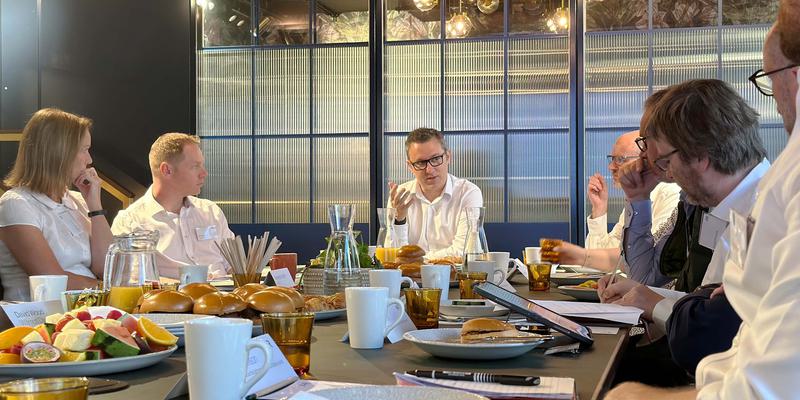 Occupiers are demanding sustainable solutions. Future legislation and market demand means that property owners without a net zero response risk stranded assets that are no longer commercially viable. Whilst some in the industry have embraced this there are many that are yet to make a start or even acknowledge that it needs to be tackled.
"Millennials and generation Z won't work for businesses that are not committed to a strong environmental policy." Rob Valentine, Bruntwood
The younger generations entering the workforce are far more sensitive to the climate crisis and are seeking socially and environmentally responsible employers. The universities are also seeing this trend from prospective students who are factoring the sustainability credentials of the university into their selection process.
This permeates through to the sustainability credentials of their workspace. Talent attraction is a driving force behind occupier requirements. They offer the best quality space in a bid to attract the best people. Businesses are willing to pay a premium for net zero space and building owners who invest in it will get payback over time making it worth the investment commercially.
The tools are there to help us achieve net zero, but it requires policy change. Implementing policies that encourage decarbonisation can help reduce emissions and drive progress towards achieving net zero. This does not need to come from central government, it can be driven locally with devolved powers. An example discussed was making a carbon assessment a mandatory requirement for all planning applications, whilst not stipulating what developers must achieve it could trigger people to act. Wilmott Dixon indicated that schemes in London are getting knocked back on planning because proposals damage the building and developers should be looking at options to retrofit.
The new Net Zero Building Standard will help guide the industry with separate standards for both new build and retrofit, looking at Scope 1, 2 and 3 emissions. The standard will be adopted later this year. Wider implementation of NABERS UK assessing the operational performance of buildings based on actual energy usage would likely see a reduction in energy consumption straight away.
We also need to recognise the limitations of some of the traditional tools at our disposal. For instance, whilst an EPC rating indicates a building's energy efficiency, it does not measure that actual consumption.
---
To learn more about how we are achieving decarbonisation through retrofit, visit our perspectives page here.
Posted on:
Jul 12th 2023
Topics: