Thought Leadership
Why we need to retrofit to achieve net zero
by Robert Hopkins
Director, Architecture
The UK Government has committed to the country becoming net zero by 2050 through the Climate Change Act alongside Wales who have made the same commitment; in Scotland, an earlier deadline of 2045 has been set.
Many regional cities have adopted more ambitious targets, ranging from 2025 and beyond. It's a legal requirement that we must all embrace. Retrofitting buildings to decarbonise and achieve net zero is going to be necessary to meet these deadlines.
Buildings are one of the largest sources of greenhouse gas emissions. According to the International Energy Agency (IEA), buildings are responsible for approximately 40% of global energy consumption and 33% of carbon emissions. Given that 80% of the 2050 building stock already exists, we have no choice but to retrofit.
Retrofitting buildings to improve energy efficiency reduces energy consumption and the associated carbon emissions. Subsequently, decarbonisation of the grid will help eliminate our reliance on fossil fuels, which can then be taken a step further by incorporating renewable energy sources to generate clean energy on-site.
The Government is further cementing this requirement to go net zero with an expected change in Building Regulations - following the Future Homes Standard(1) and Future Buildings Standard(2) consultations – which will require new buildings to produce less CO2 emissions. This is in addition to PAS 2030:2019 and PAS 2035(3) which set out the standards required for installing energy efficiency measures (EEM) – PAS 2035 deals specifically with retrofits. Also forthcoming are changes to EPC ratings for commercial and residential buildings. All these properties must have an EPC rating of C or higher by 2028 and B or more by 2030. If these ratings aren't achieved, then landlords will find they become unlettable. Additionally, the Government has announced plans to introduce EPC level C or higher requirements from 2025 for any new residential lettings.
The UK Government has committed to the country becoming net zero by 2050 alongside Wales who have made the same commitment; in Scotland, an earlier deadline of 2045 has been set. Many regional cities have adopted more ambitious targets of 2030. It's a legal requirement that we must all embrace. Retrofitting buildings to decarbonise and achieve net zero is going to be necessary to meet these deadlines.
A new Net Zero Carbon Buildings Standard(4) is currently being developed by an industry partnership that includes UKGBC, the Carbon Trust, RIBA and RICS. This will be applicable to both existing and new buildings of all types. The NHS has already published its own NHS Net Zero Building Standard(5) to align with Government building requirements.
It is also being tackled by local government, the City of London has issued a planning advice note (often a precursor to wider planning legislation) on 'whole lifecycle carbon optioneering' demonstrating the difficulty future new developments will have justifying new build in replacing current building stock in respect of Carbon emissions.

What are the decarbonisation challenges for the property sector?
The British Property Federation has released a research paper Towards Net Zero(6) discussing the challenges, opportunities, and policy recommendations to assist the sector's transition to net zero.
The challenges identified included:
Data quality and access: Understanding the operational performance of the building is key to beginning the decarbonisation process; establishing the baseline and identifying the interventions. However, respondents reported that there wasn't an effective and consistent approach to sharing data.
Financing the transition: It is likely that the private sector will have to self-finance but financial policies could incentivise investment in carbon reduction measures.
Lack of industry standardisation and regulatory uncertainty: The Government and industry are still in the midst of setting new standards and regulations; leaving a lack of clarity about what to do in the meantime.
Lack of accessible technology: Smart buildings and data collection are a real opportunity to accelerate the decarbonisation of buildings but there has been slow adoption of proptech in both new builds and retrofits.
Building up skills and supply chains: A lack strategy and Government policy on addressing the green skills gap to meet net zero targets has hindered adoption.
Retrofitting existing buildings: The scale of retrofitting existing buildings is immense but property owners and developers are prioritising new buildings because it's easier.
Planning: Many local authorities have set their own net zero targets creating regional variation in regulations.
Decarbonising the grid: One of the most significant actions the Government could take is decarbonising the grid and increasing capacity. Renewable energy supply is currently at 42%. The Government has committed to decarbonising the UK's electricity grid system by 2035
According to the paper, we need to increase the rate at which we're retrofitting commercial stock by a least 5% annually to stand a chance of achieving the 2050 target. Whilst deadlines seem far away, planning your decarbonisation strategy right now is essential. It allows you to do it in a structured way that is tailored to the building and its maintenance programme, for example, replacing glazing units when the current ones reach end-of-life. It's ultimately more cost-effective and can be achieved over a number of years. AHR has developed the Retrofit Toolkit to help property owners identify bespoke solutions to your requirements. It can help you balance capital costs, maintenance costs, energy savings, cost savings over time and embodied carbon.


Demolishing and replacing a building generally uses considerably more energy than retrofitting and repurposing an existing building. This must be our first consideration before making the decision to build new.
In our project, Keynsham Riverside View, we creatively reused vacant council offices to provide much-needed contemporary town centre living. We retained almost all of the existing concrete structure and masonry walls during the refurbishment and by combining thermal upgrades to the building envelope with all electric low carbon heating have ensured it's an incredibly sustainable retrofit development.
Heritage buildings that are listed and those located in conservation areas also present their own individual challenges. It can mean interventions are limited and requirements more onerous. However, repurposing these buildings is better than building new or even the only option. 55 Colmore Row in Birmingham is one such example. It had laid dormant for a number of years and to bring it back to life we had to make considerable sustainability efficiencies, including high-performance glass to minimise heat loss and gain. We have undertaken a similar project for Leeds Maths School repurposing a former Leeds Building Society property for students aged 16 – 19.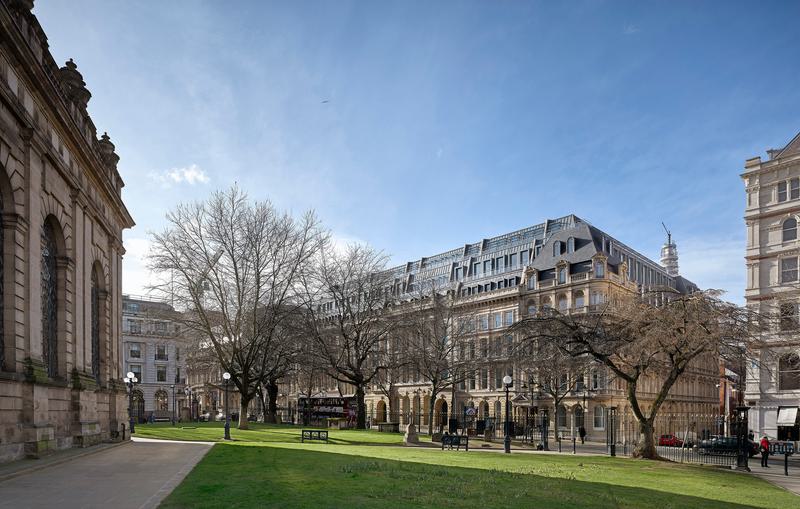 55 Colmore Row, Birmingham
The benefits of retrofitting to decarbonise
Necessity aside there are benefits to starting a programme of decarbonisation.
Lower operating costs
Improving the energy efficiency of a property reduces energy consumption, which in turns saves money in the long term and improves the value of the property. It helps reduce exposure to energy markets, especially when combined with renewable energy generation.
In the residential sector, this is an important opportunity to lift some of the poorest households out of fuel poverty. Working with WDH, we helped them address the fuel poverty crisis through the retrofitting their homes which had been reliant on coal-fired or electric heating solutions. We improved energy efficiency and fitting renewable energy solutions including photovoltaics and air source heat pumps.
Improve comfort and health
Retrofitting a property can be an opportunity to improve comfort and health by providing better insulation, improving air quality, and reducing pollutants. We've already seen a drive for this with the WELL Building Standard and Fitwell, a retrofit option, which seeks to put people's health and wellness at the centre of design. This requires specific investment in the right infrastructure.
Future proofing the property
As we've highlighted, changes in Government regulations and environmental standards are on their way. For example, if a building does not meet the new EPC requirements it will become unlettable leaving property owners and funders with stranded assets.
Stay competitive
More and more the market is demanding more sustainable properties. Those who don't follow this trend risk being left behind. According to JLL(7), green buildings achieved an average capital value premium of more than 20% and an average increase in rent of 11%. In the residential market, Passivhaus can be applied to retrofits as well as new builds. Whilst BREEAM has been around a number of years, NABERS is now also becoming a popular sustainability measurement for commercial buildings. The British Council for Offices (BCO)(8) recently updated its Guide to Specification to create greener and healthier offices which requires a minimum sustainability target of BREEAM Excellent and 5 Star NABERS UK, as well as aspiration targets for operational and embodied carbon use to meet net zero.
Demonstrate leadership
Achieving net zero early can demonstrate leadership and a commitment to sustainability. It's an opportunity to inspire other to take action and drive positive change towards a more sustainable future.
Green job creation
In a 2022 report from the UK Energy Research Centre(9), they found that investment in low carbon and energy efficiency can deliver more jobs than gas or coal power generation. When it comes to retrofitting think electricians, HVAC technician and plumbers. It's an opportunity for the construction industry to develop new skills, to understand net zero requirements and to bring in the next generation who've grown up in this environment.
What's the difference between decarbonising a property and operational net zero
Many property owners are publicising buildings that are operationally net zero but there is a difference between this and decarbonisation.
Decarbonising a property relates to reducing the amount of carbon emissions across the entire lifecycle of the building. From construction, operation to end-of-life. The goal is to minimise its environmental impact and retrofitting can help with this by improving the energy efficiency of the building. Embodied carbon refers to the emissions during the construction of the building. It includes the extraction and disposal of materials, as well as the wider supply chain who manufacture and transport materials.
Operational net zero refers to a building that produces as much energy as it consumes on an annual basis. The energy it consumes is offset by either renewable energy generated on-site or purchased from off-site sources. The goal is to achieve net zero carbon for ongoing operations.
Both decarbonisation and operational net zero have the objective of reducing emissions and increasing energy efficiency. However, decarbonisation has a broader scope that considers the entire lifecycle of the building.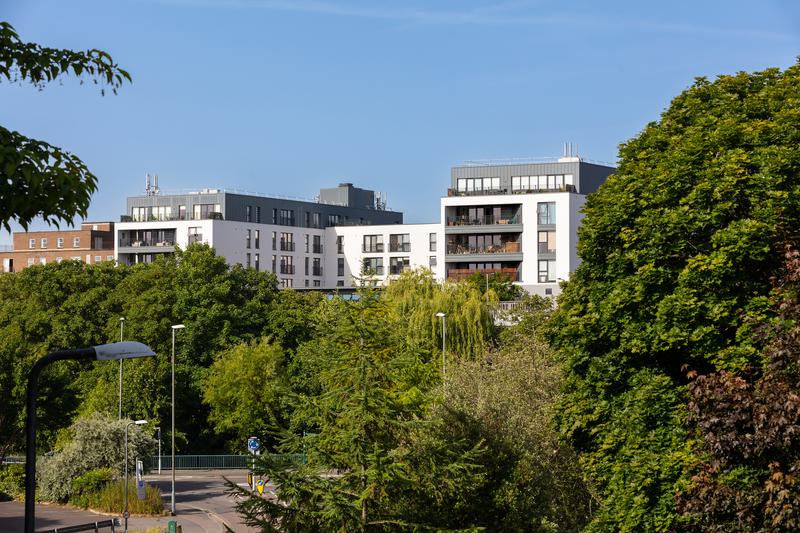 Keynsham Riverside View, Keynsham
How to retrofit to decarbonise a building and achieve net zero
Achieving decarbonisation through retrofit involves upgrading a building's insulation, heating and cooling systems, ventilation, lighting, glazing and walls/fabric. As well as introducing renewable energy sources.
Here are some steps to take that can help you retrofit a building to decarbonise it.
1. Conduct an energy audit
An audit of the building will help you understand its energy use and identify areas where improvements can be made to help you achieve net zero. It will help you prioritise retrofit measures and estimate the budget required, as well as potential cost savings and the environmental benefits.
2. Improve energy efficiency
Develop a programme of energy efficiency improvements. This can include installing insulation, upgrading windows and glazing, as well as more energy efficient lighting.
3. Upgrade heating and cooling systems
Heating and cooling systems are a significant source of carbon emissions in buildings. Upgrading to more efficient and sustainable heating and cooling systems, such as heat pumps or district heating, can significantly reduce the building's carbon footprint.
4. Incorporate renewable energy sources
Renewable energy sources, such as solar panels or wind turbines, can generate clean energy on-site and reduce the building's reliance on fossil fuels. On-site energy storage using battery technology can help you store any surplus power generated for later use.
5. Monitor and optimise energy use
It's important to monitor energy consumption and optimise the building's energy use continually. Energy monitoring systems, smart metering and smart building technology can help with this.
6. Engage occupants
Engaging occupants and building users is critical for the success of any retrofit project. Education and communication about energy efficiency, sustainability, and the impact their use of the building is having on energy consumption is key. You can even involve them directly, for example app-based technology that also users to control the lighting, heating and cooling within an office suite. This can help create a culture of sustainability and encourage behaviour change.
Retrofitting buildings to decarbonise and achieve net zero is critical to achieving our climate goals. Given the scale of the scale task, prioritising existing buildings is essential and we must tackle it sooner rather than later.
Our toolkit can help you make informed decisions in prioritising decarbonisation plans. It can be used on individual buildings, multiple assets or even entire estates. It will help you take a strategic approach on which interventions will be most beneficial to you, using a balance of capital cost, energy savings, payback, embodied carbon and more.
Links/references
Further reading
Posted on:
May 24th 2023
Topics: