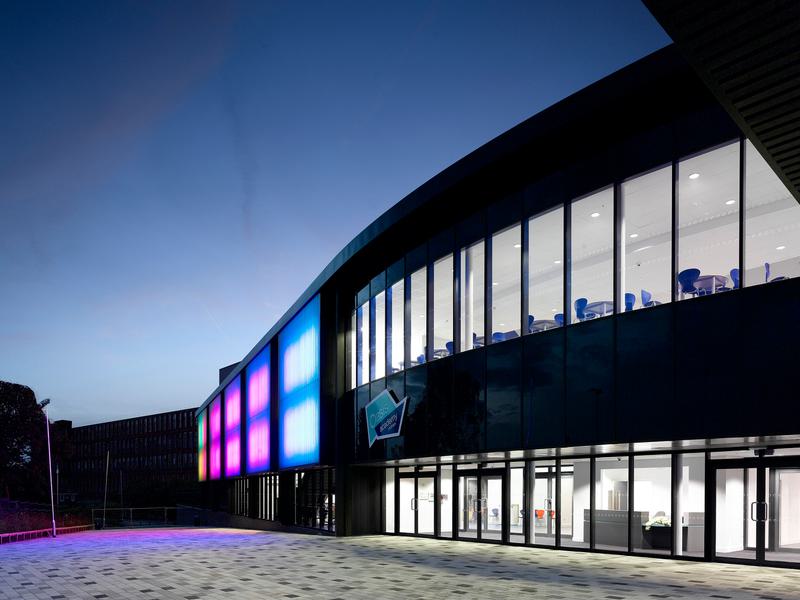 Thought Leadership
An education in MMC

by Imran Kassim
Director, Architecture
What are the opportunities using Modern Methods of Construction (MMC) offers the education sector in meeting its tough building targets, and what is the architect's role in delivering successful projects?
Demand for high-quality new schools and improvements to existing facilities are growing, in line with an increased demand for pupil places. The Department of Education cites that the required renewal rate is 400 schools per year, just to maintain the existing estate. However, addressing this is a complicated task. Any solution must provide these critical school places with minimal disruption and offer futureproof, sustainable facilities.
In order to provide modern buildings for education that can accommodate a growing population – while maintaining a high level of quality for pupils and staff – procurement is turning toward modern methods of construction, like prefabrication.
MMC encompasses a range of disciplines that improve upon the traditional building process. These include modular, in which units are constructed entirely off-site before assembly onsite, and hybrid techniques that combine prefabricated structures built offsite with traditional on-site construction techniques. Support for this mode of construction is growing, and the UK Government is promoting the adoption of these methods through a £1.2bn framework that supports prefabricated developments in the education and healthcare sectors.
What opportunities do MMC offer to education?
Using prefabrication in the education sector can shorten time onsite and increase speed of delivery. Often schools operate on a tight opening schedule, and minimising disruption to pupils and staff is of paramount importance. By utilising prefabricated and modular construction when building new facilities, schools can massively improve the speed of delivery.
This can be achieved because manufacturing a large proportion of the build offsite means onsite construction can take place within a much tighter timeframe. This is an invaluable advantage when taking into consideration the need for minimising disruption to teaching and learning. Reducing the amount of time construction work takes while a school site is in use to a minimum also delivers considerable health and safety benefits.
The build process itself promotes high quality by constructing self-contained units and component parts in a factory environment, with materials and tools immediately to hand for workers, schools can achieve turnaround speeds that are up to 50 per cent faster than traditional methods. Prefabrication means the entire construction processes is more controlled, leading to more predictable outcomes both in terms of cost and programme.
These benefits also extend to the quality of the final product. The use of a factory environment means quality control is enhanced, which leads to benefits for pupils and the schools themselves. Buildings delivered through MMC can provide industry-leading, design-led facilities with strong sustainability and energy efficiency credentials. This means they can provide longevity alongside quality for teachers and pupils. In the long-term, these attributes can also save schools money, by reducing the amount of energy new buildings need for heating and lighting, while remaining as robust as a traditionally constructed building.
Maximising the opportunities of MMC
The architect plays a key role in maximising the benefits MMC can provide for schools. This includes ensuring every scheme is designed to the highest standards, whether that's to the Department of Education's Generic Design Brief, or a bespoke specification provided by a local authority.
Architects must lead the way in driving innovation in this field, encouraging schemes that provide the benefits typically associated with this approach, while delivering attractive, site-specific design solutions.
This can be achieved through effective stakeholder communication and the implementation of other technology, such as BIM, early in the design process. The creation of a BIM model provides a resource for data-rich visualisation before delivery, giving the vital insights required on the materials and dimensions required for a build, early in the construction process.
This approach aligns with the RIBA DfMA (Design for Manufacture and Assembly) guidelines. An initiative that seeks to align with the RIBA Plan of Works Stages and maintain best practice amongst architects within the discipline of MMC.
At AHR we have a strong legacy of harnessing the potential of MMC to deliver new school places across the country. This is well illustrated by the Salford Schools project we delivered with Laing O'Rourke. In this case, BIM data was used to prototype and test components before being used to inform the machinery that drive the off-site manufacturing process. An absolute understanding of the brief, and rigorous coordination, were crucial to ensure all pre-installed elements were positioned correctly during the manufacturing process. With much of the work front-loaded in the off-site manufacturing process, the construction time for the project was rapid, resulting in a 750-place, watertight high school erected in just 16 weeks.
Working on the Priority Schools Building Programme Modular Batch B Framework, our teams have continued to build on this pedigree, and delivered a batch of new primary schools in London, Sussex and the Midlands. These schools incorporate the benefits that MMC provide, while adding an additional level of flexibility; providing compliant classrooms which offer a bespoke footprint that can be adapted to the size of the site. This is alongside affordable and versatile facade options that allow for a diverse design palette, offering the ability to easily swap cladding choices for separate buildings.
Sustainability is set to be a key focus for all sectors in the future, so education must position itself to deliver solutions. By placing the environmental sustainability of a building at the forefront of its design, architects ensure their client receives a building that provides energy efficiency and economic sustainability through longevity, and cost-savings far into the future.
This is the key in maintaining the viability of modular construction across all sectors going forward. Commissioning clients are now better informed about the benefits, and this has driven the discipline's surge in popularity. In order to build on this momentum, designers and manufacturers must continue to innovate, deliver an increasingly high-quality end product and, above all, make sure each scheme brings with it a better sense of community and place.
Posted on:
Apr 27th 2019
Topics: