83 High Street
Bonnyrigg, UK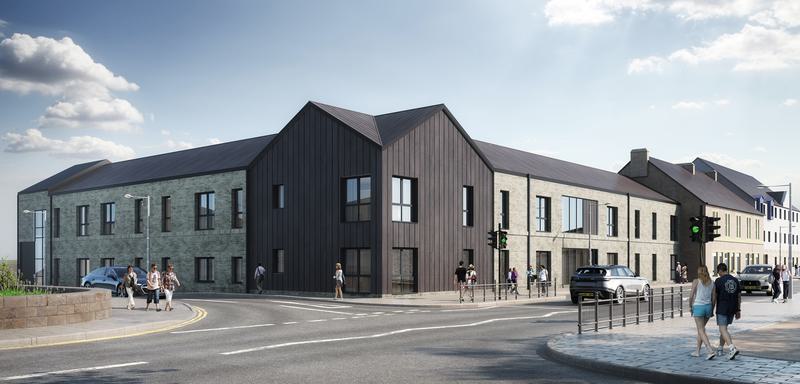 A thoughtful and sustainable supported living development with a community focus
Located in the heart of Bonnyrigg's town centre sits the new, single-tenancy residential development, catering for both over 55's and people living with learning disabilities. Through sensitive and considerate design choices, 83 High Street will enable its residents to lead safe, healthy and independent lives within a community environment.
Comprising a total of 20 apartments, the supported living accommodation is designed to target the Passivhaus classic standard. This is a significant step in minimising environmental impact whilst ensuring residents live comfortably without the added stress of energy consumption.
Inside, each room is designed with plenty of space to easily adapt in the future, catering to people's changing and varying needs with the construction and detailing to enable ceiling hoists to be retrofitted should they need to.

For resident comfort and to avoid sensory overload, we selected a simple palette of materials for the interior design. This also provides residents the opportunity to decorate their space as they wish, giving them greater choice, control and confidence within their living environments.
The external site benefits from a brick colour throughout, helping to gracefully blend into its surrounding buildings. Importantly, the supported living development then becomes indistinguishable from regular market housing by avoiding institutional features whilst enhancing the character of the local area.
Neighbourhood planning has been greatly considered, with the houses sitting within walking distance to healthcare facilities, shops, supermarkets and convenient transport links. Providing residents with full-access to all the things they need to live good and full lives.
Key information
Location
Bonnyrigg, EH19 2DB
Client
Midlothian Council
Includes
8 assisted living apartments
12 over 55's apartments
Environmental
Passivhaus Classic Standard (Target)
Team
Meet the team behind the project
Contact
Interested in
learning more?
Learn more about '83 High Street' and other projects by reaching out to one of our team
Get in touch