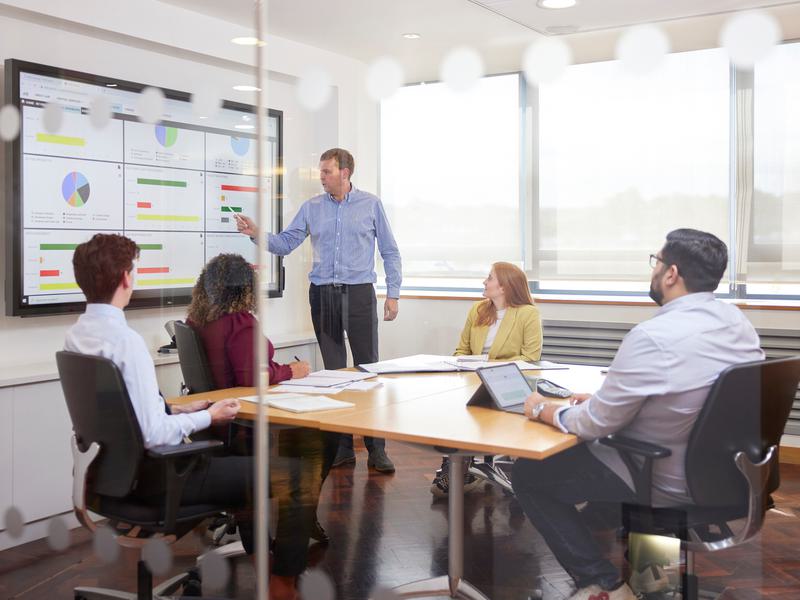 Thought Leadership
Can social value help the UK 'Build Back Better' in a post-Covid world?

by Mark Stead
Director, Building Consultancy
Since the first UK coronavirus lockdown, the government, businesses and individuals are looking ahead to a post-Covid world in an effort to take learnings from the enormous challenges faced and 'Build Back Better'. The hope is that we can make positive changes and improvements for the long term, and that these will be the legacy of the pandemic.
This attitude was clear in the UK's government's Coronavirus Recovery Campaign, which adopted the 'Build Back Better' tagline. Outlining a strategy to kickstart the economy, with a focus on infrastructure, skills and innovation, there is a push to improve public services and support local communities, with a range of cross-sector funding announcements and support for struggling towns and high streets. There's also a drive for a 'green revolution', with the government reiterating their net zero carbon aspirations and offering decarbonisation funding.

All in all, there's a focus on building back better, fairer and greener in a post-Covid world.
Procurement change
At the same time, significant changes to UK public procurement are in discussion, outlined in the Green Paper on 'Transforming Public Procurement'. No longer ruled by EU procurement legislation, the UK government is looking for industry input into how procurement processes can be improved.
From January 2021, significant changes have already been made to the way social value is incorporated into UK public procurement.
These changes sought to go further than the Public Services (Social Value) Act 2012, which suggested that social value be 'considered' in procurement exercises. Now, social value must be 'explicitly evaluated' in all central government procurement opportunities and assigned a minimum weighting of 10% within bid evaluations.
This marks a major shift in the weight afforded to social value, with the Green Paper also highlighting the importance of properly evaluating social value impact as a key consideration in tender evaluation.
This greater focus on social value in public procurement has the potential to directly influence the 'Build Back Better' initiative, ensuring public money is spent wisely and positive impact is maximised.
Social value to support post-Covid recovery
Many of the key challenges the UK will face as a result of the coronavirus pandemic in the coming years can be mitigated by successful social value delivery as part of the public procurement process. This will require true partnership working between private industry and the public sector to maximise impact.
Engaging with clients to understand their key drivers and local issues
It is so important for private organisations delivering public contracts to engage with the local authority and wider stakeholders, who understand the needs of their local community best. Challenges vary regionally across the UK, from homelessness, inefficient housing and fuel poverty to high unemployment and skills gaps. To maximise social value impact, we must work collaboratively with public sector clients to agree commitments and initiatives that are the best fit for their locality.
Tackling inequality
Gone are the days when social value meant simply ticking a box to commit to X number of apprenticeships. Now, social value goes further to offer wider support and opportunities.
This may include careers support for the unemployed, such as interview practice and CV writing sessions. Elsewhere, larger organisations can provide expert business advice to SMEs, for example relating to finance, HR or social media, or simply provide meeting rooms free of charge.
Taking a more innovative, wide lens approach to social value will be key to having the greatest positive impact.
Supporting the younger generation
With schools shut for a large part of 2020, the pandemic has had a significant impact on the education of the next generations. To overcome this, private industry must maximise engagement with the youth of today, whether that be through industry insight and workshops, work experience or virtual engagement sessions. The value of student-industry engagement cannot be over-emphasised, particularly for students who have missed out on almost a year of structured learning.
Engaging with third-sector organisations
Many Voluntary and Community Social Enterprises (VCSEs) have seen their funding and income severely impacted by Covid-19. Alongside financial support, private industry can provide volunteers to get involved in third-sector initiatives, for example food banks, assist in raising awareness on social media or offer industry experts for advice and support.
Improving efficiency of services and estates
To achieve net carbon zero and deliver a more sustainable future, we must support the public sector by providing efficient services. The move towards home working, virtual engagement and minimal unnecessary travel will undoubtedly contribute to this. In addition, the construction industry must support the decarbonisation of the existing public sector estate, much of which is highly inefficient. This will be achieved through retrofitting and innovative design.
Commitment to maximising social value across the public and private sectors will be crucial to the 'Build Back Better' initiative. Social value has an important role to play in maximising the value of public spending, but this requires a true public-private partnership approach.
Social value must be embedded within public procurement, properly weighted and evaluated, with private industry working with key stakeholders to deliver maximum value. We need to be innovative and look for ways to maximise value for local communities, working collaboratively to engage those most impacted by the pandemic and 'Build Back Better'.
Posted on:
Jun 7th 2022
Topics: